Home

»

Fred. Olsen Cruise Lines
Bringing the World closer!
A great choice of sailings in 2019 & 2020!
A journey of discovery on board one of Fred. Olsen's smaller, friendlier ships is always a rewarding and memorable experience, though you're sure to find all the more to enjoy with their Cruise Sale offers, available on a wide range of 2019/20 holidays.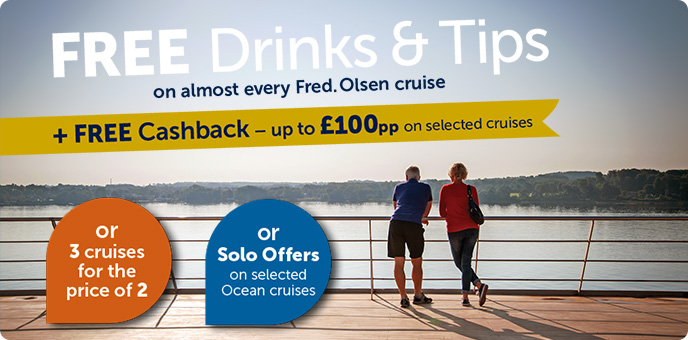 SAVE in Fred. Olsen's Cruise Sale
FREE Drinks & Tips
You can benefit from FREE Drinks & Tips on over 150 Fred. Olsen cruise holidays. On Ocean Cruises, selected house wines by the glass, selected beers, spirits and soft drinks are included all day and evening, while on Brabant River Cruises, you'll receive red and white house wines, a choice of beers and branded soft drinks with your lunchtime and evening meals. Plus, they'll take care of your Tips for the Cabin Stewardess and Waiter.

Plus, FREE Cashback on selected cruises
What's more, on selected Ocean Cruises you'll receive up to £100 per person FREE Cashback too, making your holiday even better value for money.

Or, 3 cruises for the price of 2
Alternatively, book three cruises from Fred. Olsen's Ocean and River Cruise programmes, and the lowest-priced sailing will be FREE. This fantastic offer is available on almost every 2019/20 sailing, giving you a world of choice.

Or, Solo Cruising offers on selected Ocean Cruises
The friendly environment on board Fred. Olsen's ships is perfect for guests who choose to travel by themselves. This has been recognised by Fred. Olsen winning Best for Solo Travellers in the 2018 Wave Awards. You can enjoy your holiday in a sociable atmosphere, meeting people along the way, on board and ashore.
Book by 28 February 2019
What's Included
✓ Comfortable rooms and suites with tv, hairdryer, tea and coffee making facilities and individually controlled air conditioning.
✓ Tempting cuisine every day throughout your cruise - with five course à la carte dinners, casual breakfast and lunch buffets and late-night snacks.
✓ Self-service tea and coffee at selected venues, morning coffee with biscuits, and afternoon sandwiches and cakes.
✓ In-room sandwiches and snacks.
✓ All evening entertainment, including cabaret shows, live music and dancing.
✓ Captain's Drinks Party and Gala Buffet.
✓ Use of leisure facilities, including swimming pools, Jacuzzis and gym.
✓ A wide choice of on board activities and lectures throughout the day.
✓ All UK port taxes (where collectable in advance).
✓ Luggage porterage between your room and the drop-off/pick-up point.
✓ Flights, as confirmed as part of a fly-cruise holiday.
And everything on board is priced in Sterling, so you don't have any worries about currency fluctuations.
CALL TODAY TO BOOK ON:
0800 810 8481
Below you'll find the applicable Fred. Olsen sailings, for more information select a cruise or give our cruise specialists a call today on 0800 810 8481
Fred Olsen Cruise Lines
Balmoral
22nd Mar 2019 - 11 Nights
Madeira, Portugal & Spain
Fred Olsen Cruise Lines
Boudicca
23rd Mar 2019 - 8 Nights
Mystery
Fred Olsen Cruise Lines
Braemar
30th Mar 2019 - 8 Nights
Into The Heart of Spain & Bordeaux
Fred Olsen Cruise Lines
Boudicca
31st Mar 2019 - 7 Nights
Waterways of Holland & Belgium
Fred Olsen Cruise Lines
Boudicca
7th Apr 2019 - 9 Nights
Portugal
Fred Olsen Cruise Lines
Braemar
7th Apr 2019 - 11 Nights
Andalusia & Lisbon
Fred Olsen Cruise Lines
Black Watch
13th Apr 2019 - 28 Nights
Discovering the Adriatic & Dalmatian Coast
Fred Olsen Cruise Lines
Braemar
18th Apr 2019 - 13 Nights
Canary Islands & Madeira
Fred Olsen Cruise Lines
Balmoral
21st Apr 2019 - 8 Nights
German Waterways
Fred Olsen Cruise Lines
Boudicca
25th Apr 2019 - 22 Nights
Amalfi Coast, Tuscany & Italian Riviera
Fred Olsen Cruise Lines
Balmoral
29th Apr 2019 - 10 Nights
Swedish Waterways
Fred Olsen Cruise Lines
Braemar
6th May 2019 - 12 Nights
Seville's Feria De Abril
Fred Olsen Cruise Lines
Balmoral
9th May 2019 - 14 Nights
Baltic Capitals
Fred Olsen Cruise Lines
Black Watch
11th May 2019 - 13 Nights
Islands of the Azores & Cities of Portugal
Fred Olsen Cruise Lines
Boudicca
17th May 2019 - 16 Nights
Med With Monaco Grand Prix
Fred Olsen Cruise Lines
Balmoral
23rd May 2019 - 5 Nights
Five Night Fjords
Fred Olsen Cruise Lines
Braemar
26th May 2019 - 13 Nights
To The Heart of Baltic
Fred Olsen Cruise Lines
Balmoral
28th May 2019 - 7 Nights
Best of the Fjords in 7 nights
Fred Olsen Cruise Lines
Balmoral
4th Jun 2019 - 1 Nights
Cruise to Nowhere
Fred Olsen Cruise Lines
Balmoral
5th Jun 2019 - 10 Nights
Swedish Waterways
Fred Olsen Cruise Lines
Black Watch
7th Jun 2019 - 13 Nights
Crossing Arctic Circle & Midnight Sun
Fred Olsen Cruise Lines
Boudicca
9th Jun 2019 - 9 Nights
Fjords, Mountains & Glaciers
Fred Olsen Cruise Lines
Boudicca
18th Jun 2019 - 13 Nights
Iceland
Fred Olsen Cruise Lines
Black Watch
20th Jun 2019 - 8 Nights
Isles of Scotland
Fred Olsen Cruise Lines
Black Watch
20th Jun 2019 - 7 Nights
Waterways of Holland & Belgium
Fred Olsen Cruise Lines
Balmoral
30th Jun 2019 - 11 Nights
Iceland
Fred Olsen Cruise Lines
Boudicca
1st Jul 2019 - 14 Nights
Baltic With Estonia Song & Dance & Rotterdam Jazz
Fred Olsen Cruise Lines
Braemar
9th Jul 2019 - 14 Nights
West Mediterranean With Lavender In Provence
Fred Olsen Cruise Lines
Balmoral
11th Jul 2019 - 14 Nights
Baltic Capitals
Fred Olsen Cruise Lines
Black Watch
15th Jul 2019 - 15 Nights
Baltic
Fred Olsen Cruise Lines
Boudicca
15th Jul 2019 - 16 Nights
Spitsbergen
Fred Olsen Cruise Lines
Balmoral
25th Jul 2019 - 7 Nights
Best of the Fjords in 7 nights
Fred Olsen Cruise Lines
Balmoral
1st Aug 2019 - 5 Nights
Scottish Isles
Fred Olsen Cruise Lines
Balmoral
6th Aug 2019 - 1 Nights
Cruise to Nowhere
Fred Olsen Cruise Lines
Balmoral
7th Aug 2019 - 9 Nights
European Rivers & Canals
Fred Olsen Cruise Lines
Boudicca
7th Aug 2019 - 16 Nights
Greenland Fjords
Fred Olsen Cruise Lines
Black Watch
13th Aug 2019 - 8 Nights
Scotland With Edinburgh Tattoo
Fred Olsen Cruise Lines
Braemar
14th Aug 2019 - 8 Nights
Cruising the Fjords of Norway
Fred Olsen Cruise Lines
Balmoral
16th Aug 2019 - 7 Nights
Villages, Towns & Fjords
Fred Olsen Cruise Lines
Black Watch
26th Aug 2019 - 8 Nights
Fjords, Mountains & Glaciers
Fred Olsen Cruise Lines
Braemar
27th Aug 2019 - 11 Nights
Madeira, Portugal & Spain
Fred Olsen Cruise Lines
Boudicca
28th Aug 2019 - 9 Nights
Scenic Fjords of Norway
Fred Olsen Cruise Lines
Balmoral
28th Aug 2019 - 11 Nights
Spain, Portugal & France
Fred Olsen Cruise Lines
Boudicca
6th Sep 2019 - 9 Nights
French River Cruising
Fred Olsen Cruise Lines
Black Watch
10th Sep 2019 - 10 Nights
French River Cruising
Fred Olsen Cruise Lines
Braemar
14th Sep 2019 - 13 Nights
Cruising to the Heart of Seville & Bordeaux
Fred Olsen Cruise Lines
Boudicca
15th Sep 2019 - 11 Nights
Scandinavia, Islands of The Baltic With Stockholm
Fred Olsen Cruise Lines
Balmoral
16th Sep 2019 - 11 Nights
Mystery Cruise
Fred Olsen Cruise Lines
Boudicca
26th Sep 2019 - 7 Nights
Waterways of Holland & Belgium
Fred Olsen Cruise Lines
Balmoral
27th Sep 2019 - 9 Nights
German Waterways
Fred Olsen Cruise Lines
Braemar
27th Sep 2019 - 25 Nights
Greek Islands & Corinth Canal
Fred Olsen Cruise Lines
Boudicca
3rd Oct 2019 - 28 Nights
Exploring the Islands of the Atlantic
Fred Olsen Cruise Lines
Balmoral
6th Oct 2019 - 12 Nights
Uncrowded Baltic
Fred Olsen Cruise Lines
Boudicca
10th Oct 2019 - 35 Nights
Landscapes, Wildlife & Islands of Africa
Fred Olsen Cruise Lines
Black Watch
12th Oct 2019 - 16 Nights
Western Med with French Riviera
Fred Olsen Cruise Lines
Balmoral
19th Oct 2019 - 5 Nights
French River Cruising
Fred Olsen Cruise Lines
Braemar
22nd Oct 2019 - 8 Nights
Into The Heart of Spain & Bordeaux
Fred Olsen Cruise Lines
Black Watch
28th Oct 2019 - 14 Nights
Canary Islands
Fred Olsen Cruise Lines
Braemar
30th Oct 2019 - 13 Nights
Canary Islands & Madeira
Fred Olsen Cruise Lines
Boudicca
31st Oct 2019 - 28 Nights
African Wildlife & Indian Ocean Islands
Fred Olsen Cruise Lines
Balmoral
8th Nov 2019 - 7 Nights
Waterways of Holland & Belgium
Fred Olsen Cruise Lines
Black Watch
11th Nov 2019 - 15 Nights
Roundtrip Liverpool
Fred Olsen Cruise Lines
Boudicca
14th Nov 2019 - 28 Nights
Tropical Archipelagos of Asia
Fred Olsen Cruise Lines
Boudicca
14th Nov 2019 - 14 Nights
Seychelles, Mauritius & Andaman Islands
Fred Olsen Cruise Lines
Balmoral
15th Nov 2019 - 14 Nights
Canary Islands
Fred Olsen Cruise Lines
Braemar
24th Nov 2019 - 9 Nights
City Overnights
Fred Olsen Cruise Lines
Black Watch
26th Nov 2019 - 11 Nights
Spain, Portugal & Casablanca
Fred Olsen Cruise Lines
Boudicca
28th Nov 2019 - 14 Nights
Singapore & The Scenic Islands of Indonesia
T&C's:All Cruise Sale offers are applicable to new bookings only, made between 05/12/18 to 28/02/19 inclusive, for departures from January 2019 to March 2020; excludes charters, exclusive sailings, Tour Operator holidays, including but not limited to, W1901, W1902, W2009, D1903, D1904, D1912, D1929, D2008, M1902, M1903, M1925, M2007, L1909, L2003, R1908, and R1923.
In addition to above:
FREE All Inclusive Drinks Upgrade & Tips Covered on Ocean cruises: offer applicable on selected sailings of five nights up to 42 nights. Free drinks upgrade package comprises of selected house beers, wines, spirits and soft drinks. Tips are paid directly to the relevant staff on board; are non-refundable, non-transferable and cannot be exchanged for cash. Not combinable with any other offer, including, but not limited to Anchor Fares, (except Free Cashback as applicable, and Enjoyment Promise), and is capacity controlled.
Free Cashback offer: Free Cashback on selected cruises, as detailed. Cashback amount is per person, up to a maximum of two guests per room. Cashback is given on board as £ sterling, as on board account credit for use during the cruise. This is non-transferable. Unused on board spending credit can be claimed as cash on board at the end of the cruise only. No unused spend can be claimed after the end of the cruise – all claims must be made before disembarking the ship. Offer may be combined with Free All Inclusive Drinks Upgrade/Tips covered offer on cruises stated in Cashback offer. Solo Cruising offer: Offer based on sole occupancy of specific grades of twin/double rooms, paying no single supplement, on selected 2019 and 2020 sailings, as shown on the website. Solo offer is subject to availability and is capacity controlled.
3for2 offer: applicable on selected sailings on Ocean and/or Brabant River cruises. All three holidays must be booked in one transaction with the same lead name. The value of the lowest priced cruise will be divided into three with one third of this value deducted from each of the three bookings. Free cruise value will be calculated after any applicable deal or promotion has been applied. The standard deposit or full payment will be due at time of booking for each cruise, as dictated by the departure date, fare type, or duration. If lead guest name is changed, this must apply to all three bookings and standard Administration Fees will apply. 3for2 Offer is based on Freedom fares only, and applies to basic cruise fare only (and Fred. Olsen flights where applicable). Should the cost of any of the bookings made under this promotion change due to an amendment request from the guest, FOCL reserves the right to amend the value of the free cruise accordingly. Should any of the cruise bookings made under this promotion be cancelled or transferred by the guest, this offer and discounts will be withdrawn and the remaining cruise bookings will be re-priced at the fares applicable at the time of booking. Fred. Olsen reserve the right to withdraw cruises from the promotion or make amendments at any time without prior notice. Standard cancellation charges apply to all three cruises based on the fare type that is booked for the relevant cruise. Offer not combinable with any other offer, including, but not limited to Anchor Fares, and with the exception of the Enjoyment Promise.Fares shown are based on 2 adults sharing the lead grade of stateroom. All promotional discount has been taken into consideration.
E&OE