Homepage » Canary Islands & Mediterranean Exclusive Cruise Offers
Canary Islands & Mediterranean Exclusive Cruise Offers
Great value package cruise offers to the Canary Islands and the Mediterranean! Most deals include hotel stays in popular cities like Barcelona, Rome, Venice and Palma.

The Mediterranean has so many treasures to be discovered. Enclosed by three continents you will visit glamorous resorts, historic cities and idyllic islands whilst enjoying the warm Mediterranean temperatures. Visit the tree-lined Las Ramblas in Barcelona, the racy riviera resort of Monte Carlo, take in the Vatican City and the Coliseum in Rome, the picture perfect Mykonos with its whitewashed houses, visit one of the most important archaeological sites at Ephesus or discover the unique network of canals and bridges in the captivating city of Venice.
Choose to cruise to the Canary Island's and you have the perfect setting for winter sun! Not just in winter though, as it is a great destination for year-round sunshine. Beautiful ports await you in Gran Canaria, Tenerife or Lanzarote, to name a few.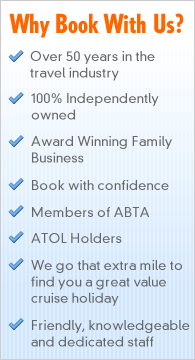 OTHER DESTINATIONS
• Mediterranean &Canaries Cruises
OTHER CRUISES
DESTINATION: MEDITERRANEAN & CANARY ISLANDS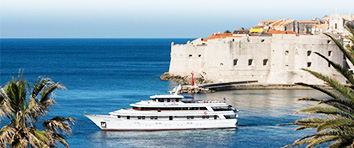 Croatia Coastal Yacht Cruiser
Small Ship Cruising
May - October 2018 :: 7 nights
Sail away on board an intimate 38 passenger yacht cruiser along the coast of Croatia. Imagine reclining under a deep azure sky, as the polished teak deck moves almost imperceptibly with the rhythm of the Mediterranean and a refreshing evening breeze ruffles the air.
Fares from only
£1,429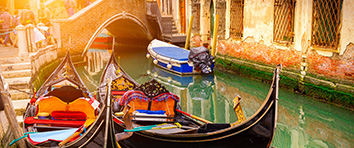 Venice, The Adriatic & Greece
Inclusive Small Ship Cruising
Departs 2018-2020 :: 7 Nights
Explore magnificent Adriatic shores on this 7-night Mediterranean sojourn from Venice to Athens. With shore excursions and most drinks on board included! Book before 30th Sep 2018 for savings of £500 per person.
Fares from
£2,290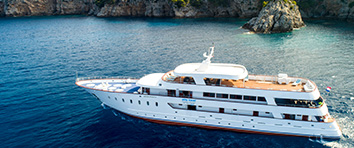 The Dalmatian Coast
Emerald Waterways
April - August 2019 :: 7 nights
Let Emerald Waterways take you on an adventure to the magnificent Dalmatian coast, in Croatia's beautiful south. Where the yacht-friendly waters of the Adriatic Sea play host to thousands of off-shore islands, breath-taking mountain ranges and ancient towns and cities, having preserved their authority.
Fares from only
£1,795