Home

»

Norwegian Cruise Line - Free On-Board Credit and Speciality Dining Package
Norwegian Cruise Line
Free On-Board Credit and Speciality Dining Package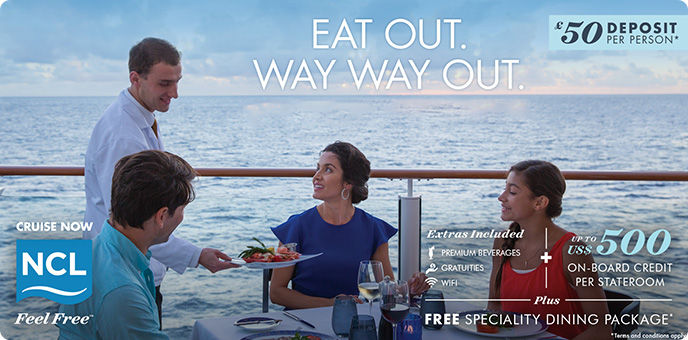 Book now… dine in style and do something different… all with Norwegian Cruise Line's compliments.
Feel Free to enjoy an on-board spree. Simply book a cruise of five days or longer and Norwegian Cruise Lines will treat you to up to $500 per stateroom* to spend onboard. And because there's so much already included in Norwegian's Premium All Inclusive cruising you can look forward to a little extra indulgence. Perhaps a revitalising treatment in the spa, a dining experience in a speciality restaurant or a shore excursion to your happy place…

And that's not all! When you book a Balcony Stateroom or Mini Suite before 1 April 2019, you'll enjoy complimentary speciality dining in selected restaurants on three evenings. Fine French cuisine in Le Bistro… a side of la dolce vita in La Cucina Italian restaurant… choice cuts of Angus Beef in Cagney's Steakhouse – the choice is yours. Plus, you'll pay just £50 pp deposit**.
NOTE: Offer is not applicable to categories BX and MX.
See the applicable sailings below. (Fares shown are CRUISE ONLY, please click "View Details" to view flight options).
CALL TODAY TO BOOK ON:
0800 810 8481
Norwegian Cruise Line
Norwegian Epic
27th Apr 2019 - 15 Nights
Transatlantic from Orlando (Port Canaveral)
Norwegian Cruise Line
Norwegian Jade
28th Apr 2019 - 14 Nights
New York(Brooklyn) to Rome
Norwegian Cruise Line
Norwegian Star
12th May 2019 - 12 Nights
Italy & Greek Isles from Barcelona
Norwegian Cruise Line
Norwegian Epic
5th Jun 2019 - 7 Nights
Western Mediterranean from Rome (Civitavecchia)
Norwegian Cruise Line
Norwegian Getaway
16th Jun 2019 - 9 Nights
Scandinavia, Russia & Baltic from Copenhagen
Norwegian Cruise Line
Norwegian Jade
20th Jun 2019 - 10 Nights
Greek Isles & Italy from Rome (Civatavecchia)
Norwegian Cruise Line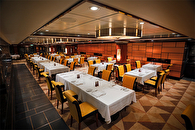 Norwegian Jade
21st Jul 2019 - 11 Nights
Greek Isles & Italy from Rome (Civatavecchia)
Norwegian Cruise Line
Norwegian Getaway
22nd Jul 2019 - 9 Nights
Scandinavia, Russia & Baltic from Copenhagen
Norwegian Cruise Line
Norwegian Jade
1st Aug 2019 - 10 Nights
Greek Isles & Italy from Rome (Civatavecchia)
Norwegian Cruise Line
Norwegian Breakaway
4th Aug 2019 - 7 Nights
Western Caribbean from Miami
Norwegian Cruise Line
Norwegian Gem
4th Oct 2019 - 7 Nights
Canada & New England from Boston
Norwegian Cruise Line
Norwegian Star
6th Oct 2019 - 7 Nights
Greek Isles from Venice
Norwegian Cruise Line
Norwegian Jade
7th Nov 2019 - 21 Nights
Greece, Holy Land, Egypt & Abu Dhabi
Norwegian Cruise Line
Pride of America
9th Nov 2019 - 7 Nights
Hawaii - Round-trip Honolulu
Norwegian Cruise Line
Norwegian Spirit
22nd Dec 2019 - 12 Nights
Mediterranean From Rome
Norwegian Cruise Line
Norwegian Sun
22nd Dec 2019 - 14 Nights
South America from Santiago
Norwegian Cruise Line
Norwegian Getaway
29th Dec 2019 - 7 Nights
Western Caribbean from New Orleans
Norwegian Cruise Line
Norwegian Dawn
30th Dec 2019 - 7 Nights
Southern Caribbean from San Juan