Home

»

Norwegian Cruise Line - Free On-Board Credit and Speciality Dining Package
Norwegian Cruise Line
NCL's 7 Day Sale... book now and save up to £200!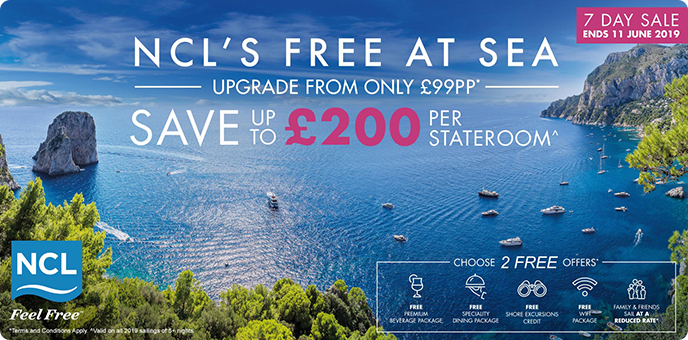 Still looking for a 2019 cruise holiday? Stop looking and get booking. Because you can save up to £200 per stateroom when you book a 2019 cruise of five days or longer between 3 and 11 June 2019.

And that's not all because you can still take advantage of NCL's valuable Free at Sea benefits.
For just £99 per person (based on a 7-day cruise) you can select your choice of two of the following benefits and create a holiday unique to you:
• Premium Beverage Package with alcoholic and non-alcoholic branded drinks
• Speciality Dining Package in selected global speciality restaurants
• WiFi Package with up to 125 minutes WiFi per person
• Shore Excursion Package with $50 shore excursion credit per stateroom per port of call
• Family and Friends Offer. On selected sailings guests three and four in your stateroom pay only the applicable tax for their cruise.
See the applicable sailings below. (Fares shown are CRUISE ONLY, please click "View Details" to view flight options).
CALL TODAY TO BOOK ON:
0800 810 8481
Norwegian Cruise Line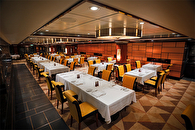 Norwegian Jade
21st Jul 2019 - 11 Nights
Greek Isles & Italy from Rome (Civatavecchia)
Norwegian Cruise Line
Norwegian Getaway
22nd Jul 2019 - 9 Nights
Scandinavia, Russia & Baltic from Copenhagen
Norwegian Cruise Line
Norwegian Jade
1st Aug 2019 - 10 Nights
Greek Isles & Italy from Rome (Civatavecchia)
Norwegian Cruise Line
Norwegian Breakaway
4th Aug 2019 - 7 Nights
Western Caribbean from Miami
Norwegian Cruise Line
Norwegian Gem
4th Oct 2019 - 7 Nights
Canada & New England from Boston
Norwegian Cruise Line
Norwegian Star
6th Oct 2019 - 7 Nights
Greek Isles from Venice
Norwegian Cruise Line
Norwegian Jade
7th Nov 2019 - 21 Nights
Greece, Holy Land, Egypt & Abu Dhabi
Norwegian Cruise Line
Pride of America
9th Nov 2019 - 7 Nights
Hawaii - Round-trip Honolulu
Norwegian Cruise Line
Norwegian Spirit
22nd Dec 2019 - 12 Nights
Mediterranean From Rome
Norwegian Cruise Line
Norwegian Getaway
29th Dec 2019 - 7 Nights
Western Caribbean from New Orleans
Norwegian Cruise Line
Norwegian Dawn
30th Dec 2019 - 7 Nights
Southern Caribbean from San Juan