Home

»

Oceania Cruises : Premium Luxury Cruising
Oceania Cruises : Premium Luxury Cruising
Each day aboard Oceania Cruises brings a new wave of discoveries and adventures in the most alluring corners of the world. Authentic cultural experiences and enrichment await onboard Oceania Cruises' incredible mid-sized premium luxury ships - Insignia, Marina, Nautica, Regatta, Riviera or Sirena. Share your holiday time with like-minded well-travelled people, who have a zest for exploration independently or with one of Oceania's extensive array of shore excursions that delve into the cuisine, culture and history of the lands you'll visit.
Onboard you'll discover extraordinary food - gourmet dining prepared à la minute; luxurious and intimate residential-style interiors with furnishing from famous designers; and dedicated concierges who will attend to your every request, plus indulge at Canyon Ranch Spa.
OLife Ultimate
Explore inspiring destinations at an incomparable value, such as Alaska, the Pacific Isles, Alaska and beyond! On the selected voyages seen below, receive OLife Ultimate* inclusive package, which includes all of these incredible amenities:

Airfare & Internet*
FREE - Up to 8 Shore Excursions
FREE - House Beverage Package
FREE - Up to US$800 Shipboard Credit
FREE Gratuities

And that's in addition to dining in speciality restaurants; unlimited soft drinks, bottled water, speciality teas & coffess; fitness & wellness classes; shuttle service from ship to city centre in many ports of call; 24hr room service dining, which is all included as standard. Plus Concierge Level & Suite guests have unlimited access to Canyon Ranch® private Spa Terrace.

*Reduced fares available on select voyages.* Limited Availability. OLife Ultimate expires on 31st March 2019. OLife Ultimate is valid on select Categories depending on the sailing.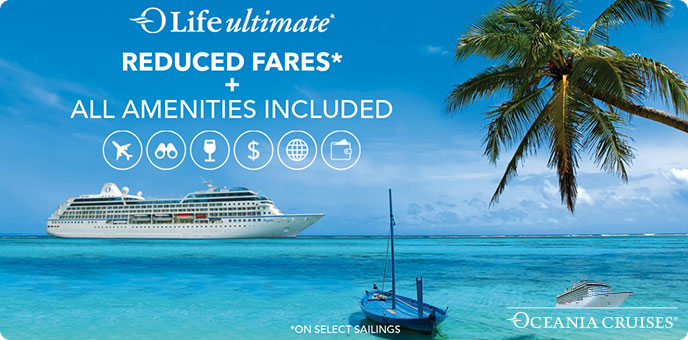 CALL TODAY TO BOOK ON:
0800 810 8481
Oceania Cruises
Nautica
7th Mar 2019 - 15 Nights
Hong Kong to Singapore
FREE 8 Shore Excursions, House Beverage Package, US$800 Shipboard Credit & Gratuities - Grades A1-G
Oceania Cruises
Nautica
7th Mar 2019 - 33 Nights
Hong Kong to Singapore
FREE 16 Shore Excursions, House Beverage Package, US$1,600 Shipboard Credit, plus Gratuities - Grades A1 to G
Oceania Cruises
Regatta
16th Mar 2019 - 16 Nights
Papeete to Los Angeles
FREE 6 Shore Excursions, House Beverage Package, US$600 Shipboard Credit & Gratuities - Grades E-PH1
Oceania Cruises
Nautica
22nd Mar 2019 - 18 Nights
Shanghai to Singapore
FREE 8 Shore Excursions, House Beverage Package, US$800 Shipboard Credit & Gratuities - Grades C2-PH1
Oceania Cruises
Marina
5th Apr 2019 - 14 Nights
Atlantic Encounters
FREE 8 Shore Excursions, House Beverage Package, US$800 Shipboard Credit & Gratuities - Grades B4-PH1
Oceania Cruises
Nautica
30th May 2019 - 10 Nights
Lisbon to London
FREE 6 Shore Excursions, House Beverage Package, US$600 Shipboard Credit & Gratuities - Grades C2-PH1
Oceania Cruises
Marina
3rd May 2019 - 14 Nights
Barcelona to Rome
FREE 8 Shore Excursions, House Beverage Package, US$800 Shipboard Credit & Gratuities - Grades B4-PH1
Oceania Cruises
Marina
17th May 2019 - 16 Nights
Rome to London
FREE 8 Shore Excursions, House Beverage Package, US$800 Shipboard Credit & Gratuities - Grades B4-PH1
Oceania Cruises
Regatta
19th May 2019 - 10 Nights
Northwest Wonders
FREE 6 Shore Excursions, House Beverage Package, US$600 Shipboard Credit & Gratuities - Grades G-PH1
Oceania Cruises
Regatta
29th May 2019 - 14 Nights
Vancouver to Seattle
FREE 8 Shore Excursions, House Beverage Package, US$800 Shipboard Credit & Gratuities - Grades C2-PH1
Oceania Cruises
Insignia
4th Jun 2019 - 15 Nights
Vineyards & Vistas
FREE 8 Shore Excursions, House Beverage Package, US$800 Shipboard Credit & Gratuities - Grades C2-PH1
Oceania Cruises
Nautica
9th Jun 2019 - 10 Nights
London to Dublin
FREE 6 Shore Excursions, House Beverage Package, US$600 Shipboard Credit & Gratuities - Grades C2-PH1
Oceania Cruises
Insignia
19th Jun 2019 - 22 Nights
Waves of Liberty
FREE 8 Shore Excursions, House Beverage Package, US$800 Shipboard Credit & Gratuities - Grades C2-PH1
Oceania Cruises
Sirena
5th Jul 2019 - 10 Nights
Lisbon to Rome
FREE 6 Shore Excursions, House Beverage Package, US$600 Shipboard Credit & Gratuities - Grades G-PH1
Oceania Cruises
Sirena
15th Jul 2019 - 10 Nights
Rome to Barcelona
FREE 6 Shore Excursions, House Beverage Package, US$600 Shipboard Credit & Gratuities - Grades G-PH1
Oceania Cruises
Nautica
23rd Jul 2019 - 12 Nights
Copenhagen to London
FREE 6 Shore Excursions, House Beverage Package, US$600 Shipboard Credit & Gratuities - Grades C2-PH1
Oceania Cruises
Riviera
2nd Aug 2019 - 12 Nights
Regal Riviera
FREE 6 Shore Excursions, House Beverage Package, US$600 Shipboard Credit & Gratuities - Grades B4-PH1
Oceania Cruises
Sirena
6th Aug 2019 - 10 Nights
Venice to Monte Carlo
FREE 6 Shore Excursions, House Beverage Package, US$600 Shipboard Credit & Gratuities - Grades G-PH1
Oceania Cruises
Riviera
14th Aug 2019 - 14 Nights
Classic Connoisseur
FREE 8 Shore Excursions, House Beverage Package, US$800 Shipboard Credit & Gratuities - Grades B4-PH1
Oceania Cruises
Sirena
16th Aug 2019 - 7 Nights
Monte Carlo to Rome
FREE 4 Shore Excursions, House Beverage Package, US$400 Shipboard Credit & Gratuities - Grades G-PH1
Oceania Cruises
Nautica
24th Aug 2019 - 11 Nights
London to Copenhagen
FREE 6 Shore Excursions, House Beverage Package, US$600 Shipboard Credit & Gratuities - Grades C2-PH1
Oceania Cruises
Insignia
11th Sep 2019 - 17 Nights
Montreal to Miami
FREE 8 Shore Excursions, House Beverage Package, US$800 Shipboard Credit & Gratuities - Grades C2-PH1
Oceania Cruises
Sirena
12th Sep 2019 - 7 Nights
Monte Carlo to Barcelona
FREE 4 Shore Excursions, House Beverage Package, US$400 Shipboard Credit & Gratuities - Grades G-PH1
Oceania Cruises
Sirena
19th Sep 2019 - 12 Nights
Barcelona to Rome
FREE 6 Shore Excursions, House Beverage Package, US$600 Shipboard Credit & Gratuities - Grades G-PH1
Oceania Cruises
Nautica
2nd Oct 2019 - 12 Nights
London To Barcelona
FREE 6 Shore Excursions, House Beverage Package, US$600 Shipboard Credit & Gratuities - Grades C2-PH1
Oceania Cruises
Riviera
30th Oct 2019 - 16 Nights
Scenic Seaboard
FREE 8 Shore Excursions, House Beverage Package, US$800 Shipboard Credit & Gratuities - Grades B4-PH1
Oceania Cruises
Regatta
1st Nov 2019 - 16 Nights
San Francisco To Papeete
FREE 6 Shore Excursions, House Beverage Package, US$600 Shipboard Credit & Gratuities - Grades B2-PH1
Oceania Cruises
Marina
4th Nov 2019 - 7 Nights
Rome to Monte Carlo
FREE 4 Shore Excursions, House Beverage Package, US$400 Shipboard Credit & Gratuities - Grades B4-PH1
Oceania Cruises
Sirena
6th Nov 2019 - 15 Nights
Atlantic Soiree
FREE 8 Shore Excursions, House Beverage Package, US$800 Shipboard Credit & Gratuities - Grades B2-PH1
Oceania Cruises
Nautica
7th Nov 2019 - 10 Nights
Venice to Rome
FREE 6 Shore Excursions, House Beverage Package, US$600 Shipboard Credit & Gratuities - Grades C2-PH1
Oceania Cruises
Marina
11th Nov 2019 - 12 Nights
Monte Carlo to Barcelona
FREE 6 Shore Excursions, House Beverage Package, US$600 Shipboard Credit & Gratuities - Grades B4-PH1
Oceania Cruises
Regatta
5th Mar 2020 - 10 Nights
Legends to Lagoons
FREE 6 Shore Excursions, House Beverage Package, US$600 Shipboard Credit & Gratuities - Grades C2-PH1
Oceania Cruises
Regatta
15th Mar 2020 - 10 Nights
Legends to Lagoons
FREE 6 Shore Excursions, House Beverage Package, US$600 Shipboard Credit & Gratuities - Grades C2-PH1
Oceania Cruises
Regatta
25th Mar 2020 - 10 Nights
Papeete to Papeete
FREE 6 Shore Excursions, House Beverage Package, US$600 Shipboard Credit & Gratuities - Grades C2-PH1
Oceania Cruises
Regatta
4th Apr 2020 - 10 Nights
Legends to Lagoons
FREE 6 Shore Excursions, House Beverage Package, US$600 Shipboard Credit & Gratuities - Grades C2-PH1
Oceania Cruises
Regatta
14th Apr 2020 - 18 Nights
Pacific Wanderlust
FREE 8 Shore Excursions, House Beverage Package, US$800 Shipboard Credit & Gratuities - Grades B2-PH1
T&Cs: *Standard terms apply. In addition: *OLife Ultimate offer and fares expire on 31st March 2019 and are subject to change without notice. OLife Ultimate amenities are subject to change. OLife Ultimate is based on availability and capacity controlled. OLife Ultimate and Free Gratuities are valid only for new bookings on select sailings only for new bookings on select stateroom categories. Any noted Shipboard Credits are per stateroom, based on double occupancy. Free Internet is one per stateroom. OLife Ultimate amenities are subject to change. OLife Ultimate FREE Shore Excursions vary by voyage and exclude Oceania Choice, Oceania Exclusive and Executive Collection. All Shore Excursions must be chosen at least 14 days prior to sailing. OLife Ultimate beverage package amenity is House Select. included Free Gratuities are not valid for private dinners, spa treatments or alcoholic drinks, which lead to an automatic tip of about 18%. Not all promotions are combinable. Offer is NOT combinable with groups, onboard discount, combo discount, consumer events, single specials, air promotions and covert offerings. Offer is combinable with OLife Choice amenities, Amex CPP, Oceania Club benefits, all concierge benefits, national account promos, and OCAPP. Oceania Cruises reserves the right to correct errors or omissions and to change any and all fares, fees and surcharges at any time. E&OE