Home

»

Latest Offers
P&O Cruises | Latest Offers
Sail away on a last minute holiday with P&O Cruises and SAVE!
We've got some incredible Saver fares available across a massive range of cruises, from last minute getaways to winter warmers.
It's amazing what's included in a Saver Fare holiday:
✓ Flights (if applicable)
✓ Full board
✓ World-class dining
✓ Children's clubs (if applicable)
✓ Dazzling evening entertainment
✓ Pools, gym, sauna and/or steam room

The latest, and greatest, P&O Cruises special offers are listed below.
CALL TODAY TO BOOK ON:
0800 810 8481
P&O Cruises
Oceana
26th Mar 2018 - 17 Nights
Spain, Italy and Greece
P&O Cruises
Oceana
5th Apr 2018 - 7 Nights
Greece
P&O Cruises
Britannia
6th Apr 2018 - 2 Nights
Belgium
P&O Cruises
Azura
6th Apr 2018 - 7 Nights
Spain, Portugal and France
P&O Cruises
Ventura
9th Apr 2018 - 12 Nights
Spain and Portugal
P&O Cruises
Oceana
12th Apr 2018 - 7 Nights
Croatia and Italy
P&O Cruises
Oceana
26th Apr 2018 - 7 Nights
Greece
P&O Cruises
Azura
29th Apr 2018 - 7 Nights
Norwegian Fjords
P&O Cruises
Ventura
4th May 2018 - 7 Nights
Spain, Portugal and Guernsey
P&O Cruises
Oceana
10th May 2018 - 14 Nights
Italy, Malta and Greece
P&O Cruises
Oceana
17th May 2018 - 7 Nights
Greece
P&O Cruises
Aurora
19th May 2018 - 16 Nights
Scandinavia and Russia
P&O Cruises
Britannia
27th May 2018 - 7 Nights
Norwegian Fjords
P&O Cruises
Oceana
7th Jun 2018 - 7 Nights
Greece
P&O Cruises
Oriana
11th Jun 2018 - 12 Nights
Scotland, Ireland and Guernsey
P&O Cruises
Aurora
30th Jun 2018 - 4 Nights
Belgium and The Netherlands
P&O Cruises
Aurora
4th Jul 2018 - 17 Nights
Spain, Italy and France
P&O Cruises
Arcadia
8th Jul 2018 - 14 Nights
Scandinavia and Russia
P&O Cruises
Arcadia
17th Aug 2018 - 14 Nights
Scandinavia and Russia
P&O Cruises
Aurora
31st Aug 2018 - 14 Nights
Scandinavia and Russia
P&O Cruises
Britannia
2nd Sep 2018 - 7 Nights
Norwegian Fjords
P&O Cruises
Oceana
6th Sep 2018 - 7 Nights
Croatia and Italy
P&O Cruises
Azura
30th Sep 2018 - 12 Nights
Portugal and Spain
P&O Cruises
Ventura
8th Oct 2018 - 12 Nights
Spain and Portugal
P&O Cruises
Aurora
15th Oct 2018 - 13 Nights
Canary Islands and Portugal
P&O Cruises
Britannia
26th Oct 2018 - 14 Nights
Caribbean Transatlantic
P&O Cruises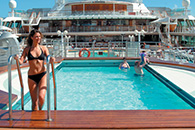 Oceana
9th Nov 2018 - 12 Nights
Canary Islands
T&C's: Prices shown are subject to availability based upon 2 adults sharing the lowest available grade within the stateroom type specified and include Taxes, Fees and Port Expenses. Offers are subject to change, and can be withdrawn at any time without notice. Offers are not combinable with any other discount or promotional offer. E&OE