Homepage » Princess Cruises :: Wake up to a new view
Princess Cruises - Wake up to a new view
Savour the sights and sounds of the ocean from your very own balcony. Wake up to an exciting new view every day. Feel the fresh, ocean breeze on your skin, enjoy the tranquillity of your own peaceful private hideaway, look out across the ocean in search of wildlife, or chill out late at night with a glass of wine and wonder at the sparkling sea and twinkling stars. All this could be yours with a free balcony upgrade if you book by 31 October 2018*.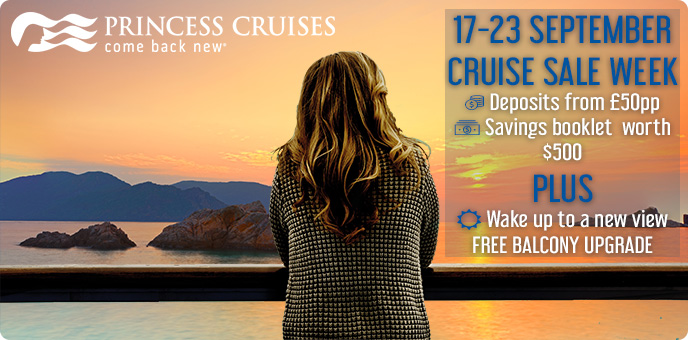 The Offer...
From 31 August – 31 October 2018, on select sailings departing December 2018 onwards, enjoy:
☆ A FREE upgrade from an oceanview to a balcony ☆
OR
☆ A FREE upgrade from a balcony to mini suite on Sky, Majestic, Regal & Royal Princess ☆

SALE WEEK
From 17 September – 23 September 2018 enjoy:
☆ Deposits from £50pp ☆
☆ A free savings booklet worth over $500 ☆

Fares shown on this website include all promotional discount.
CALL TODAY TO BOOK ON:
0800 810 8481
Princess Cruises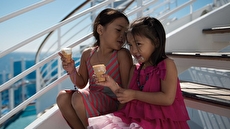 Emerald Princess
3rd Jan 2019 - 15 Nights
Hawaiian Islands
Book by 31 Oct for an upgrade from oceanview to balcony. T&Cs apply
Princess Cruises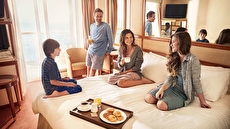 Sapphire Princess
5th Jan 2019 - 14 Nights
Grand Asia
Book by 31 Oct for an upgrade from oceanview to balcony. T&Cs apply
Princess Cruises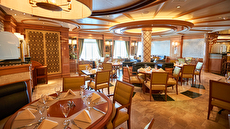 Grand Princess
7th Jan 2019 - 10 Nights
Mexican Riviera
Book by 31 Oct for an upgrade from oceanview to balcony. T&Cs apply
Princess Cruises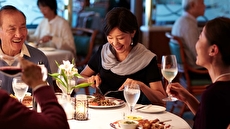 Diamond Princess
9th Jan 2019 - 10 Nights
Southeast Asia
Book by 31 Oct for an upgrade from oceanview to balcony. T&Cs apply
Princess Cruises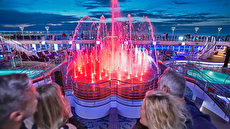 Royal Princess
19th Jan 2019 - 14 Nights
Caribbean East/West Adventurer
Book by 31 Oct for an upgrade from oceanview to balcony or balcony to mini suite. T&Cs apply
Princess Cruises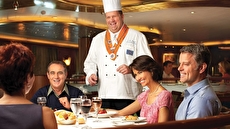 Sapphire Princess
19th Jan 2019 - 11 Nights
Malaysia, Thailand & Vietnam
Book by 31 Oct for an upgrade from oceanview to balcony. T&Cs apply
Princess Cruises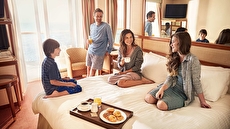 Pacific Princess
20th Jan 2019 - 29 Nights
Hawaii & South Pacific
Book by 31 Oct for an upgrade from oceanview to balcony. T&Cs apply
Princess Cruises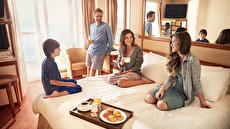 Regal Princess
27th Jan 2019 - 14 Nights
Caribbean East/West Adventurer
Book by 31 Oct for an upgrade from oceanview to balcony or balcony to mini suite. T&Cs apply
Princess Cruises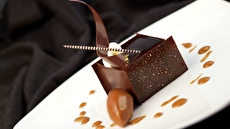 Sapphire Princess
30th Jan 2019 - 11 Nights
Malaysia, Thailand & Vietnam
Book by 31 Oct for an upgrade from oceanview to balcony. T&Cs apply
Princess Cruises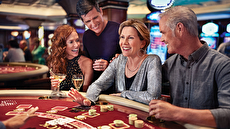 Coral Princess
31st Jan 2019 - 15 Nights
Panama Canal - Ocean to Ocean
Book by 31 Oct for an upgrade from oceanview to balcony. T&Cs apply
Princess Cruises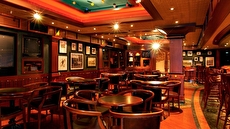 Sapphire Princess
3rd Feb 2019 - 12 Nights
Malaysia, Thailand & Vietnam
Book by 31 Oct for an upgrade from oceanview to balcony. T&Cs apply
Princess Cruises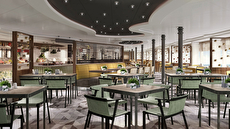 Caribbean Princess
9th Feb 2019 - 14 Nights
Eastern/ Western Caribbean
Book by 31 Oct for an upgrade from oceanview to balcony. T&Cs apply
Princess Cruises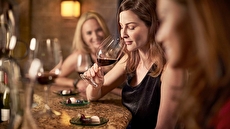 Caribbean Princess
16th Feb 2019 - 14 Nights
Caribbean East/West Adventurer
Book by 31 Oct for an upgrade from oceanview to balcony. T&Cs apply
Princess Cruises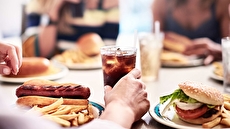 Crown Princess
25th Feb 2019 - 20 Nights
Caribbean Explorer
Book by 31 Oct for an upgrade from oceanview to balcony. T&Cs apply
Princess Cruises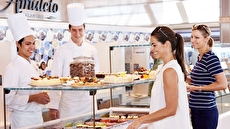 Island Princess
28th Feb 2019 - 10 Nights
Panama Canal with Costa Rica & Caribbean
Book by 31 Oct for an upgrade from oceanview to balcony. T&Cs apply
Princess Cruises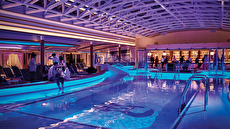 Majestic Princess
2nd Mar 2019 - 11 Nights
Australia & New Zealand
Book by 31 Oct for an upgrade from oceanview to balcony or balcony to mini suite. T&Cs apply
Princess Cruises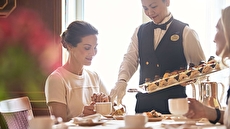 Regal Princess
3rd Mar 2019 - 14 Nights
Caribbean East/West Adventurer
Book by 31 Oct for an upgrade from oceanview to balcony or balcony to mini suite. T&Cs apply
Princess Cruises
Sun Princess
5th Mar 2019 - 18 Nights
Asia & Australia
Book by 31 Oct for an upgrade from oceanview to balcony. T&Cs apply
Princess Cruises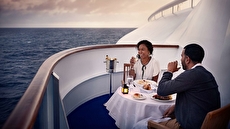 Caribbean Princess
9th Mar 2019 - 14 Nights
Caribbean East/West Adventurer
Book by 31 Oct for an upgrade from oceanview to balcony. T&Cs apply
Princess Cruises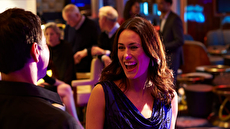 Diamond Princess
3rd Apr 2019 - 16 Nights
Grand Spring Flowers
Book by 31 Oct for an upgrade from oceanview to balcony. T&Cs apply
Princess Cruises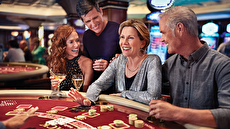 Grand Princess
6th Apr 2019 - 15 Nights
Hawaiian Islands
Book by 31 Oct for an upgrade from oceanview to balcony. T&Cs apply
Princess Cruises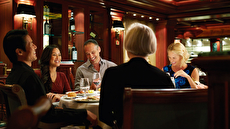 Golden Princess
8th Apr 2019 - 27 Nights
Hawaii, Tahiti & South Pacific Crossing
Book by 31 Oct for an upgrade from oceanview to balcony. T&Cs apply
Princess Cruises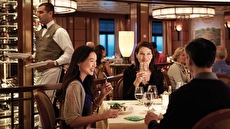 Diamond Princess
11th Apr 2019 - 8 Nights
Spring Flowers
Book by 31 Oct for an upgrade from oceanview to balcony. T&Cs apply
Princess Cruises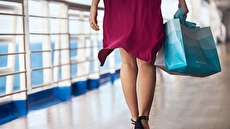 Diamond Princess
11th Apr 2019 - 16 Nights
Grand Spring Flowers
Book by 31 Oct for an upgrade from oceanview to balcony. T&Cs apply
Princess Cruises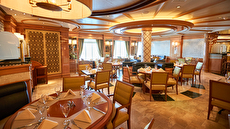 Regal Princess
14th Apr 2019 - 15 Nights
Northern Europe Passage
Book by 31 Oct for an upgrade from oceanview to balcony or balcony to mini suite. T&Cs apply
Princess Cruises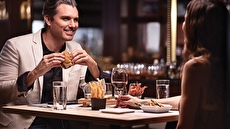 Crown Princess
1st May 2019 - 12 Nights
British Isles (with Dublin Overnight)
Book by 31 Oct for an upgrade from oceanview to balcony. T&Cs apply
Princess Cruises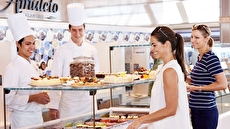 Island Princess
1st May 2019 - 7 Nights
Inside Passage (with Glacier Bay National Park)
Book by 31 Oct for an upgrade from oceanview to balcony. T&Cs apply
Princess Cruises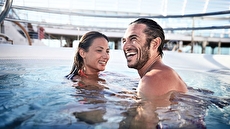 Royal Princess
4th May 2019 - 7 Nights
Pacific Wine Country
Book by 31 Oct for an upgrade from oceanview to balcony or balcony to mini suite. T&Cs apply
Princess Cruises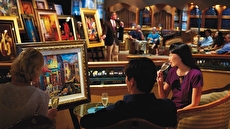 Regal Princess
7th May 2019 - 11 Nights
Scandinavi anad Russia
Book by 31 Oct for an upgrade from oceanview to balcony or balcony to mini suite. T&Cs apply
Princess Cruises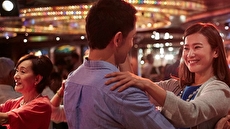 Sapphire Princess
18th May 2019 - 7 Nights
Norwegian Fjords
Book by 31 Oct for an upgrade from oceanview to balcony. T&Cs apply
Princess Cruises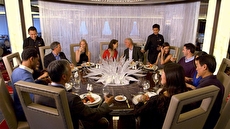 Regal Princess
21st May 2019 - 11 Nights
Scandinavia & Russia (from Copenhagen)
Book by 31 Oct for an upgrade from oceanview to balcony or balcony to mini suite. T&Cs apply
Princess Cruises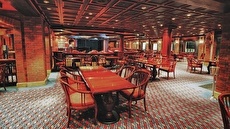 Island Princess
22nd May 2019 - 7 Nights
Voyage of the Glaciers - Northbound
Book by 31 Oct for an upgrade from oceanview to balcony. T&Cs apply
Princess Cruises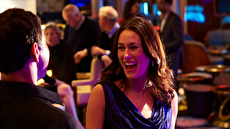 Emerald Princess
25th May 2019 - 21 Nights
Mediterranean Collection
Book by 31 Oct for an upgrade from oceanview to balcony. T&Cs apply
Princess Cruises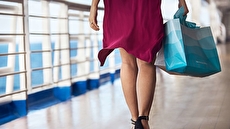 Emerald Princess
1st Jun 2019 - 14 Nights
Western Mediterranean & Adriatic Medley
Book by 31 Oct for an upgrade from oceanview to balcony. T&Cs apply
Princess Cruises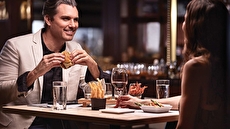 Emerald Princess
1st Jun 2019 - 21 Nights
Mediterranean Collection
Book by 31 Oct for an upgrade from oceanview to balcony. T&Cs apply
Princess Cruises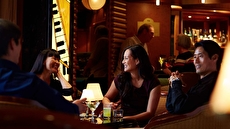 Island Princess
12th Jun 2019 - 7 Nights
Voyage of the Glaciers - Southbound
Book by 31 Oct for an upgrade from oceanview to balcony. T&Cs apply
Princess Cruises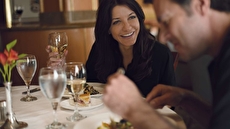 Grand Princess
15th Jun 2019 - 10 Nights
Inside Passage (Roundtrip San Francisco)
Book by 31 Oct for an upgrade from oceanview to balcony. T&Cs apply
Princess Cruises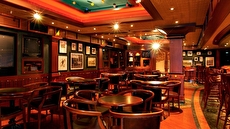 Sapphire Princess
6th Jul 2019 - 7 Nights
Norwegian Fjords
Book by 31 Oct for an upgrade from oceanview to balcony. T&Cs apply
Princess Cruises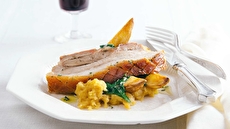 Sapphire Princess
13th Jul 2019 - 14 Nights
Iceland & Norway
Book by 31 Oct for an upgrade from oceanview to balcony. T&Cs apply
Princess Cruises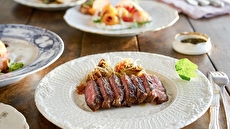 Emerald Princess
13th Jul 2019 - 21 Nights
Mediterranean Collection
Book by 31 Oct for an upgrade from oceanview to balcony. T&Cs apply
Princess Cruises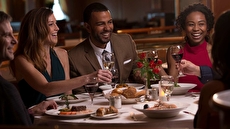 Caribbean Princess
13th Jul 2019 - 14 Nights
Caribbean East/West Adventurer
Book by 31 Oct for an upgrade from oceanview to balcony. T&Cs apply
Princess Cruises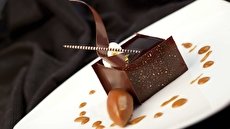 Regal Princess
15th Jul 2019 - 11 Nights
Scandinavia & Russia (from Copenhagen)
Book by 31 Oct for an upgrade from oceanview to balcony or balcony to mini suite. T&Cs apply
Princess Cruises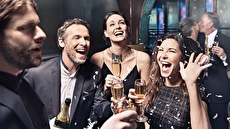 Diamond Princess
19th Jul 2019 - 16 Nights
Southern Islands & Northern Japan
Book by 31 Oct for an upgrade from oceanview to balcony. T&Cs apply
Princess Cruises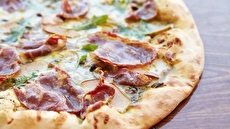 Emerald Princess
3rd Aug 2019 - 7 Nights
Mediterranean & Adriatic
Book by 31 Oct for an upgrade from oceanview to balcony. T&Cs apply
Princess Cruises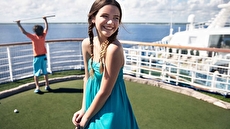 Emerald Princess
3rd Aug 2019 - 14 Nights
Western Mediterranean & Adriatic Medley
Book by 31 Oct for an upgrade from oceanview to balcony. T&Cs apply
Princess Cruises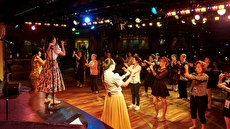 Grand Princess
4th Aug 2019 - 10 Nights
Inside Passage (Roundtrip San Francisco)
Book by 31 Oct for an upgrade from oceanview to balcony. T&Cs apply
Princess Cruises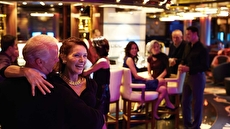 Regal Princess
9th Aug 2019 - 11 Nights
Scandinavi anad Russia
Book by 31 Oct for an upgrade from oceanview to balcony or balcony to mini suite. T&Cs apply
Princess Cruises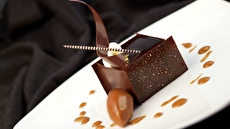 Sapphire Princess
10th Aug 2019 - 7 Nights
Norwegian Fjords
Book by 31 Oct for an upgrade from oceanview to balcony. T&Cs apply
Princess Cruises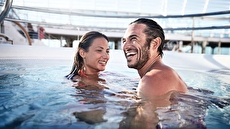 Star Princess
11th Aug 2019 - 7 Nights
Inside Passage (with Tracy Arm Fjord)
Book by 31 Oct for an upgrade from oceanview to balcony. T&Cs apply
Princess Cruises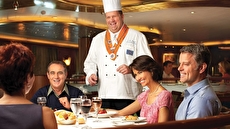 Sapphire Princess
17th Aug 2019 - 14 Nights
Mediterranean Adventurer
Book by 31 Oct for an upgrade from oceanview to balcony. T&Cs apply
Princess Cruises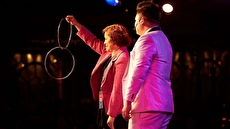 Island Princess
21st Aug 2019 - 7 Nights
Voyage of the Glaciers - Southbound
Book by 31 Oct for an upgrade from oceanview to balcony. T&Cs apply
Princess Cruises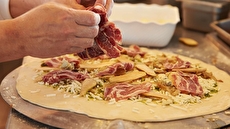 Diamond Princess
23rd Aug 2019 - 9 Nights
Sea Of Japan
Book by 31 Oct for an upgrade from oceanview to balcony. T&Cs apply
Princess Cruises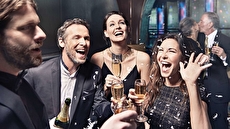 Emerald Princess
24th Aug 2019 - 14 Nights
Western Mediterranean & Adriatic Medley
Book by 31 Oct for an upgrade from oceanview to balcony. T&Cs apply
Princess Cruises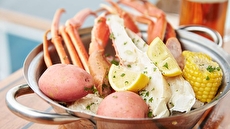 Regal Princess
5th Sep 2019 - 16 Nights
British Isles & Northern European Passage
Book by 31 Oct for an upgrade from oceanview to balcony or balcony to mini suite. T&Cs apply
Princess Cruises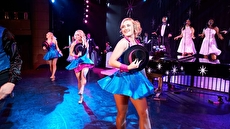 Diamond Princess
9th Sep 2019 - 14 Nights
Circle Japan Explorer
Book by 31 Oct for an upgrade from oceanview to balcony. T&Cs apply
Princess Cruises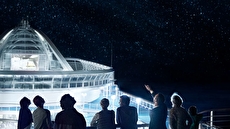 Golden Princess
21st Sep 2019 - 4 Nights
Alaska Sampler
Book by 31 Oct for an upgrade from oceanview to balcony. T&Cs apply
Princess Cruises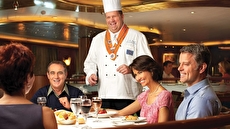 Emerald Princess
2nd Oct 2019 - 22 Nights
Grand Mediterranean Collection
Book by 31 Oct for an upgrade from oceanview to balcony. T&Cs apply
Princess Cruises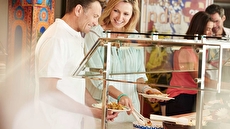 Sea Princess
5th Oct 2019 - 29 Nights
Roundtrip Australia
Book by 31 Oct for an upgrade from oceanview to balcony. T&Cs apply
Princess Cruises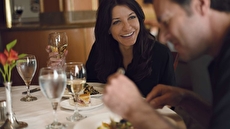 Sapphire Princess
8th Oct 2019 - 11 Nights
Canary Islands
Book by 31 Oct for an upgrade from oceanview to balcony. T&Cs apply
Princess Cruises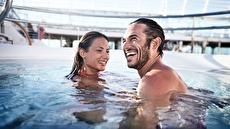 Grand Princess
20th Oct 2019 - 7 Nights
Pacific Northwest Coast
Book by 31 Oct for an upgrade from oceanview to balcony. T&Cs apply
Princess Cruises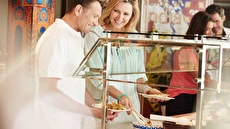 Grand Princess
27th Oct 2019 - 7 Nights
Classic California Coast
Book by 31 Oct for an upgrade from oceanview to balcony. T&Cs apply
Princess Cruises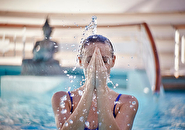 Sky Princess
3rd Nov 2019 - 28 Nights
Western Mediterranean Grand Adventure
Book by 31 Oct for an upgrade from oceanview to balcony or balcony to mini suite. T&Cs apply
Princess Cruises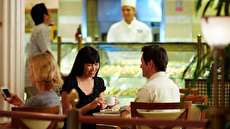 Star Princess
4th Nov 2019 - 15 Nights
Hawaiian Islands
Book by 31 Oct for an upgrade from oceanview to balcony. T&Cs apply
Princess Cruises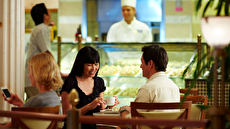 Grand Princess
3rd Dec 2019 - 15 Nights
Hawaiian Islands
Book by 31 Oct for an upgrade from oceanview to balcony. T&Cs apply
Princess Cruises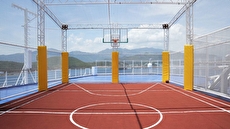 Crown Princess
7th Dec 2019 - 10 Nights
Southern Caribbean Medley
Book by 31 Oct for an upgrade from oceanview to balcony. T&Cs apply
Princess Cruises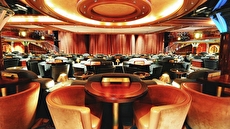 Coral Princess
20th Dec 2019 - 16 Nights
Buenos Aires to San Antonio
Book by 31 Oct for an upgrade from oceanview to balcony. T&Cs apply
Princess Cruises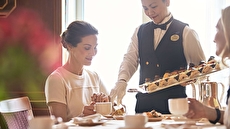 Pacific Princess
22nd Dec 2019 - 14 Nights
Caribbean Connoisseur
Book by 31 Oct for an upgrade from oceanview to balcony. T&Cs apply
Princess Cruises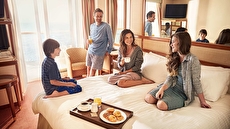 Diamond Princess
23rd Dec 2019 - 14 Nights
New Year's Eve Southeast Asia & Japan
Book by 31 Oct for an upgrade from oceanview to balcony. T&Cs apply