Home

»

Royal Caribbean - All Inclusive Is Back!
Royal Caribbean - All Inclusive Is Back!
Explore the world like never before with Royal Caribbean's 2018 & 2019 sailings. A true upgrade on ordinary, with onboard innovations like virtual reality trampolines, surf simulators, world-class dining and West End style shows, not forgetting astonishingly spacious accommodation. These are the moments Where Extraordinary Happens. This is how to holiday.
Book a selected sailing today and receive:
• Deluxe Drinks Package for guests 1 & 2, and Refreshment package for guests 3 & 4
• Upgrade to a balcony stateroom or suite for FREE Onboard WiFi (Voom® Surf & Stream)
Book a selected sailing roundtrip from Southampton for FREE pre-paid gratuities!
Book by 2nd July 2018!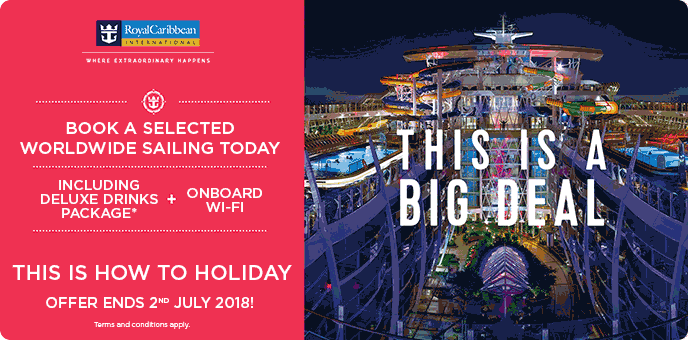 Take a look through just a few of the applicable Royal Caribbean sailings on offer below, there are some incredible deals to be found!
All promotional savings are all included in the fares displayed on this website. This promotion is not applicable to guarantee grades of cabin: Z, ZI, Y, YO, XN, X, XB, WS & W.
CALL TODAY TO BOOK ON:
0800 810 8481
Royal Caribbean International
Jewel of the Seas
24th Oct 2018 - 12 Nights
Mediterranean Barcelona
Book an eligible stateroom by 2nd July for FREE drinks & Wi-Fi - T&Cs apply
Royal Caribbean International
Grandeur of the Seas
1st Nov 2018 - 9 Nights
Southeast Coast & Bahamas
Book an eligible stateroom by 2nd July for FREE drinks & Wi-Fi - T&Cs apply
Royal Caribbean International
Navigator of the Seas
5th Nov 2018 - 13 Nights
U.S. East Coast Transatlantic
Book an eligible stateroom by 2nd July for FREE drinks & Wi-Fi - T&Cs apply
Royal Caribbean International
Vision of the Seas
13th Nov 2018 - 16 Nights
Panama Canal West Bound
Book an eligible stateroom by 2nd July for FREE drinks & Wi-Fi - T&Cs apply
Royal Caribbean International
Radiance of the Seas
21st Nov 2018 - 10 Nights
New Zealand
Book an eligible stateroom by 2nd July for FREE drinks & Wi-Fi - T&Cs apply
Royal Caribbean International
Adventure of the Seas
24th Nov 2018 - 8 Nights
Eastern Caribbean
Book an eligible stateroom by 2nd July for FREE drinks & Wi-Fi - T&Cs apply
Royal Caribbean International
Serenade of the Seas
30th Nov 2018 - 10 Nights
Eastern Caribbean
Book an eligible stateroom by 2nd July for FREE drinks & Wi-Fi - T&Cs apply
Royal Caribbean International
Symphony of the Seas
1st Dec 2018 - 7 Nights
Eastern Caribbean
Book an eligible stateroom by 2nd July for FREE drinks & Wi-Fi - T&Cs apply
Royal Caribbean International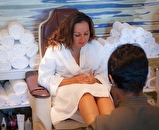 Empress of the Seas
9th Dec 2018 - 8 Nights
Best Of Cuba
Book an eligible stateroom by 2nd July for FREE drinks & Wi-Fi - T&Cs apply
Royal Caribbean International
Grandeur of the Seas
13th Dec 2018 - 9 Nights
Southeast Coast & Bahamas
Book an eligible stateroom by 2nd July for FREE drinks & Wi-Fi - T&Cs apply
Royal Caribbean International
Serenade of the Seas
21st Dec 2018 - 12 Nights
Southern Caribbean
Book an eligible stateroom by 2nd July for FREE drinks & Wi-Fi - T&Cs apply
Royal Caribbean International
Anthem of the Seas
6th Jan 2019 - 12 Nights
Southern Caribbean
Book an eligible stateroom by 2nd July for FREE drinks & Wi-Fi - T&Cs apply
Royal Caribbean International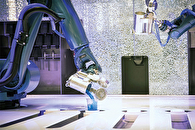 Symphony of the Seas
26th Jan 2019 - 7 Nights
Western Caribbean
Book an eligible stateroom by 2nd July for FREE drinks & Wi-Fi - T&Cs apply
Royal Caribbean International
Serenade of the Seas
1st Feb 2019 - 10 Nights
Eastern Caribbean
Book an eligible stateroom by 2nd July for FREE drinks & Wi-Fi - T&Cs apply
Royal Caribbean International
Liberty of the Seas
10th Feb 2019 - 7 Nights
Western Caribbean
Book an eligible stateroom by 2nd July for FREE drinks & Wi-Fi - T&Cs apply
Royal Caribbean International
Ovation of the Seas
14th Feb 2019 - 12 Nights
New Zealand
Book an eligible stateroom by 2nd July for FREE drinks & Wi-Fi - T&Cs apply
Royal Caribbean International
Jewel of the Seas
25th Feb 2019 - 16 Nights
Panama Canal Westbound
Book an eligible stateroom by 2nd July for FREE drinks & Wi-Fi - T&Cs apply
Royal Caribbean International
Anthem of the Seas
3rd Mar 2019 - 12 Nights
Southern Caribbean
Book an eligible stateroom by 2nd July for FREE drinks & Wi-Fi - T&Cs apply
Royal Caribbean International
Jewel of the Seas
29th Mar 2019 - 14 Nights
Miami To Rome
Book an eligible stateroom by 2nd July for FREE drinks & Wi-Fi - T&Cs apply
Royal Caribbean International
Jewel of the Seas
12th Apr 2019 - 11 Nights
Greece & Croatia
Book an eligible stateroom by 2nd July for FREE drinks & Wi-Fi - T&Cs apply
Royal Caribbean International
Serenade of the Seas
15th Apr 2019 - 11 Nights
Southern Caribbean
Book an eligible stateroom by 2nd July for FREE drinks & Wi-Fi - T&Cs apply
Royal Caribbean International
Oasis of the Seas
21st Apr 2019 - 14 Nights
Orlando To Barcelona
Book an eligible stateroom by 2nd July for FREE drinks & Wi-Fi - T&Cs apply
Royal Caribbean International
Enchantment of the Seas
6th May 2019 - 7 Nights
Western Caribbean
Book an eligible stateroom by 2nd July for FREE drinks & Wi-Fi - T&Cs apply
Royal Caribbean International
Grandeur of the Seas
16th May 2019 - 9 Nights
Canada & New England
Book an eligible stateroom by 2nd July for FREE drinks & Wi-Fi - T&Cs apply
Royal Caribbean International
Freedom of the Seas
19th May 2019 - 7 Nights
Southern Caribbean
Book an eligible stateroom by 2nd July for FREE drinks & Wi-Fi - T&Cs apply
Royal Caribbean International
Oasis of the Seas
26th May 2019 - 7 Nights
Western Mediterranean
Book an eligible stateroom by 2nd July for FREE drinks & Wi-Fi - T&Cs apply
Royal Caribbean International
Radiance of the Seas
7th Jun 2019 - 7 Nights
Southbound Alaska & Hubbard Glacier
Book an eligible stateroom by 2nd July for FREE drinks & Wi-Fi - T&Cs apply
Royal Caribbean International
Harmony of the Seas
7th Jul 2019 - 7 Nights
Western Caribbean
Book an eligible stateroom by 2nd July for FREE drinks & Wi-Fi - T&Cs apply
Royal Caribbean International
Liberty of the Seas
14th Jul 2019 - 7 Nights
Western Caribbean
Book an eligible stateroom by 2nd July for FREE drinks & Wi-Fi - T&Cs apply
Royal Caribbean International
Rhapsody of the Seas
19th Jul 2019 - 8 Nights
Croatia & Greece
Book an eligible stateroom by 2nd July for FREE drinks & Wi-Fi - T&Cs apply
Royal Caribbean International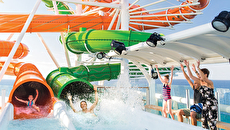 Independence of the Seas
27th Jul 2019 - 14 Nights
Mediterranean Beaches
Book an eligible stateroom by 2nd July for FREE drinks, pre-paid gratuities & Wi-Fi - T&Cs apply
Royal Caribbean International
Explorer of the Seas
4th Aug 2019 - 14 Nights
Scandinavia & Russia
Book an eligible stateroom by 2nd July for FREE drinks, pre-paid gratuities & Wi-Fi - T&Cs apply
Royal Caribbean International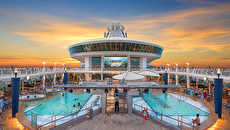 Explorer of the Seas
31st Aug 2019 - 13 Nights
Canaries & Azores
Book an eligible stateroom by 2nd July for FREE drinks, pre-paid gratuities & Wi-Fi - T&Cs apply
Royal Caribbean International
Jewel of the Seas
1st Sep 2019 - 7 Nights
Greek Isles
Book an eligible stateroom by 2nd July for FREE drinks & Wi-Fi - T&Cs apply
Royal Caribbean International
Independence of the Seas
14th Sep 2019 - 12 Nights
Canaries Adventure
Book an eligible stateroom by 2nd July for FREE drinks, pre-paid gratuities & Wi-Fi - T&Cs apply
Royal Caribbean International
Vision of the Seas
27th Sep 2019 - 13 Nights
Spain to Miami
Book an eligible stateroom by 2nd July for FREE drinks & Wi-Fi - T&Cs apply
Royal Caribbean International
Symphony of the Seas
5th Oct 2019 - 7 Nights
Eastern Caribbean
Book an eligible stateroom by 2nd July for FREE drinks & Wi-Fi - T&Cs apply
Royal Caribbean International
Jewel of the Seas
30th Oct 2019 - 12 Nights
Holy Land
Book an eligible stateroom by 2nd July for FREE drinks & Wi-Fi - T&Cs apply
Royal Caribbean International
Brilliance of the Seas
3rd Nov 2019 - 15 Nights
Spain & Azores Transatlantic
Book an eligible stateroom by 2nd July for FREE drinks & Wi-Fi - T&Cs apply
Royal Caribbean International
Liberty of the Seas
17th Nov 2019 - 7 Nights
Western Caribbean
Book an eligible stateroom by 2nd July for FREE drinks & Wi-Fi - T&Cs apply
Royal Caribbean International
Serenade of the Seas
29th Nov 2019 - 10 Nights
Southern Caribbean
Book an eligible stateroom by 2nd July for FREE drinks & Wi-Fi - T&Cs apply
Royal Caribbean International
Vision of the Seas
1st Dec 2019 - 15 Nights
Panama Canal Eastbound
Book an eligible stateroom by 2nd July for FREE drinks & Wi-Fi - T&Cs apply
Royal Caribbean International
Adventure of the Seas
7th Dec 2019 - 8 Nights
Southern Caribbean
Book an eligible stateroom by 2nd July for FREE drinks & Wi-Fi - T&Cs apply
Royal Caribbean International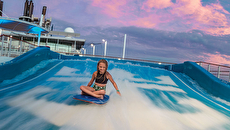 Explorer of the Seas
13th Dec 2019 - 9 Nights
Southern Caribbean
Book an eligible stateroom by 2nd July for FREE drinks & Wi-Fi - T&Cs apply
Royal Caribbean International
Radiance of the Seas
27th Dec 2019 - 11 Nights
South Pacific Holiday from Sydney
Book an eligible stateroom by 2nd July for FREE drinks & Wi-Fi - T&Cs apply
T&C's: Promotion is applicable to new bookings of eligible staterooms (guarantee stateroom bookings in categories Z, ZI, Y, YO, XN, X, XB, W & WS GTY are excluded) made between 8th May 2018 and 2nd July 2018 on selected sailings of 6 nights or more departing between 1st July 2018 and 31st December 2019 ("Eligible Bookings").
All Inclusive Drinks Package (First & Second Stateroom Guests Only)
The All Inclusive (Deluxe Beverage Package/Royal Refreshment Soda Package) promotion will be applied to the 1st & 2nd guests booked in each stateroom.
The All Inclusive offer includes the Deluxe Beverage package for adults or the Royal Refreshment Soda package for persons under the applicable drinking age.
The minimum drinking age for all alcoholic beverages on Royal Caribbean ships sailing from North America & Canada is 21 yrs at the time of sailing and elsewhere is 18 yrs to comply with applicable laws. The Royal Refreshment Soda Package will be applied to all applicable guests under the minimum drinking age.
A guest's age is established upon embarkation (beginning of the cruise). Passenger date of birth information must be provided at the time of booking before the drinks package will be applied. This is a legal requirement and we reserve the right to withdraw the package if guests do not meet the qualifying criteria. Please drink responsibly.
All Inclusive Refreshment Package (Third and Fourth Stateroom Guests Only)
The Refreshment Beverage Package is only applicable to any third and fourth guests booked in Inside, Ocean View, Balcony or Suite stateroom category, if over the age of two years. The Refreshment Package includes selected individual non-alcoholic beverage items up to $12 (retail value) available on-board, including premium coffee, premium tea, bottled water, juices, smoothies, non-alcoholic cocktails, fountain soda beverages and a Coca-Cola souvenir cup (subject to availability).
Voom Surf & Stream Wifi Package (per stateroom) - Balcony & Suite categories only.
The Voom Surf & Stream Internet Wifi Package is applicable to the 1st guest in the stateroom only. The Voom Surf & Stream Internet Wifi Package will allow the guest to browse the web, check email, and share photos, plus the capability to stream movies and music and connect using video chat apps on 1 device for the duration of the cruise.
Internet packages are non-transferrable and guests must comply with the ships terms and conditions of use. Due to the nature of the internet, we cannot guarantee specific levels of performance for internet access. Use of Voom internet must not be illegal or infringe the rights of any other person. All internet use must be in accordance with our Internet Terms of Use Policy.
Free Gratuities – selected ex-UK sailings only
Eligible bookings on selected sailings from Southampton will receive free Pre-Paid Gratuities for each guest in the stateroom. This will be applied to the booking within 1-2 weeks of the booking creation. The Free Gratuities offer has no cash value, is not redeemable for cash, cannot be transferred to another booking and will not be applied to any expenditure in any onboard casino.
Many guests wish to reward exceptional service during their cruise by providing additional gratuities. Guests may do so by providing an additional gratuity to their SeaPass® onboard account or a cash gratuity at their discretion. An 18% service charge is automatically added to beverages, mini-bar items, spa & salon purchases as well as speciality dining products, including packages, classes and brunches. This is not included within the Free Gratuities offer.
" Promotional details, fares and itineraries were correct at time of publish but can be changed/withdrawn at any time without notice. All offers are applicable to new bookings only. E&OE