Home

»

Royal Caribbean - Savings & On Board Spending Money
Royal Caribbean - Savings & On Board Spending Money
EVEN MORE ADVENTURES, EVEN MORE ENCOUNTERS
TREAT YOURSELF TO MORE EXCITING EXCURSIONS AND EXPERIENCES WITH 20% OFF SELECTED SAILINGS & ON BOARD SPENDING MONEY.
The right place awaits, and it's definitely the right time. Book a selected 2017 or 2018 Caribbean or European sailing by 3 July, and you'll receive 20% off plus up to $1,000 to spend onboard however you like.
Maybe linger over a gourmet meal at one of Royal Caribbean's speciality restaurants. Indulge in a luxury spa treatment. Extend the adventure with an exciting shore excursion. Whatever you choose, you'll have the time of your life.
Don't miss it—book now. Your journey into extraordinary starts here.
Book by 3 July 2017.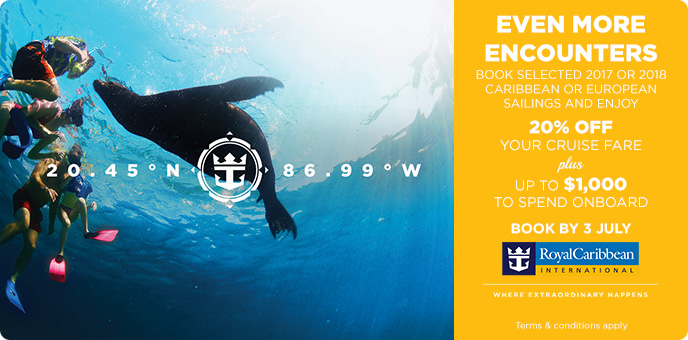 Take a look through the applicable Royal Caribbean sailings on offer below, there are some incredible deals to be found!
All promotional savings are all included in the fares displayed on this website. This promotion is not applicable to guarantee grades of cabin: Z, Y, X, XN & W.
CALL TODAY TO BOOK ON:
0800 810 8481
Royal Caribbean International
Navigator of the Seas
27th Oct 2017 - 10 Nights
Sunshine In The Canaries
Book an eligible stateroom by 3 July to save 20% on the Cruise Fare & receive up to $500 OBC
Royal Caribbean International
Anthem of the Seas
11th Nov 2017 - 7 Nights
Bahamas
Book an eligible stateroom by 3 July to save 20% on the Cruise Fare & receive up to $500 OBC
Royal Caribbean International
Harmony of the Seas
18th Nov 2017 - 7 Nights
Eastern Caribbean
Book an eligible stateroom by 3 July to save 20% on the Cruise Fare & receive up to $500 OBC
Royal Caribbean International
Oasis of the Seas
10th Dec 2017 - 7 Nights
Western Caribbean
Book an eligible stateroom by 3 July to save 20% on the Cruise Fare & receive up to $500 OBC
Royal Caribbean International
Serenade of the Seas
5th Jan 2018 - 10 Nights
Southern Caribbean
Book an eligible stateroom by 3 July to save 20% on the Cruise Fare & receive up to $500 OBC
Royal Caribbean International
Symphony of the Seas
28th Apr 2018 - 8 Nights
Western Mediterranean
Book an eligible stateroom by 3 July to save 20% on the Cruise Fare & receive up to $500 OBC
Royal Caribbean International
Brilliance of the Seas
1st May 2018 - 14 Nights
Baltic
Book an eligible stateroom by 3 July to save 20% on the Cruise Fare & receive up to $1000 OBC
Royal Caribbean International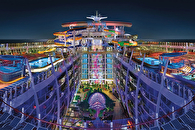 Symphony of the Seas
10th Jun 2018 - 7 Nights
Western Mediterranean
Book an eligible stateroom by 3 July to save 20% on the Cruise Fare & receive up to $500 OBC
Royal Caribbean International
Navigator of the Seas
9th Jul 2018 - 13 Nights
Mediterranean Beaches
Book an eligible stateroom by 3 July to save 20% on the Cruise Fare & receive up to $1000 OBC
Royal Caribbean International
Symphony of the Seas
12th Jul 2018 - 7 Nights
Western Mediterranean
Book an eligible stateroom by 3 July to save 20% on the Cruise Fare & receive up to $500 OBC
Royal Caribbean International
Brilliance of the Seas
20th Aug 2018 - 12 Nights
Baltic
Book an eligible stateroom by 3 July to save 20% on the Cruise Fare & receive up to $500 OBC
Royal Caribbean International
Navigator of the Seas
26th Oct 2018 - 10 Nights
Sunshine in the Canaries
Book an eligible stateroom by 3 July to save 20% on the Cruise Fare & receive up to $500 OBC
Royal Caribbean International
Grandeur of the Seas
10th Nov 2018 - 12 Nights
Southern Caribbean
Book an eligible stateroom by 3 July to save 20% on the Cruise Fare & receive up to $500 OBC
T&C's: *The promotion is applicable to new bookings made between Tuesday 2nd May 2017 and Monday 3rd July 2017 on selected sailings of 6 nights or more departing between 1st July 2017 and 31st December 2018. China sailings and guarantee stateroom bookings in Z, ZI, Y, YO, XN, X, XB, WS & W categories are excluded from this promotion. Prices are per person and based on two people sharing a double occupancy stateroom. All prices advertised are inclusive of the 20% cruise fare saving. 20% Cruise Fare Saving (all guests): Eligible bookings will benefit from a saving of 20% off the prevailing cruise fare price for each guest booked into the stateroom. Other add-ons & amenities including, but not limited to, gratuities, air fares, hotels & transfers are not included & will not be reduced as part of this promotion. Onboard Spend (per stateroom): Guests booking an Interior or Oceanview stateroom on selected sailings with a duration of 6-12 nights will receive $100 USD onboard spend per stateroom; Guests booking a Balcony stateroom on selected sailings with a duration of 6-12 nights will receive $300 USD onboard spend per stateroom; Guests booking a Suite on selected sailings with a duration of 6-12 nights will receive $500 USD onboard spend per stateroom; Guests booking an Interior or Oceanview stateroom on selected sailings with a duration of 13 nights or more will receive $200 USD onboard spend per stateroom; Guests booking a Balcony stateroom on selected sailings with a duration of 13 nights or more will receive $600 USD onboard spend per stateroom; Guests booking a Suite on selected sailings with a duration of 13 nights or more will receive $1000 USD onboard spend per stateroom. Onboard spend can only be spent up until 10pm on the final evening of the cruise. It has no cash value, is not redeemable for cash and cannot be used in the onboard casino. Any remaining credit after this time will be removed from the applicable account. Fares shown are inclusive of flights from London (where applicable), unless stated otherwise. Departure date and duration may differ if an overnight pre-cruise stay, or overnight flight, is included. E&OE