Home

»

Royal Caribbean - Going Going Gone
Royal Caribbean - Going Going Gone
2017 Cruise Sale
Snap up a Royal Caribbean holiday today and enjoy savings of up to 40% on a very limited number of 2017 sailings, PLUS up to $400 to spend onboard.
Hurry, when they're gone, they're gone!
Applicable on selected 2017 sailings. Book by 1 May 2017.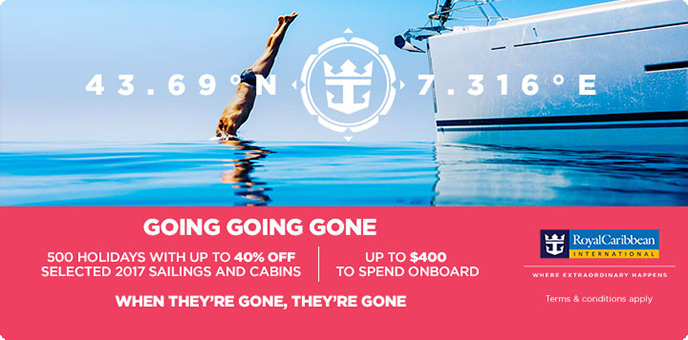 Take a look through the applicable Royal Caribbean sailings on offer below, there are some incredible deals to be found!
CALL TODAY TO BOOK ON:
0800 810 8481
Royal Caribbean International
Freedom of the Seas
7th May 2017 - 7 Nights
Western Mediterranean
Royal Caribbean International
Navigator of the Seas
12th May 2017 - 14 Nights
Central Mediterranean
Royal Caribbean International
Rhapsody of the Seas
13th May 2017 - 7 Nights
Barcelona To Venice
Royal Caribbean International
Independence of the Seas
15th May 2017 - 12 Nights
Canaries
Royal Caribbean International
Brilliance of the Seas
25th May 2017 - 12 Nights
Mediterranean Venice
Royal Caribbean International
Navigator of the Seas
26th May 2017 - 7 Nights
Spain, France & Portugal
Royal Caribbean International
Navigator of the Seas
2nd Jun 2017 - 12 Nights
Northern Delights
Royal Caribbean International
Jewel of the Seas
2nd Jun 2017 - 9 Nights
Greek Isles
Royal Caribbean International
Independence of the Seas
3rd Jun 2017 - 14 Nights
Italian Mediterranean
Royal Caribbean International
Brilliance of the Seas
6th Jun 2017 - 8 Nights
Italy & Spain
Royal Caribbean International
Navigator of the Seas
14th Jun 2017 - 12 Nights
Northern Delights
Royal Caribbean International
Independence of the Seas
17th Jun 2017 - 12 Nights
Sunshine in the Canaries
Royal Caribbean International
Brilliance of the Seas
18th Jun 2017 - 12 Nights
Mediterranean Venice
Royal Caribbean International
Freedom of the Seas
18th Jun 2017 - 7 Nights
Western Mediterranean
T&C's: Terms and Conditions apply.The promotion is applicable to new bookings made between Friday 31st March 2017 and Monday 01st May 2017 on selected sailings of 6 nights or more departing between 1st May 2017 and 31st December 2017. We have 500 holidays to give away with MORE THAN 30% savings, once they're gone, they're gone. China sailings and guarantee stateroom bookings in Z, ZI, Y, YO, XN, X, XB, W & WS categories are excluded from this promotion. Prices are per person and based on two people sharing a double occupancy stateroom. All prices advertised are inclusive of the 30% cruise fare saving.
Up to 40% Cruise Fare Saving (all guests)
Eligible bookings will benefit from a saving of more than 30% off the prevailing cruise fare price for each guest booked into the stateroom. Other add-ons & amenities including, but not limited to, gratuities, air fares, hotels & transfers are not included & will not be reduced as part of this promotion.
Onboard Spend (per stateroom)
Eligible bookings will benefit from onboard spend per stateroom as follows: (i) an Interior or Oceanview stateroom booking with a duration of 6-12 nights will receive $50 USD or $100 USD for sailings with a duration of 13+ nights; (ii) a Balcony stateroom booking with a duration of 6-12 nights will receive $100 USD or $200 USD for sailings with a duration of 13+ nights; or (iii) a Suite booking with a duration of 6-12 nights will receive $200 USD or $400 USD for sailings with a duration of 13+ nights.
Onboard spend can only be spent up until 10pm on the final evening of the cruise. It has no cash value, is not redeemable for cash and cannot be used in the onboard casino. Any remaining credit after this time will be removed from the applicable account.
General
This promotion is applicable to bookings made in GBP. Bookings that are created within the stated campaign period but that subsequently move to either a lower price program and/or non applicable ship & sailing date will not retain the benefits of this promotion. Bookings created prior to this promotion that wish to access the new benefits will have to cancel existing booking and make a new booking. Bookings that are cancelled shall be subject to prevailing cancellation charges. For general booking terms and conditions, eligible sailings, inclusions, cancellation charges & other information please refer to the Royal Caribbean 2017-18 second edition brochure or speak to one of our agents. E&OE