Homepage » Single Passenger Cruise Deals
Single Passenger Cruise Deals
Single travellers are often penalised with supplements of up to 200%! Here at The Cruise Village we have some great deals with little or no single supplements!

Sign up to recieve our single cruises e-mail offers
Every time we receive a great offer for single travellers we'll email it straight to your inbox!
Simply enter your email address here and click 'Subscribe'
Cruising is great for solo travellers, it offers a safe and secure environment in which to meet people and make friends. Below we have featured some of our very best singles cruise deals with very low or no single supplements at all! The Cruise Village are always on the lookout for singles cruise offers, so if you don't see anything you like here give our team a call on 0800 810 8481.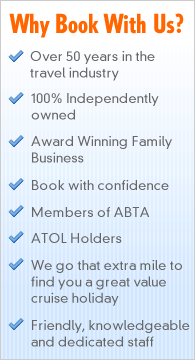 OTHER DESTINATIONS
OTHER CRUISES
• Single Traveller Cruises
NON-CRUISE HOLIDAYS
SINGLE TRAVELLER CRUISE OFFERS

Riviera Travel
Holidays for Solo Travellers
Departures throughout 2017 & 2018
The thought of travelling alone can be daunting, but with Riviera Travel, you can rest assured that you'll be taken care of at every step on their NEW escorted tours for Solo Travellers.
Fares from only
£449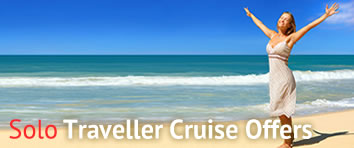 Cruise and Maritime
Solo Traveller Cruise Offers
2017 & 2018!
Offering a special on board singles programme of events, on board Magellan and Columbus, including a welcome cocktail party and get-togethers, which will ensure the opportunity to meet like minded travellers and make new friends.
Fares from only
£169

Just You Holiday Offers
Departures in 2017 & 2018
Just You holidays aren't just for single people... they're for anyone who wants to travel solo. So if you want to experience a new destination in good company or feel it's time to do something that's just for you.
Fares from only
£649


Fred Olsen Single Passenger Cruise Deals
Departures in 2017 & 2018
Enjoy a twin room to yourself – with no single supplement! With special offers available in the Cruise Sale, it's now even more tempting to 'go solo' with selected twin cabins to enjoy – all to yourself – with no supplement to pay.
Fares from only
£299