Homepage » World Cruises and Worldwide Stay & Cruise Holidays
World Cruises and Worldwide Stay & Cruise Holidays
Worldwide Adventures from The Cruise Village, where a cruise is more than a holiday and a holiday is much more than just a cruise. Read on and find out more about World Cruises and World Cruise Sectors.

We want to take you to all four corners of the globe and one of the best times of the year to do this is between January and March. Why? Most cruise lines take their ships out of the Mediterranean and Northern Europe and either reposition them to warmer climates such as Asia, Australia and the Caribbean or they sail them around the globe following the weather.
The Cruise Village has been putting together hotel stays in some of the most popular cities around the world and pre and post cruise tours to the most sought after destinations. One of the most popular options is to include a cruise holiday which either starts of finishes in Australia, which offers you the opportunity to visit friends and relatives or simply to explore this exciting country. Below is a selection of our most popular winter "Worldwide Adventures" from the world's leading cruise lines.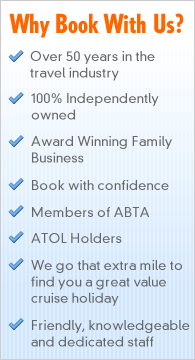 OTHER DESTINATIONS
• World Cruises & Sectors
OTHER CRUISES
DESTINATION: WORLD CRUISES & WORLD CRUISE SECTORS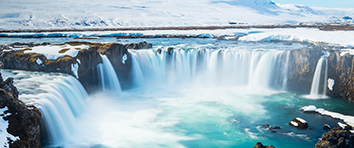 Iceland's Majestic Landscapes
Inclusive Small Ship Cruising
May 2019 - Aug 2020 :: 12 Nights
Discover unparalleled natural beauty on this 12-night Icelandic sojourn from Bergen to Reykjavik. With shore excursions and most drinks on board included! Book before 30th Sep 2018 for savings of £500 per person.
Fares from
£4,190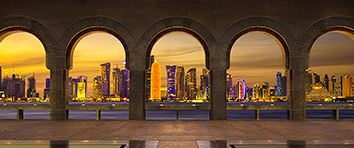 Emirati Jewel & The Voyage Home
26 March 2019 - 21 Nights
This a cruise filled with mystery, modern living, ancient tradition and iconic sights. Walk in the footsteps of Sultans in the Middle East, and marvel at high-rise, cosmopolitan Dubai and Muscat's culture and history... read more »
Fares from
£2,419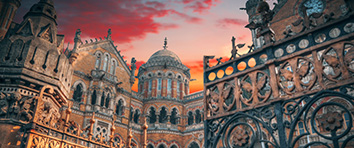 Hong Kong, Dubai, Malaysia & More
9 March 2019 - 23 Nights^
Start your cruise adventure amid the hustle and bustle of Hong Kong. Make the most of an exciting P&O Cruises maiden call at Chan May, Vietnam. Then make your way, at a blissfully relaxed pace to the epic scenery and natural wonders of Malaysia... read more »
Fares from
£3,375