Home »
Carnival Cruise Line - Mardi Gras 2020 Cruises
Carnival Mardi Gras
When Carnival launched their first ship, 1972's TSS Mardi Gras, they made cruising a lot less stuffy, a bit less fancy, the kind of fun everybody could enjoy. In 2020 they'll be launching a brand-new ship with a familiar name. You guessed it: Mardi Gras. They aren't just paying homage to their first ship — in cruising circles this name suggests innovation, signals the start of something big. And it shouts "fun!" at the top of its lungs. They're building this new Mardi Gras to live up to that legacy, so start daydreaming now! For one thing, this ship introduces Zones — six themed areas packed with brand-new experiences for eating, drinking and spectacularly getting down to fun. More announcements are still to come, but they're all ready to pull the wraps off what may be the most thrilling: BOLT™, the first-ever rollercoaster at sea! Everybody can enjoy Mardi Gras, sailing in 2020. Come on down!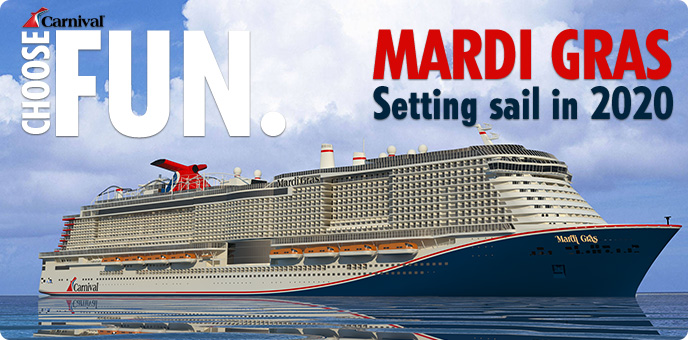 Take a look at some of the Mardi Gras' new features
Get ready for six distinct onboard zones featuring brand-new experiences for spectacularly getting down to food, drink and fun.
GRAND CENTRAL
On a Carnival cruise your holiday starts in the atrium, and on Mardi Gras that's in the Grand Central zone. By the way… on this ship the atrium's different. Don't be surprised if you step inside and the first place you want to look is upwards. Up there are high ceilings that hint at even more fun living on the three decks above! But look around too… you'll find floor-to-ceiling windows that really bring in the ocean views. Of course you'll be back here throughout your cruise, taking a break with a nice cup of coffee, enjoying live music up on stage, or killing time fabulously with a handcrafted cocktail in between evening shows. In Grand Central you're never far from great dining spots like Bonsai Sushi and Bonsai Teppanyaki, plus feel-good entertainment like Piano Bar 88 and The Punchliner Comedy Club.

FRENCH QUARTER
If "big" and "easy" sound about right for your holiday, you might just make the French Quarter on Mardi Gras your home zone. What inspired this place is no less than New Orleans itself… and if all this talk of NOLA has you half as hungry as we are, you'll be pleased to hear that The French Quarter is lined with bars and eateries worthy of their namesake, spots serving up everything from small plates to classic Hurricane cocktails straight from the bayou. Just steps away there's entertainment inspired by the world-renowned Crescent City nightlife — yep, there's a hot jazz club in this zone — plus you're not far from more bars, lounges and some funky little shops.

SUMMER LANDING
Go ahead and call Summer Landing "the greatest chill spot at sea" … and we'll be right there with you, any time of year! Know what goes great with chilling outdoors? BBQ, so they're building a Guy's Pig & Anchor Smokehouse | Brewhouse into this zone to make sure it always tastes like summer here, courtesy of freshly-smoked faves designed by Guy Fieri. You wouldn't be surprised that the pool and whirlpool aren't far, but would you have guessed that there's even original Parched Pig™ beers brewing just a few feet from the tap? Expect the funexpected — at Summer Landing, this kind of fun's in season literally all the time.

LA PIAZZA
La dolce vita is within reach at La Piazza… and you'd know, with all the Italian seafaring spirit that's literally driving the ship. This zone stands for flavour, and it starts with Cucina del Capitano, which brings your party together for an evening of Italian favourites served family-style, while Pizzeria del Capitano makes delizioso happen for you 24 hours a day atop a base of imported Italian flour and fresh mozzarella. Atmosphere is everything here, so roaming musicians provide an authentic soundtrack to your time in La Piazza. Mardi Gras debuts a new Mediterranean spot specializing in seafood, plus there's even a bar where you'll sip authentic espresso drinks by day and classic Italian cocktails when the sun goes down.

LIDO
If you've cruised with Carnival before, you know Lido… but aboard Mardi Gras this poolside zone features even more delicious and fun ways to spend a day. Everybody looks to Lido for variety, and with tons of casual dining spots you'll discover new experiences among the flavors that keep our guests coming back. Take in a Dive-In Movie at the pool and you're not far from signature Carnival favourites like Guy's Burger Joint, the New England-inspired Seafood Shack, and BlueIguana Cantina taco spot. And for folks hoping we haven't forgotten: yes, Lido is absolutely home to fan-favorite Swirls, the free soft-serve spot cranking out the cool 24 hours a day!

THE ULTIMATE PLAYGROUND
Don't let the name fool you — this zone is ages everybody and up. Kids, you're going to love this. And adults, the playground has grown up with you. So yay for play! Of course The Ultimate Playground starts with BOLT™, the first rollercoaster at sea, an all-electric thrill ride that puts the power of speed in your hands. But that's only the beginning — this playground has the largest Carnival WaterWorks ever with three huge spiraling slides, plus SportSquare is here featuring an entire mini-golf course, full-court basketball and a ropes course. And, of course, more. Ultimate enough for you?

INSPIRED BY COMFORT ITSELF
Mardi Gras' staterooms are designed for folks ready to kick back after a long day's fun. They even have options for enjoying spa-style relaxation or family fun!
HAVANA STATEROOMS & SUITES
Consider your Havana stateroom or suite your own island resort aboard Mardi Gras. Most important is the exclusive location: near the Havana Bar & Pool. This relaxation pool is your members-only spot by day, and a fun-for-all hotspot when the sun goes down. Indoors, all Havana staterooms feature a unique décor, but step up to a Havana Cabana for an extra-large outdoor chill space. Step into a Havana Cabana suite for even more space, plus a luxurious rain shower. (All Havana stateroom guests must be 12 or older.)

CLOUD 9 SPA STATEROOMS & SUITES
Cloud 9 Spa staterooms on Mardi Gras feature exclusive décor and in-room amenities to help soothe you after a long day's fun — spa bathrobes and slippers, plus toiletries by Elemis. Book one of these staterooms and enjoy priority spa reservations, unlimited access to the thermal suites, free fitness classes, exclusive discounts and more! And you can have comfort and value — Mardi Gras's got a full range of Cloud 9 staterooms in all sizes, from cozy Interiors to stretch-out Suites.

FAMILY HARBOR STATEROOMS & SUITES
Family Harbor staterooms, with their unique nautical décor, can be found near Mardi Gras's own Family Harbor Lounge — an exclusive spot with breakfast, snacks during the day, plus board games, family movies, video games and more. The benefits don't end there — your little girls and boys eat free in most onboard specialty restaurants and get a free evening of Night Owls babysitting service, so you can enjoy a little alone time.
INTERIOR STATEROOMS
Here's the most affordable way to experience Mardi Gras, without cutting even a single corner in the comfort department. With an Interior stateroom you'll get a full private bathroom, complimentary 24-hour room service, your choice of bed size and layout — covered in linens you can feel at home in — all of which make this truly a great spot for curling up after a long day's fun.

OCEAN VIEW STATEROOMS
These comfy rooms with a view let you take in the scenery as you sail toward your beautiful destinations. And how about those views? Nowhere on land will you find anything like 'em. But the views aren't all that matters here — Ocean View staterooms on Mardi Gras are a little bit bigger than Interior rooms and most feature a supremely loungeable couch for those times when neither lying nor standing will do.
BALCONY STATEROOMS
Balcony staterooms are proof that while it's great to be cruisey… on vacation, breeziness is a virtue too. And any time you're in your well-appointed Balcony stateroom aboard Mardi Gras, you're just steps away from the outdoors by way of your private open-air oasis. Designed for kicking back al fresco, you're in for some amazing ocean views… views so stunning you'll just have to feel 'em to believe 'em.
SUITES
Get all the comforts of home and even a few extras. Since your huge Suite aboard Mardi Gras affords you VIP status, you're in the priority line when getting on and off the ship, plus you're going to enjoy guaranteed dining times and complimentary laundry service! A Suite is the ultimate way to enjoy the ship, and the extra in-room comfort definitely goes a long way during your getaway. So feel free to put your feet up — whether you're passing the time with a soak in the tub or a stretch on the extra-large balcony, there's always room.

Carnival Cruise Line
Carnival Mardi Gras
9th Sep 2020 - 14 Nights
Transatlantic From Southampton
Carnival Cruise Line
Carnival Mardi Gras
24th Sep 2020 - 6 Nights
Canada & New England from New York, NY
Carnival Cruise Line
Carnival Mardi Gras
30th Sep 2020 - 15 Nights
Southern Caribbean from New York
Carnival Cruise Line
Carnival Mardi Gras
24th Oct 2020 - 7 Nights
Eastern Caribbean From Port Canaveral
Carnival Cruise Line
Carnival Mardi Gras
7th Nov 2020 - 7 Nights
Eastern Caribbean From Port Canaveral
Carnival Cruise Line
Carnival Mardi Gras
14th Nov 2020 - 7 Nights
Western Caribbean from Port Canaveral, FL
Carnival Cruise Line
Carnival Mardi Gras
21st Nov 2020 - 7 Nights
Eastern Caribbean From Port Canaveral
Carnival Cruise Line
Carnival Mardi Gras
28th Nov 2020 - 7 Nights
Western Caribbean from Port Canaveral, FL
Carnival Cruise Line
Carnival Mardi Gras
5th Dec 2020 - 7 Nights
Eastern Caribbean From Port Canaveral
Carnival Cruise Line
Carnival Mardi Gras
12th Dec 2020 - 7 Nights
Western Caribbean from Port Canaveral, FL
Carnival Cruise Line
Carnival Mardi Gras
19th Dec 2020 - 7 Nights
Eastern Caribbean From Port Canaveral
Carnival Cruise Line
Carnival Mardi Gras
26th Dec 2020 - 7 Nights
Western Caribbean from Port Canaveral, FL
Carnival Cruise Line
Carnival Mardi Gras
2nd Jan 2021 - 7 Nights
Eastern Caribbean From Port Canaveral
Carnival Cruise Line
Carnival Mardi Gras
9th Jan 2021 - 7 Nights
Eastern Caribbean From Port Canaveral (Orlando)
Carnival Cruise Line
Carnival Mardi Gras
16th Jan 2021 - 7 Nights
Eastern Caribbean From Port Canaveral
Carnival Cruise Line
Carnival Mardi Gras
23rd Jan 2021 - 7 Nights
Western Caribbean from Port Canaveral, FL
Carnival Cruise Line
Carnival Mardi Gras
30th Jan 2021 - 7 Nights
Eastern Caribbean From Port Canaveral
Carnival Cruise Line
Carnival Mardi Gras
6th Feb 2021 - 7 Nights
Western Caribbean from Port Canaveral, FL
Carnival Cruise Line
Carnival Mardi Gras
13th Feb 2021 - 7 Nights
Eastern Caribbean From Port Canaveral
Carnival Cruise Line
Carnival Mardi Gras
20th Feb 2021 - 7 Nights
Western Caribbean from Port Canaveral, FL
Carnival Cruise Line
Carnival Mardi Gras
27th Feb 2021 - 7 Nights
Eastern Caribbean From Port Canaveral
Carnival Cruise Line
Carnival Mardi Gras
6th Mar 2021 - 7 Nights
Western Caribbean from Port Canaveral, FL
Carnival Cruise Line
Carnival Mardi Gras
13th Mar 2021 - 7 Nights
Eastern Caribbean From Port Canaveral
Carnival Cruise Line
Carnival Mardi Gras
20th Mar 2021 - 7 Nights
Western Caribbean from Port Canaveral, FL
Carnival Cruise Line
Carnival Mardi Gras
27th Mar 2021 - 7 Nights
Eastern Caribbean From Port Canaveral
Carnival Cruise Line
Carnival Mardi Gras
3rd Apr 2021 - 7 Nights
Western Caribbean from Port Canaveral, FL
Carnival Cruise Line
Carnival Mardi Gras
10th Apr 2021 - 7 Nights
Eastern Caribbean From Port Canaveral
Carnival Cruise Line
Carnival Mardi Gras
17th Apr 2021 - 7 Nights
Western Caribbean from Port Canaveral, FL
Carnival Cruise Line
Carnival Mardi Gras
24th Apr 2021 - 7 Nights
Eastern Caribbean From Port Canaveral
T&C's: All advertised prices are in GBP, are per person and based on two people sharing the same stateroom. Promotional details, fares and itineraries were correct at time of publish and can be changed/withdrawn at any time. Fares shown are based on 2 adults sharing the lead grade of stateroom. All promotional discount has been taken into consideration.
E&OE