Discover bustling islands and picturesque isles boasting ancient sites and monuments that have been lovingly taken care of for centuries.
Red-roofed medieval buildings and peaceful bays provide the perfect accompaniment to your ocean cruise along the crystal-clear waters of the Adriatic coast. Your journey around North Dalmatia includes a visit to Telašćica National Park, a delightful scattering of islands that are swathed in natural beauty. While ancient Trogir and Šibenik's Romanesque architecture will be sure to amaze, as will your cruise through the natural archipelago which is the Kornati Islands, with their uninhabited islets and reefs.

*NEW SHIP FOR 2020* There truly is no better way to experience the magnificent beauty of the Dalmatian coast than on board a luxury yacht as you navigate the stunning Mediterranean archipelago via its crystal-clear waters. Launching in 2020 the MS Lastavica sails along the beautiful dalmatian coast and its many attractive isles.

With an intimate 18 cabins, each complete with en-suite and luscious amenities, provided for a maximum capacity of 36 guests on each luxury yacht.
Book early and receive up to £1,000 savings per couple!
Day 1: Fly UK » Split - Trogir
Included in the price of your holiday are return flights from Manchester or London.
You will be met at Split airport and comfortably transferred to your luxury yacht in Trogir, where your friendly captain and crew will be waiting for your arrival.
Trogir is the perfect place to start any Croatian adventure, being a world away from the bustling big cities. This small isle town is set within medieval walls. Once you have settled into your sumptuous cabin on board the exclusively chartered MS Lastavica, perhaps enjoy a stroll along the seaside promenade as we dock centrally overnight.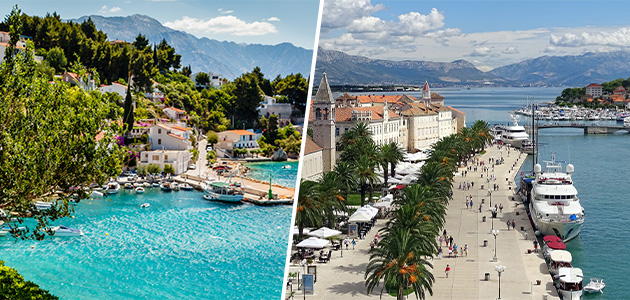 Day 2: Trogir - Vodice
This morning one of Emerald Waterways' knowledgeable local guides will be taking you on a guided walking tour of Trogir, a UNESCO World Heritage-listed site, showing you how to navigate the maze-like marble streets and unveiling all of the best authentic cafés.
This evening, enjoy traditional Klapa singers performing local songs on board with a glass of complimentary wine.

Guided Tour of Trogir included

A traditional Klapa performance on board
Day 3: Vodice – Zadar
Today, enjoy the enchanting North Dalmatian city of Zadar. In the morning, you will have a guided tour of Zadar's old town, where Roman ruins and medieval churches sit snugly between cosmopolitan cafés and contemporary architectural achievements, including the first white marble Sea Organ in the world.

Guided Tour of Zadar included
Day 4: Zadar – Rab
After a relaxing morning spent admiring the views of the Adriatic coast, you will arrive in Rab. Most famous for its capital-in-miniature Rab Town, where red-roofed medieval buildings stand alongside four beautiful bell towers that spear skywards like masts from the ancient stone streets.
After a guided tour of the island, enjoy an authentic tasting of famous Rapska cake.

Tour of Rab included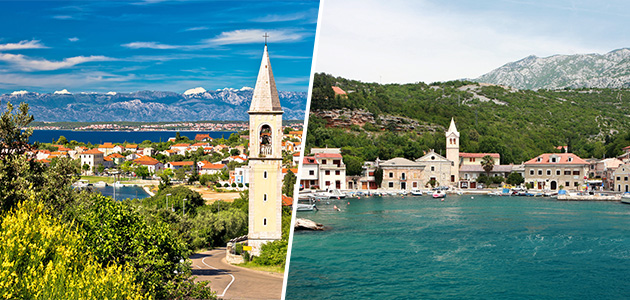 Day 5: Rab – Telašćica Nature Park
This morning we will sail towards Telašćica Nature Park. This beautiful pocket of nature is known for being comprised of thirteen islands, islets and rocks, with a delightful scattering of peaceful bays, rugged cliffs and pre-Romanesque ruins. While one side of the park is covered in rich Mediterranean vegetation, the other is home to cultivated fields of vineyards and olive trees.
This evening, enjoy a local wine tasting on board.

A local wine tasting included
Day 6: Telašćica Nature Park – Kornati – Šibenik
Croatia is full of awe-inspiring sights, but a cruise through the Kornati Islands, with their stunning uninhabited islets and reefs, will leave you with memories that you will treasure forever.
In the afternoon, we will arrive in Šibenik. Join your local guide for a guided tour of the city's medieval heart, including the UNESCO World Heritage-listed St. James' Cathedral.

Guided tour of Šibenik included
Visit to Krka National Park included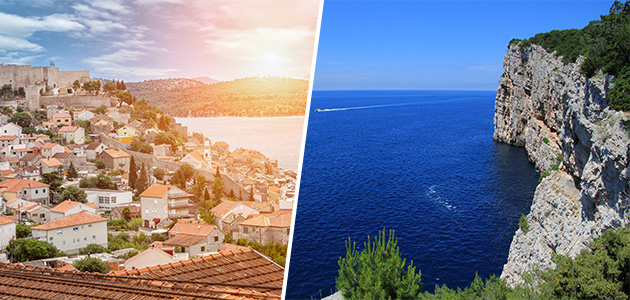 Day 7: Šibenik – Trogir
In the morning, you'll sail back to the beautifully preserved town of Trogir. Once you arrive, enjoy a guided tour of Split, where a fascinating blend of Romanesque and contemporary architecture is sure to inspire you.

Guided Tour of Split included
Day 8: Trogir – Split » UK
Once you have finished your breakfast, it will be time to say goodbye to your fellow guests as you prepare to transfer to Split airport for your homebound flight or city stay.
Terms & Conditions: Flights are subject to availability and may incur a supplement. The deposit required at the time of booking is £500 per person with full payment required before 90 days of departure. Fares shown is per person, based on 2 adults sharing the lead grade of stateroom. Promotional details, fares and itineraries were correct at time of publish but can be changed/withdrawn at any time without notice. E&OE.