Home

»

Hurtigruten Sailings From Dover
Hurtigruten Sailings From Dover
Join Hurtigruten for a special winter expedition cruise under the Northern Lights. See the best of Norway's coastline and take part in exciting excursions to really discover this winter wonderland. Visit fascinating places and tiny coastal villages to get close to the authentic heart of Norway.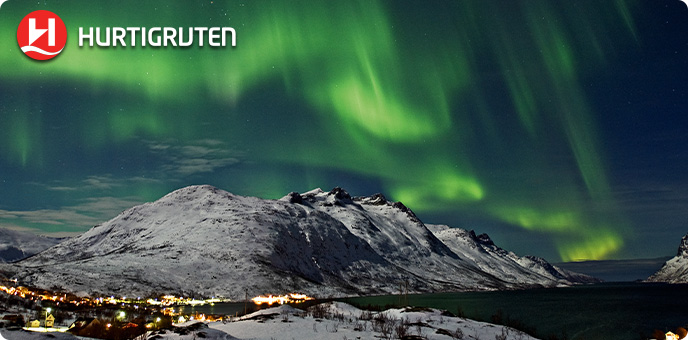 Winter Cruise in Norway
Winter (November to February) is perhaps the most beautiful time to explore Norway´s coastline. Join Hurtigruten and discover landscapes covered in deep white snow reflecting polar twilight. Enjoy winter´s soft pastel colours during the day. It is also the best season to witness the northern lights!

Sailing along Norway's coastline in winter is an indescribably beautiful experience. Pure white snow covers the landscape. The air is fresh, crisp and clear. Mountaintops silhouette against a backdrop of polar twilight, and clusters of cosy homes glow on the shoreline like fires in the distance. Other highlights of winter include:

✔️ Witness the wondrous Aurora Borealis
✔️ Experience the magic of Norway´s white winter wonderland
✔️ Ride a snowmobile or dog sledge across the snowy tundra
✔️ See charming Christmas markets along Norway's coast in late November and December

The fantastic Northern Lights

Join us on an exploration of polar twilight that often also includes experiencing the elusive Aurora Borealis at night. Sailing with Hurtigruten, at sea and far away from light pollution, provides some of the best possibilities to view this magical celestial lightshow of ghostly green, red and dark purple.

Even regular daylight in the far north is remarkable. The low position of the sun renders beautiful subtle shades of light that reflect off the Arctic's white surroundings.

Arctic winter wonder

Norway lights up during Christmas. Stroll the charming lanes and browse the stalls of traditional Christmas markets in coastal towns and cities in late November and December.

Follow in the footsteps of great explorers and venture out on North Cape while peering over the edge of the world. Or discover the splendid Arctic scenery and wonders of the far north during exciting shore excursions.

Excursions - dashing through the snow

Imagine crossing the snowy tundra on a snowmobile or sitting in a dog sledge behind a team of barking huskies. For those who prefer a more leisurely pace, there's introductions to cross-country skiing and snowshoeing. These are just a few of the excursions Hurtigruten offer during winter.
6 REASONS WHY BEING ON BOARD IS THE BEST WAY TO SEE THE NORTHERN LIGHTS
✔️ The Northern Lights will usually occur at multiple times and at multiple locations during your cruise with us.

✔️ The aurora can often appear directly above the ship, and our outdoor observation decks offer unobstructed front-row views.

✔️ Being at sea avoids the artificial ambient light common on land, so the Northern Lights will be brighter and more vivid.

✔️ There is no time limit, so you can enjoy them for as long as they appear.

✔️ Onboard announcements ensure you don't miss a single sighting.

✔️ There are no hidden fees or separate excursions just to see the lights.
CALL TODAY TO BOOK ON:
0800 810 8481
THE ITINERARY
Hurtigruten offers unique cruises to some of the world´s most remote and pristine waters. As with all expeditions, nature prevails. Weather and snow conditions can determine the final itinerary. Safety and ultimate guest experiences are our top priorities. Our itineraries are continuously evaluated for adaption, be it unexpected natural elements or exciting wildlife opportunities. That's why we call it an expedition.
Day 1 - Dover
Day 2 - At sea
Day 3 - Bergen
Day 4 - Molde
Day 5 - Brønnøysund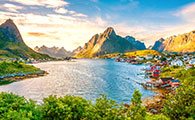 Day 6 - Reine & Svolvær
Day 7 - Tromsø
Day 8 - Tromsø (Half day)
Day 9 - Honningsvåg
Day 10 - Finnsnes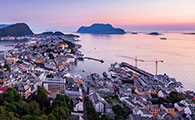 Day 11 - At sea
Day 12 - Ålesund
Day 13 - Stavanger
Day 14 - At sea
Day 15 - Dover
SPECIAL WINTER EXPEDITION SAILINGS FROM DOVER
Find the sailing you desire and select the "Enquire" button, or call us on 0800 810 8481
T&C's: From prices quoted are in GBP and are per person, based on full occupancy of an inside two-berth cabin. The price you see online has already includes the discount. Single supplements apply. Cabins and excursions are subject to availability. Hurtigruten operates a flexible pricing system and prices are capacity controlled, correct at time of booking. Not included: travel insurance, luggage handling, international flights, optional excursions or optional gratuities. Flights booked with Hurtigruten are ATOL protected (ATOL 3584), economy, and include all current taxes and charges. All itineraries are subject to change due to local conditions.
Promotional details, fares and itineraries were correct at time of publish and may be changed/withdrawn at any time. E&OE.