Homepage » Europe, Mediterranean & Canary Islands Exclusive Cruise Offers
Europe, Mediterranean & Canary Islands Exclusive Cruise Offers
Great value package cruise offers to the Canary Islands and the Mediterranean! Most deals include hotel stays in popular cities like Barcelona, Rome, Venice and Palma.

The Mediterranean has so many treasures to be discovered. Enclosed by three continents you will visit glamorous resorts, historic cities and idyllic islands whilst enjoying the warm Mediterranean temperatures. Visit the tree-lined Las Ramblas in Barcelona, the racy riviera resort of Monte Carlo, take in the Vatican City and the Coliseum in Rome, the picture perfect Mykonos with its whitewashed houses, visit one of the most important archaeological sites at Ephesus or discover the unique network of canals and bridges in the captivating city of Venice.
Choose to cruise to the Canary Island's and you have the perfect setting for winter sun! Not just in winter though, as it is a great destination for year-round sunshine. Beautiful ports await you in Gran Canaria, Tenerife or Lanzarote, to name a few.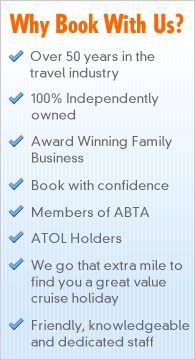 OTHER DESTINATIONS
• Europe & Mediterranean Cruises
OTHER CRUISES