Home

»

Oceania Cruises : Premium Luxury Cruising
Oceania Cruises : Premium Luxury Cruising
Each day aboard Oceania Cruises brings a new wave of discoveries and adventures in the most alluring corners of the world. Authentic cultural experiences and enrichment await onboard Oceania Cruises' incredible mid-sized premium luxury ships - Insignia, Marina, Nautica, Regatta, Riviera or Sirena. Share your holiday time with like-minded well-travelled people, who have a zest for exploration independently or with one of Oceania's extensive array of shore excursions that delve into the cuisine, culture and history of the lands you'll visit.
Onboard you'll discover extraordinary food - gourmet dining prepared à la minute; luxurious and intimate residential-style interiors with furnishing from famous designers; and dedicated concierges who will attend to your every request, plus indulge at Canyon Ranch Spa.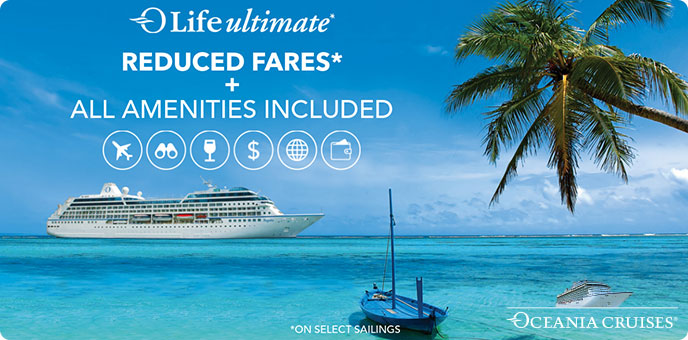 Free Flight Upgrade
Take advantage of this limited time offer and enjoy a FREE flight upgrade to Premium Economy on select 2020 voyages.

In addition, you can take advantage of the OLife Choice offer:

Airfare* & Internet

Plus choose one:

FREE - Up to 8 Shore Excursions
FREE - House Beverage Package
FREE - Up to US$800 Shipboard Credit
Amenities are per stateroom

Limited Availability. Offer ends 30th September 2019.
CALL TODAY TO BOOK ON:
0800 810 8481
Oceania Cruises
Sirena
13th Jan 2020 - 12 Nights
Caribbean Flair - Roundtrip Miami
FREE 8 Shore Excursions, House Beverage Package, US$800 Shipboard Credit & Gratuities! T&C's Apply*
Oceania Cruises
Riviera
26th Jan 2020 - 9 Nights
Island Tempos - Roundtrip Miami
FREE 8 Shore Excursions, House Beverage Package, US$800 Shipboard Credit & Gratuities! T&C's Apply*
Oceania Cruises
Riviera
4th Feb 2020 - 10 Nights
Palms & Paradise - Miami to Miami
FREE 8 Shore Excursions, House Beverage Package, US$800 Shipboard Credit & Gratuities! T&C's Apply*
Oceania Cruises
Riviera
14th Feb 2020 - 12 Nights
Brilliant Beaches - Miami to Miami
FREE 8 Shore Excursions, House Beverage Package, US$800 Shipboard Credit & Gratuities! T&C's Apply*
Oceania Cruises
Sirena
25th Feb 2020 - 12 Nights
Caribbean Flair - Miami to Miami
FREE 8 Shore Excursions, House Beverage Package, US$800 Shipboard Credit & Gratuities! T&C's Apply*
Oceania Cruises
Riviera
26th Feb 2020 - 14 Nights
Southern Caribbean Gems - Miami to Miami
FREE 8 Shore Excursions, House Beverage Package, US$800 Shipboard Credit & Gratuities! T&C's Apply*
Oceania Cruises
Riviera
11th Mar 2020 - 10 Nights
Beaches & Bays - Roundtrip Miami
FREE 8 Shore Excursions, House Beverage Package, US$800 Shipboard Credit & Gratuities! T&C's Apply*
Oceania Cruises
Sirena
18th Mar 2020 - 14 Nights
Tropical Breezes - Roundtrip Miami
FREE 8 Shore Excursions, House Beverage Package, US$800 Shipboard Credit & Gratuities! T&C's Apply*
Oceania Cruises
Riviera
21st Mar 2020 - 10 Nights
Palms & Paradise - Roundtrip Miami
FREE 8 Shore Excursions, House Beverage Package, US$800 Shipboard Credit & Gratuities! T&C's Apply*
Oceania Cruises
Riviera
31st Mar 2020 - 15 Nights
Awe of the Atlantic - Miami to Rome
FREE 8 Shore Excursions, House Beverage Package, US$800 Shipboard Credit & Gratuities! T&C's Apply*
Oceania Cruises
Sirena
1st Apr 2020 - 10 Nights
Colonial Collage - Miami to Miami
FREE 8 Shore Excursions, House Beverage Package, US$800 Shipboard Credit & Gratuities! T&C's Apply*
Oceania Cruises
Sirena
11th Apr 2020 - 14 Nights
Crossing to Iberia - Miami to Barcelona
FREE 8 Shore Excursions, House Beverage Package, US$800 Shipboard Credit & Gratuities! T&C's Apply*
T&Cs: *OLife Choice Plus offer and fares are for new bookings made by 30th September 2019 and are subject to change without notice. Offer is applicable on on select sailings and categories. Offer is based on availability and capacity controlled. OLife Choice amenities are per stateroom, based on double occupancy and subject to change. Free Internet is one per stateroom; Owner's, Vista & Oceania Suites receive access for two devices per suite. FREE Shore Excursions vary by voyage and exclude Oceania Choice, Oceania Exclusive and Executive Collection. All Shore Excursions must be chosen at least 14 days prior to sailing. OLife Choice Alcoholic Beverage Package amenity is House Select and is one per full-fare paying adult of 21 years of age or older with a maximum of two per stateroom. Any noted Shipboard Credit are per stateroom, based on double occupancy. Guests in the same stateroom must choose the same OLife Choice amenity. Included Free Gratuities are not valid for private dinners, spa treatments or alcoholic drinks, which lead to an automatic tip of about 18%. Not all promotions are combinable. Airfare programme is limited to flights originating or terminating in London, regional connections are available at additional cost. Additional Terms and Conditions may apply.

All advertised prices are in GBP, are per person and based on two people sharing the same eligible stateroom. Single price supplement applies. Prices are subject to change during the promotion. E&OE