Home »
Saga Sapphire - All Inclusive Cruises
Saga Sapphire - All Inclusive Cruises
Saga Sapphire Cruises - Go All Inclusive In 2019 and 2020!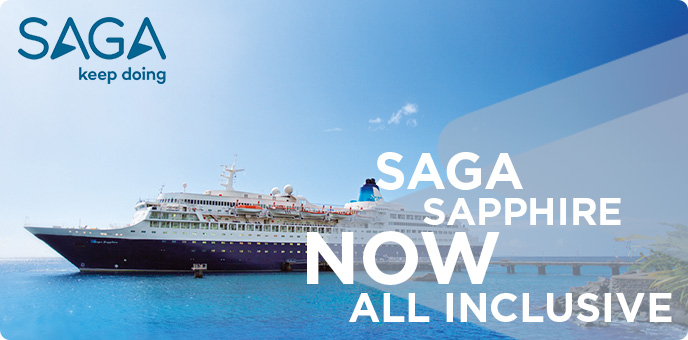 Saga's classic gem, Saga Sapphire has been turning heads since she set sail on her first cruise in 2012.
Both intimate and elegant, her design has a timeless originality and character, and this attention to detail is matched by ever-attractive service that will make you feel at home as soon as you step aboard.
Chic and compact, she can access cities that bigger ships simply can't, for many exciting adventures both on land and at sea.
Plus, all her cruises departing in 2019 and one in 2020 are now all inclusive, with selected drinks included in the price!*

Accomodation

During the ship's multimillion-pound refit Saga Sapphire's private accommodation was completely refurbished and updated, and the spacious cabins really are one of the highlights of the ship. Whichever one you choose, it'll be your own private haven where you can relax after a busy day's sightseeing.

The standard cabins are some of the biggest afloat, with an average size of 220 square feet - a good 50 square feet more than the industry standard! There's also 44 cabins that are made just for single travellers - perfect if you're planning a cruise on your own.

Relax Onboard

Unwind with friends in Cooper's Bar, styled as a tribute to the wit of comedian Tommy Cooper, with fez shaped lampshades and lots of quirky touches in keeping with the ship's fun style. Plus, you'll be taken on a trip down memory lane to the classic humour of yesteryear with our picture gallery.

However, Cooper's bar isn't the only place to relax onboard! There's plenty more where that came from, including the Aviator Lounge, Britannia Lounge, Drawing Room or enjoy a spot of pampering in the Aqua Spa.

Fine Dining

Dining on Sapphire is like having reservations at the best restaurant in town, each and every night. Choose from the main Pole to Pole or alternative Verandah restaurant. Enjoy the freedom of open seating, or book a 'fixed' table throughout your cruise. Look forward to free speciality dining in East to West, not to mention other mouthwatering options, such as fish and chips in the Beach Club and an exclusive room service menu.

Saga Sapphire was recently recognised as 'Best for Small Ship Dining' at the prestigious Cruise Critic awards.
See below for Saga Sapphire's All Inclusive sailings
DATE

NIGHTS

CRUISE NAME

ITINERARY

FARES FROM (pp)

MORE DETAILS

12 Nights

Dover - Skagen - Fredericia - Copenhagen, Denmark - Aalborg, Denmark - Gothenburg - Oslo - Kristiansund - Dover

£CALL

14 Nights

Dover - Ceuta - Ibiza - Barcelona - Valencia - Huelva - La Coruna - Southampton

£2399

14 Nights

Southampton - Lisbon - Agadir - Arrecife, Lanzarote, Canary Islands - Las Palmas,Gran Canaria - Santa Cruz de Tenerife - Santa Cruz de la Palma, La Palma - Funchal - Southampton

£CALL

18 Nights

Southampton - Gibraltar - Rome (Civitavecchia) - Livorno - Toulon - Barcelona - Motril, Granada - Vigo - Southampton

£2150

15 Nights

Southampton - Funchal - Santa Cruz de la Palma, La Palma - Santa Cruz de Tenerife - Arrecife, Lanzarote, Canary Islands - Agadir - Casablanca - Leixoes - Southampton

£2131

5 Nights

Dover - Rotterdam - Zeebrugge - Le Havre - Southampton

£CALL

17 Nights

Southampton - Cadiz - Santa Cruz de Tenerife - Las Palmas,Gran Canaria - Santa Cruz de la Palma, La Palma - Funchal - Southampton

£CALL

33 Nights

Southampton - Funchal - St John's, Antigua - Philipsburg, Puerto Rico - Road Harbour, Tortola - St. Kitts - Point-a-Pitre - Castries - St Georges, Grenada - Port Elizabeth (Grenadines) - Fort de France - Port of Spain,Trinidad - Santa Cruz de Tenerife - Southampton

£5883

Launching in Summer 2019, Saga have now revealed more amazing new details regarding their brand new ship, Spirit of Discovery!

The luxurious, splendid design indicates and new age for Saga Cruising, and will present the chance to experience a lot more!

Click here to view Spirit of Discovery sailings »
T&C's: *All inclusive includes selected wines at lunch and dinner, Saga house-branded spirits, cocktails containing house-branded spirits, draught beer and lager, non-alcoholic cocktails, all mixers and soft drinks. Promotional details, fares and itineraries were correct at time of publish and may be changed/withdrawn at any time. Fares are per person, based on two adults sharing the lead grade of stateroom. E&OE