Le Champlain
Like the rest of the PONANT EXPLORERS series, Le Champlain successfully manages to subtly combine the desire to explore the remotest regions of the planet with the comfort and privacy of a cosily intimate ship.
Clean Ships- all of the Ponant ships are certified as a "Clean Ship" by the French classification society, Bureau Veritas, one of the world's major ship classification societies. This coveted and seldom-awarded certification recognises that the PONANT fleet—from initial design and construction to seagoing operations—has adopted the most environmentally responsible materials, equipment, and management procedures possible.
Some of these state-of-the-art systems and processes include:
A silent electric propulsion system, with main engines and electric generators that use advanced control systems and burning light, low-sulphur fuels, reducing fuel consumption by up to 30% and greenhouse gas emissions by 40%
All ships are equipped with Dynamic Positioning, a sophisticated computer-controlled system, which allows them to maintain a mooring position without dropping anchor, thus eliminating potential damage to sensitive areas
Black water (sewage) is filtered and treated aboard ship; any solid residues at the end of the process are stored until they can be properly discharged ashore
Grey water (showers, dishwashers, laundry) is treated and recycled for use in cleaning the outside decks
Solid wastes (glass, paper, medical, food, etc.) are sorted, compacted where appropriate, and stored in refrigerated compartments until they can be properly disposed ashore
Bilge-water is treated with ceramic filtration systems to obtain an extremely low hydrocarbon content (less than 5 PPM instead of the regulatory 15 PPM)
The lighting aboard, based on LED and CFR technology, reduces up to 10 times the electrical power required from the ship's electric generators
Far-sounding sonar, in addition to providing the bridge with 3-D pictures of the ocean floor, icebergs, and ice floes, also minimises the risk of collision with marine mammals.
accommodation
deck plans
dining
entertainment
health & fitness
enrichment
useful
misc.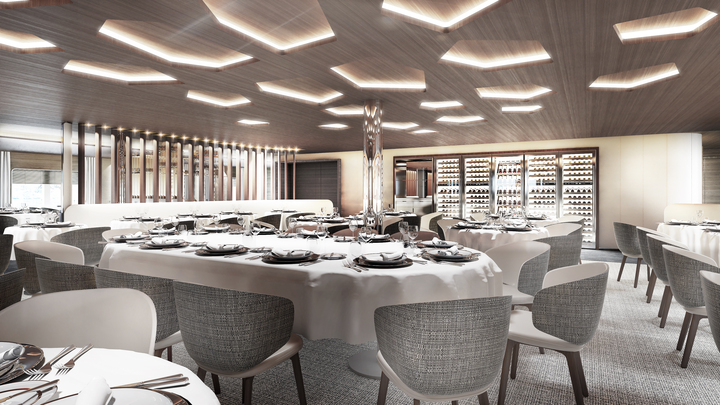 Gastronomic Restaurant
The Le Nautilus 
A la carte meals are served at the table in the gastro restaurant. At lunch, a selection of dishes inspired by contemporary French brasseries will be offered. At dinner, it is time to sample the grand traditions of French fine dining, with menus to go with one of the best wines from our cellar, as recommended by our sommelier.

Towards the rear of deck 4 you'll find a panoramic restaurant large enough to accommodate all our passengers at one sitting. Offering a different concept than on our other ships, this space is open to the exterior and serves buffets of salads, desserts and cheeses. Our discreet and attentive staff provide a table service for hot meals.
260 m2 (2,800 ft²)
Wine cellar
Deck 4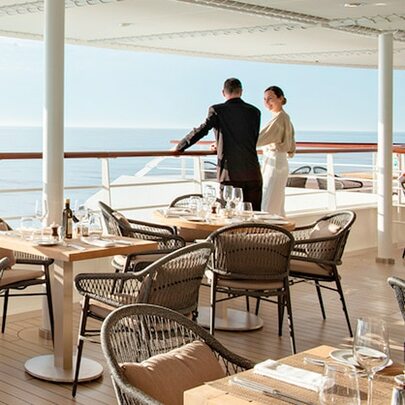 Grill Restaurant
An exterior grill restaurant on deck 3 offering a relaxed ambiance and atmosphere:
Capacity: 70
Views out over the pool deck
Grilled meats and a variety of salads and desserts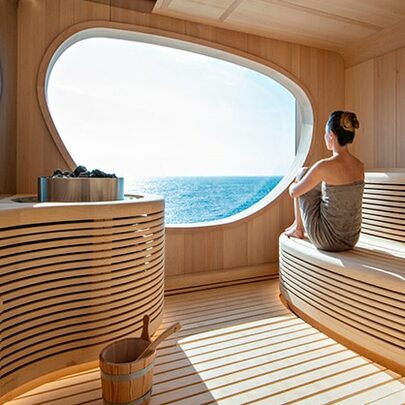 The Spa
All our ships feature an onboard spa. Equipped with massage cabins and a Turkish bath (Sister ships) or a sauna (Explorers), the spa offers a wide choice of top-of-the-range treatments provided in association with SOTHYS™ or CLARINS (Le Bellot and Le Jacques-Cartier only), leading French spa and wellness centre brands.
Discover a range of facial treatments, aromatic baths, exfoliation and body massage treatments designed to provide moments of complete relaxation. You can also supplement your beauty ritual with additional services such as hair-removal, makeovers, manicures and pedicures.
Prices and details of services in the PONANT Yacht Spa menu.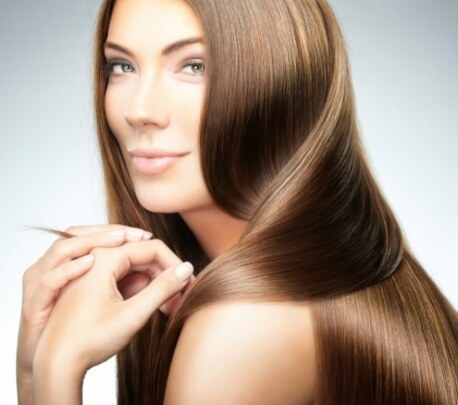 The Hairdressing Salon
Provided in partnership with KÉRASTASE® and L'ORÉAL PROFESSIONNEL®, the hairdressing salon offers a complete range of top quality treatments designed to strengthen, nourish and reinvigorate hair's shine and brilliance. Our stylists are available to serve all your styling, highlighting, colouring, cutting and tailored hair advice needs.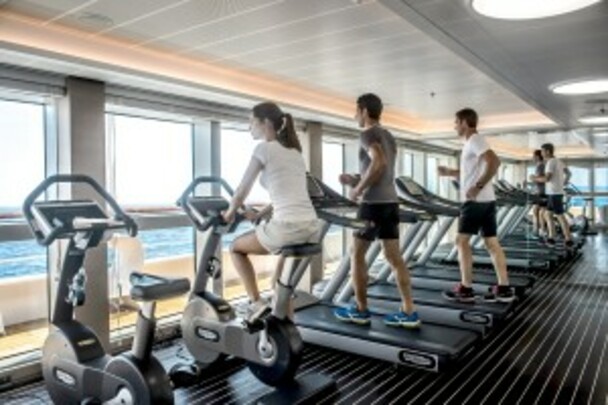 The Gym
The gyms on our ships are equipped with the very latest Technogym© equipment and machines. Treadmills, exercise bikes, Kinesis Wall© strength training machines and many other types of equipment are all provided in a laid-back relaxing environment. The wide floor-to-ceiling windows looking out over the sea add undeniable charm to the exercise sessions.
Each day also begins with organised morning workout sessions, either out in the open air or in the theatre. These are supplemented by water aerobics in the pool, or in the sea off the beach for PONANT passengers, when the situation allows it.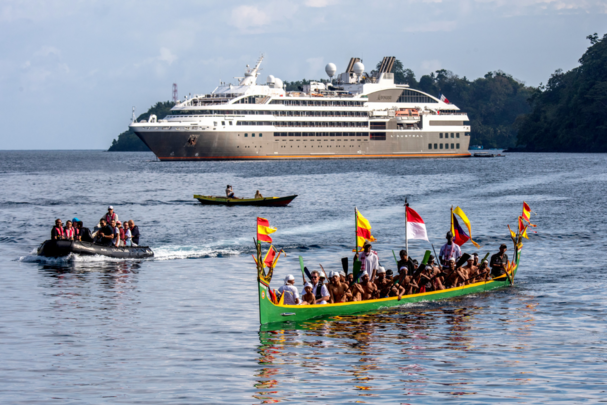 Excursions
Excursions & land itineraries
Each itinerary has been thoughtfully created by our teams to offer you a complete excursion experience. You can discover the hidden gems of the regions you visit in line with your interests.
Hidden creeks, ancient cities, UNESCO world heritage sites… the world reveals its hidden gems as you journey along the routes taken by travellers. In keeping with our ethos "Accessing the worlds treasures by sea", we offer a wide choice of land excursions during all our cruises (except for expeditions). Chosen by our PONANT experts for their cultural value and historic interest, these excursions can last a few hours or a few days. If you need to stay on land overnight, we take care of your stay from start to finish, until you rejoin your ship. These longer excursions mean you can discover the unmissable sites of the region you are visiting, like Cuzco in Peru for example or the Mekong Delta in Vietnam.
You can access these trips by pre-booking two months before your departure date.
The Hydraulic Platform
Deck 2
Much easier onboard access than on any other cruise ship
Easier disembarking and embarking by Zodiac when participating in expeditions
Swimming and bathing in the sea and various nautical sports, such as kayaking and paddle-boarding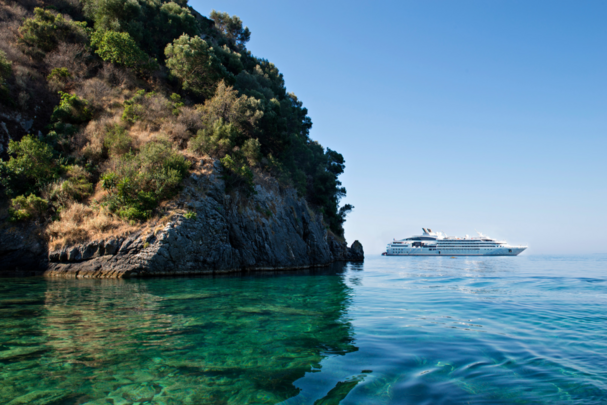 An Increasingly Cleaner Fleet
State-of-the-art technologies aboard the ships, improved waste and waste water treatment, raising the awareness of travellers, future plans that are increasingly innovative in terms of sustainable development…
Every day, PONANT is committed to protecting the environment.
We go above and beyond environmental regulations in force (for example, the MARPOL convention for the prevention∘ of pollution from ships and the Polar Code) by studying ways to help us minimise our impact on the places we visit and of our obligations both towards them and towards the people who live there. Thanks to our efforts, all PONANT ships have been awarded the international "Clean Ship" label, which certifies that we have reduced our environmental impact.
A vigorous policy of drastic reduction in the use of fuel oil for ship operations – Our Objective by 2021 is to use 100% MDO & GNL
MDO (marine diesel oil) is lighter and less polluting than HFO (heavy fuel oil)
LNG (liquified natural gas) is currently the greenest fuel on the market (25% less carbon emissions, 85% less nitrogen oxide emissions∘ and 95% less fine particle emissions)
The technology at the heart of PONANT ship designs
Sonar system for the detection of shoals to avoid contact with icebergs and reefs
Refrigerant gas (R407C) used for air conditioning and refrigeration units. It has no impact on the ozone layer and a very low impact∘ on the greenhouse gas effect
Low energy and low heat emitting lighting system (LED and fibre optic based)
Dynamic positioning system∘ that helps (when needed) maintain a vessel's position without having to drop anchor in sensitive marine environments such as coral reefs, thereby protecting the seabed
The latest generators equipped with an integrated electronic control system to optimise their functioning
Tin-free antifouling paint to protect marine∘ ecosystems as much as possible
Real-time energy-consumption calculation tools to reduce energy consumption
The First Electric Hybrid Polar Ship Powered by LNG in the World
PONANT is designing a luxury cruise polar exploration ship. Completed in 2021, it will be fitted with the latest sustainable development technologies and will surpass the requirements of the IMO (International Maritime Organization) 2020 regulation.
Powered by Liquified Natural Gas
Precise measurement of consumption∘ and optimisation of ship sailing
Latest generation electric batteries to reduce energy consumption
Waste Heat Recovery System
Energy Optimisation∘ System
Waste treatment system using HydroThermal Oxidation.
The Icebreaker features perfected "Clean Ship" fittings that go beyond the current industry-standard environmental regulations:
Reduction of SO2, NOX, CO2 and particle emissions thanks to the use of LNG
Zero emissions when in electric hybrid mode
Energy management
Energy optimisation system that precisely measures consumption and optimisation of ship sailing∘ methods
Waste Heat Recovery System
Electric output optimised and consumption reduced through the use of latest generation electric batteries
Water Treatment
Advanced Waste Water Treatment system
Improved Waste & Sewage Treatment
All types of "water" generated aboard our ships are treated to prevent the potential risk of polluting aquatic environments.
Blackwater is filtered, treated, and reused. At the end of the process, solid waste is stored and unloaded on land, in accordance with standard∘ regulatory procedures.
Greywater (bath, shower, kitchen, laundry) is recycled and reused to wash external∘ decks.
Bilge water is treated using ceramic membrane filtration systems∘ to obtain an extremely low content of hydrocarbons: less than 5ppm instead of 15ppm.
Ballast water is subject to biodecontamination.
Filtered and/or retreated bilge water∘ and ballast water are stored on board, awaiting unloading on land.
During PONANT cruises, the water consumption by passenger is 5 times less than the average consumption of water per person on land.
100% of waste is separated and sorted on board (solids – liquids – glass – cardboard – food – medicines)
The most modern methods pulpers / crushers / compactors
Recycling on board is 60% more effective than on land
At the end of sorting 700g is the average volume∘ of non-recyclable waste, generated by every guest during a cruise. By comparison, the same person would have produced 2.3 kg of waste on land.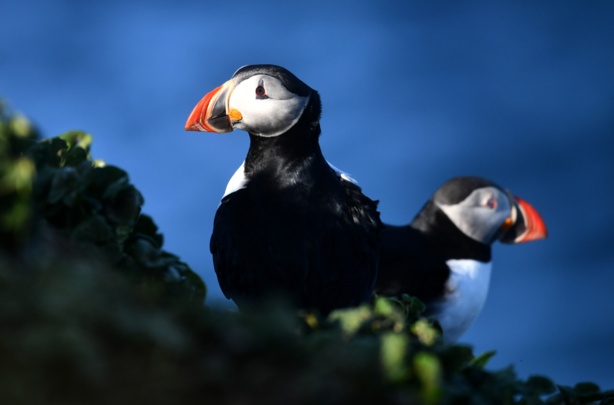 On a Cruise: Everyone's Responsible!
On expedition cruises, PONANT takes its passengers to some of the most remote and wild places on the planet. We are very conscious of our status as privileged guests at the sites we visit, and of our obligations both towards these places and the people who live there.
Additionally, an environmental impact study is carried out before the conception of each new itinerary to ensure that the impact of every landing is only temporary and transitory. We make a biodiversity inventory (fauna, flora, geology) of the places where we plan to disembark. We also prepare∘ access routes that do not impinge on the areas to be preserved. Consequently, we work together with several organisations, such as the TAAF (Terres Australes et Antarctiques Françaises, French Southern∘ and Antarctic Lands), the Seychelles Foundation, the Aldabra Foundation and the Chico Mendes Institute for Biodiversity Conservation.
MINIMIZING WAVES

At sea, we sail at a reduced speed (between 12 and 13.5 knots) to create the least waves possible so as to avoid disturbing marine mammals. When approaching shores, we reduce our speed.
REDUCING NOISE POLLUTION

We limit all the noise made by the ship (airborne and underwater, whether audible to the human ear or not) that may confuse marine species∘ and disturb local populations. We limit announcements aboard the ship and do not allow them outside in case there is fauna nearby.
REDUCING LIGHT POLLUTION

We reduce light produced on board to prevent sea birds from being grounded on the ship. At night, we keep navigation∘ lights to the minimum and we close the curtains in the staterooms.
RESPECTING LOCAL RESOURCES 
When appropriate we buy food directly in places where we dock. At ports of call where provisions are limited, we leave the resources∘ for the local populations.
ZERO IMPACT LANDINGS

Every landing is subject to a protocol. This approach mobilises a dedicated team, which makes sure not to have any impact on the ecosystem∘ visited and thereby protect the fauna, flora, and populations.
CLEANING BEACHES
During every landing, we take ashore large rubble bags to pick up any litter found on site. The litter is then sorted and unloaded in a port that is able to accept it.
RAISING THE AWARENESS OF OUR GUESTS
During expedition cruises and Zodiac® trips, guests are accompanied∘ by a team of nature guides. The guides provide guided interpretations on land and speciality lectures. In the near future, we are planning to introduce an "Ambassador Charter" to raise our guests' awareness of the necessities relating to protecting the environment and of their own role. All our passengers and crew members make a commitment to respect a Code of Good Conduct∘ which has been prepared following our observations and is specific to each destination.
RAISING THE AWARENESS OF THE STAFF
In the same way as for guests, PONANT raises the awareness of its staff and ensures that information is shared with the crew in an inclusive and instructive manner through information meetings∘ before the cruise, signing the area's charter of good visitor conduct, organising and participating in expedition activities, and coaching on land.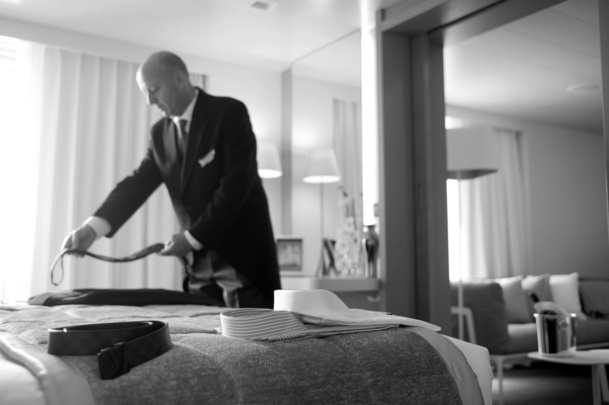 Laundry Service
For optimal comfort, a laundry service* is offered on each of our ships. You will find laundry pricing, bags and slips inside your stateroom. During your entire cruise, your steward or stewardess will be available to take care of washing and ironing** your clothing within 48 hours.
*Dry cleaning is not available.
**These are paid-for services and will be directly charged to your stateroom's account.
Disabled Facilities
Our sister ships and PONANT EXPLORERS were designed for people with reduced mobility in mind:
Specially designed cabins;
Access ramps allowing easy movement in communal areas;
Posters, signage and cabin numbers are translated into Braille.
Despite these arrangements, each passenger should be able to be independent or travel with a close family member or friend who can give them whatever assistance they require during their trip.
If a person has not been judged suitably fit for travel in complete safety, the company reserves the right to refuse their embarkation. Disembarkation in difficult places or in a Zodiac® is subject to the approval of the Captain, who will always have the safety and wellbeing of the passenger in mind.
If you have any special treatment, we ask you to inform the reservation service when you register for the cruise, to note it on the information sheet before departure, then inform the on-board crew at the moment of departure and always keep your medication with you for the duration of the cruise.
Dietary Requirements
So that everyone's tastes are catered to, special menus are available on request for guests with specific dietary requirements (low-fat, vegetarian, gluten-free, etc).
Age Restrictions
Children under one year of age shall not be authorised to embark on the ships.
For children aged between 1 and 8 years old, an authorisation to board the ship must be made in writing to PONANT. Subject to agreement, a liability waiver must be completed and returned to the company to validate the registration.
On classic cruises ("yachting"), children are accepted from the age of one, with a maximum of 5 children between 1 and 6 years old on board.
On "expedition" cruises children are accepted from 6 years old (except cruises aboard Le Commandant Charcot) and must be fully independent during all the outside activities organised and during disembarkation in rubber boats, be sufficiently tall to sit on the inflatable sides of the boats, and old enough to understand, and immediately respond to the orders given by the persons in charge. As a result, children's participation in any activity in an inflatable boat shall be subject to the agreement of the Captain and of the Expedition Head, depending on the sea conditions, and the difficulty of disembarking at each location visited. The ships do not carry Parka's in children's sizes. Parents must arrange to bring a suitable Parka for children. In all cases, children and young people under the age of 18 are at all times on board or on land under the full and total responsibility of their parents or carers.
For all "expedition" cruises on board Le Commandant Charcot, children are accepted from 8 years old only.
Children aged 4 years or more can be welcomed in the Kid's Club when the service is offered on board 
Smoking Policy
Closed spaces such as the lounges, the dining room, the cabins and the reception are non-smoking areas. We invite you to smoke in designated outdoor parts of the ship.
Drinks Packages
From the moment you board and throughout your cruise, your unlimited drinks are included*, at any time of the day. A drink with friends at the bar, refreshments on your return from an excursion or in the calm of your Stateroom's balcony: enjoy a large selection of beverages (mineral waters, cold drinks, cruise wines, beer, champagne, spirits, coffee, tea). A selection of premium alcoholic drinks is also available "à la carte".
*It doesn't include premium alcoholic drinks indicated in the Bar Menu. It is valid only for individual personal consumption, without limitations.
Dress Code
We advise our passengers to wear casual and elegant outfits at their convenience, and more formal attire for the Captain's Dinner.
On an expedition cruise, be sure to bring practical clothes as well as comfortable shoes suitable for travelling in Zodiacs and disembarking on beaches or mud flats. On tropical expeditions be sure to bring a hat, sunglasses and long sleeved/legged clothing. For cruises in the Arctic and Antarctic, you will be given a polar parka in your size and suitable boots will be available for use when ashore.
Other Details
Adults Only: Adults only
Childrens Facilities: None
Nursery: None
Smoking: Some
Gratuities: Gratuities are only included in packages sold in USA/Canada. Tipping is at guests discretion but is advised for all other voyages.