Home

»

Silversea Cruises - Luxury just got better.
Silversea Cruises - Luxury just got better.
Silversea is committed to making your voyage unforgettable by taking you to the most beautiful destinations on the planet in the comfort and elegance that you deserve.

Silversea's small luxury ships are designed for those who delight in the thrill of discovery while indulging mind and body in the most lavish surroundings imaginable. All accommodations are spacious, ocean-view suites that include butler service,and most include private verandas. Silversea voyages and cruise expeditions sail to over 900 destinations on all seven continents, more than any other cruise line.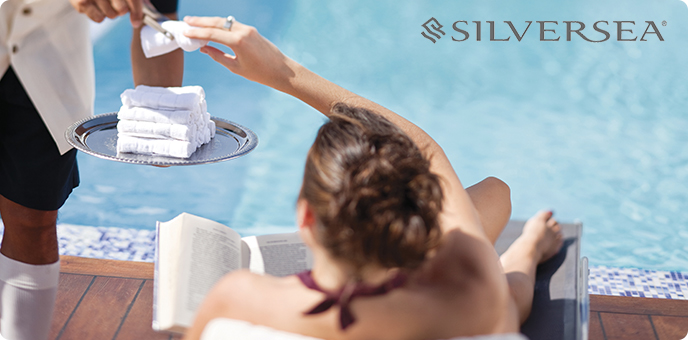 OFFERS ⭐️ Last-Minute Savings:
Don't let these sail away! With these Last Minute Savings you can now get great value on a selection of worldwide voyages departing in the next few months. You will benefit from one-category suite upgrade AND an onboard credit of $1,000 per suite, which you can use for shore excursions, spa treatments, specialty restaurants and more.
Book by 3 January 2020
⭐️ Early Booking Bonus:
Whether you dream of a luxurious voyage with lavish surroundings or a thrilling expedition to the most remote places on the planet, take time now to plan ahead and save 10% on selected cruises. With voyages sailing to over 900 immersive destinations on all seven continents, the choices are remarkable and the savings are, too. Especially with everything else Silversea's fares include, from ocean-view suites, wines and spirits throughout the ship to free WiFi, included gratuities, a butler for every suite and more.
Book by 3 January 2020
⭐️ EUROPE 2020 BONUS SAVINGS
Experience savings like never before with Silversea's Bonus Savings. This exclusive offer gives up to £400 savings per suite. PLUS combine these savings with their air promotions and Early Booking Bonus. There's no time to wait, take advantage of your opportunity to explore the authentic beauty of the world.

✓ Save 10%
✓ Included return flights
✓ Included transfers between airport & ship
✓ PLUS BONUS SAVINGS OF UP TO £400 PER SUITE
Book by 30 November 2019
Alaska, Australia & New Zealand and Far East:
✓ Reduced Business Class Roundtrip or Included Economy Class Roundtrip
✓ Included Transfers Between Airport, Hotel & Ship
✓ Included Pre Cruise Hotel - 1 Night Before Your Cruise
Northern Europe and Mediterranean:
✓ Included Business Class Roundtrip
✓ Included Transfers Between Airport & Ship
South America, Africa & Indian Ocean, Canada & New England and Transoceanic:
✓ Reduced Business Class Roundtrip or Included Economy Class Roundtrip
✓ Included Transfers Between Airport & Ship
Caribbean:
✓ Reduced Business Class Roundtrip or Included Economy Class Roundtrip
✓ Included Transfers Between Airport, Hotel & Ship
✓ Included Pre Cruise Hotel - 1 Night Before Your Cruise
Galapagos:
✓ Included Economy Class Roundtrip to Ecuador and Included Economy Class Roundtrip Between Ecuador & Galapagos
✓ Included Transfers Between Airport, Hotel & Ship
✓ Included Pre Cruise Hotel in Quito - 2 Nights Before Your Cruise
✓ Included "Quito By Night" Tour
Antarctica & Arctic:
✓ Reduced International Business Class Roundtrip or Included Economy Class Roundtrip
✓ Included In-Country Flights (When Required By Itinerary)
✓ Included hotel (1 Night Pre-Cruise, 1 Day-Use Post-Cruise & Included Transfers)
✓ Included Shore Excursions (including Guided Zodiacs & Parkas)
Wild Expedition Cruises:
✓ Reduced Business Class Roundtrip or Included Economy Class Roundtrip
✓ Included Transfers Between Airport, Hotel & Ship
✓ Included Pre Cruise Hotel
✓ Included Shore Excursions (including Guideded Zodiacs)
South America - Machu Picchu:
✓ £800 Savings Per Suite
Book by 30 November 2019
CALL TODAY TO BOOK ON:
0800 810 8481
Silversea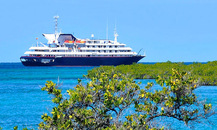 Silver Galapagos
30th Nov 2019 - 7 Nights
Baltra to San Cristobal
Silversea

Silver Wind
1st Dec 2019 - 7 Nights
San Juan to San Juan
Silversea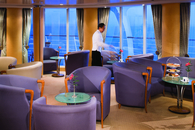 Silver Shadow
3rd Dec 2019 - 7 Nights
Fort Lauderdale to San Juan
Silversea

Silver Whisper
6th Dec 2019 - 14 Nights
Roundtrip Fort Lauderdale
Silversea
Silver Muse
3rd Jan 2020 - 13 Nights
Sydney to Sydney
Silversea
Silver Spirit
29th Feb 2020 - 15 Nights
Singapore to Mumbai
Silversea
Silver Explorer
4th Mar 2020 - 14 Nights
Ushuaia to Valparaiso
Silversea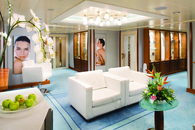 Silver Shadow
16th Apr 2020 - 7 Nights
Barcelona to Civitevichia
Silversea
Silver Muse
28th May 2020 - 7 Nights
Vancouver to Seward
Silversea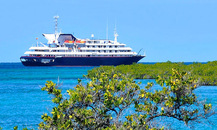 Silver Galapagos
30th May 2020 - 7 Nights
Baltra to San Cristobal
Silversea
Silver Muse
4th Jun 2020 - 7 Nights
Seward (Anchorage, Alaska) to Vancouver
Silversea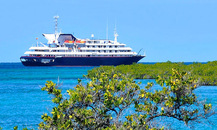 Silver Galapagos
6th Jun 2020 - 7 Nights
San Cristobal to Baltra
Silversea
Silver Muse
25th Jun 2020 - 7 Nights
Vancouver to Seward (Anchorage, Alaska)
Silversea

Silver Cloud
30th Jun 2020 - 9 Nights
Tromso to Longyeabyen
Silversea

Silver Shadow
3rd Jul 2020 - 7 Nights
Rome (Civitavecchia) to Rome (Civitavecchia)
Silversea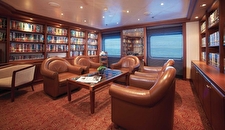 Silver Cloud
9th Jul 2020 - 11 Nights
Longyearbyen to Reykjavik
Silversea

Silver Whisper
18th Jul 2020 - 9 Nights
London (Greenwich) to Lisbon
Silversea
Silver Spirit
20th Aug 2020 - 7 Nights
Copenhagen to Stockholm
Silversea
Silver Spirit
3rd Sep 2020 - 5 Nights
Copenhagen to Amsterdam
Silversea
Silver Spirit
8th Sep 2020 - 6 Nights
Amsterdam to London
Silversea

Silver Whisper
5th Oct 2020 - 11 Nights
Montreal to New York
Silversea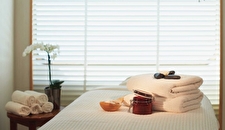 Silver Cloud
8th Oct 2020 - 9 Nights
Vancouver to San Diego, California
Silversea

Silver Whisper
16th Oct 2020 - 11 Nights
New York to Montreal
Silversea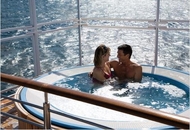 Silver Explorer
31st Oct 2020 - 8 Nights
Colon To Guayaquil
Silversea
Silver Muse
21st Nov 2020 - 12 Nights
Fremantle to Bali
Silversea
Silver Spirit
22nd Nov 2020 - 9 Nights
Dubai to Mumbai
Silversea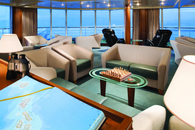 Silver Whisper
9th Dec 2020 - 9 Nights
Fort Lauderdale (Florida) to Bridgetown
Silversea

Silver Cloud
11th Dec 2020 - 10 Nights
Ushuaia to Ushuaia
Silversea
Silver Moon
7th Jan 2021 - 16 Nights
Fort Lauderdale to Lima
Silversea
Silver Spirit
16th Jan 2021 - 10 Nights
Hong Kong to Singapore
Silversea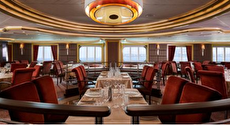 Silver Moon
14th Feb 2021 - 10 Nights
Buenos Aires to Rio de Janeiro
Silversea

Silver Whisper
8th Apr 2021 - 15 Nights
Singapore to Mumbai
Silversea

Silver Shadow
15th Apr 2021 - 13 Nights
Fort Lauderdale to Lisbon
Silversea

Silver Whisper
25th May 2021 - 12 Nights
Lisbon to New York
T&Cs:All-Inclusive: All Package Fares are available in pound sterling, per guest, based on double-occupancy in a Vista suite and include roundtrip economy class flights, one-night pre-cruise hotel (on select cruises), transfers for the embarking and disembarking phase and select shore excursions. The one-night pre-cruise hotel and the transfers are exclusively part of the Promotional Air Offer. Fares are capacity controlled and subject to change at any time without notice. Promotional Economy Class is offered from select UK gateways. Promotional air offer is only applicable to specified voyages. Silversea reserves the right to select the air carrier, routing and departure airport from each gateway city. Airline baggage fees are not included. This will be available for booking at an additional charge. Deviations to air travel dates are accepted at a charge of GBP 50 per request plus all additional air costs. In the event Economy Class air is not available (determined at Silversea's sole discretion) or for guests not utilizing the promotional air offer or for non-British guests, a non-use Air credit in the amount of GBP 900 per person may be applied. Bookings made before or after the promotional period will not qualify for the savings. In case of succeeding voyages made by the same customer (combo or multiple bookings) the non-use credit can be only applied once. Offer applies to bookings made between 15 May 2019 and 30 November 2019. Select excursions (one per port and per guest) will be offered on a complimentary basis on Silver Shadow (voyages 3934/3935/3936/3937), Silver Whisper (voyages 4928/4929/4934/4932) and Silver Wind (voyages 2931/2932/2933/2934/2935/2936). More excursions are available for purchase; standard cancellation penalties apply. Capacity is limited on all shore excursions including free shore excursions and guests' first choice may or may not be available. Silversea reserves the right to cancel any excursions including free shore excursions. No credit or other compensation will be given if free shore excursions are unavailable, cancelled or not utilized. All shore excursions including those offered on a complimentary basis are operated by independent operators over whom Silversea has no control. All advertised fares, savings, offers, programs and itineraries are correct at time of printing, are subject to availability and may change at any time. Other restrictions may apply.
Promotional details, fares and itineraries were correct at time of publish but can be changed/withdrawn at any time without notice. Fares are per person and based on two people sharing the same stateroom.
E&OE