AmaDara
This distinctive ship is in a class of her own! AmaWaterways' sole cruise ship on the Mekong River, the AmaDara features French Colonial décor and richly carved wood furniture inspired by the history of the region, as well as local artifacts made by native craftsmen.
accommodation
deck plans
dining
entertainment
health & fitness
useful
misc.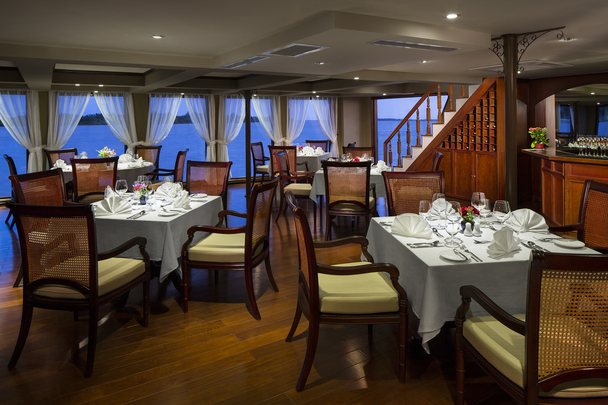 The Chef's Table Restaurant
Dine at The Chef's Table, where the kitchen becomes part of the entertainment. Watch as the chef prepares a special, multi-course meal right in front of you and indulge in delectable dishes paired with hand-selected unlimited fine wines. The menu here is unique, making this a truly distinct gastronomic experience.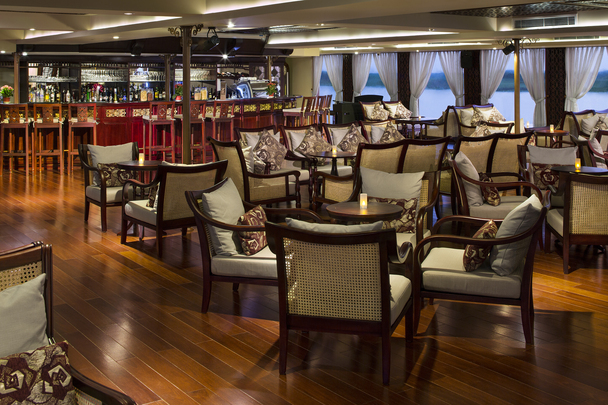 Saigon Lounge
Meet fellow travellers in Saigon Lounge, enjoy a drink at the bar or soak in the passing scenery. The ship features convenient interior access as well as air conditioning in hallways, restaurants and lounges.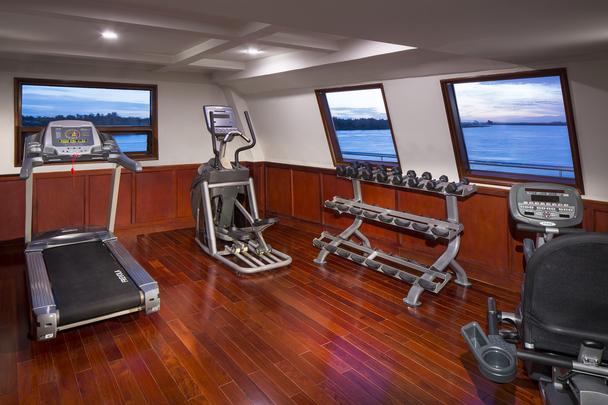 Fitness Room
Are you looking for a way to stay fit on holiday? Hit the treadmill or lift some weights while cruising from one destination to the next.
Sun Deck and Pool
Soak up some rays or take a dip in our refreshing pool on your way to the next exotic stop on your cruise.
Age Restriction
Effective immediately, AmaWaterways will only be welcoming guests fully vaccinated against Covid-19 on board its ships. This vaccination requirement also applies to accompanied minors. Guests affected by this decision should contact their travel advisor for options to reschedule their river cruise.
On our programs in Europe and Southeast Asia, children under the age of 4 years old are not permitted on board and children 4-7 years old are not recommended. On our Africa safaris program, due to safety precautions, there is a minimum age limit of 12 years old, unless otherwise agreed upon by AmaWaterways. All guests under the age of 18 are to be in a stateroom with an adult, and must remain supervised at all times, as their safety is the responsibility of the accompanying adult(s). Children between the ages of 4 and 10 at the time of embarkation may share a stateroom with 2 adults provided the child is able to share the bed with the adults – no additional bed will be provided. Select ships offer a limited number of staterooms with a fold-out sofa for a triple occupant; we would be happy to guide you through these options when available. A triple occupancy rate will apply for the child sharing the stateroom; pricing can be provided upon request. Please be aware that balcony staterooms of any kind may be unsafe for small children if left unsupervised. AmaWaterways does not provide child-specific programs or child-minding facilities. Please reach out to us if you have any further questions regarding our child policy.
As of March 3, 2022, children 5 and older at time of sailing are still required to be vaccinated however, children that are not yet eligible for the vaccine are able to come onboard if they can provide a negative PCT test taken within 72 hours of embarkation.
Disabled Facilities
Reasonable efforts are made to accommodate the special needs of disabled cruise participants, but no responsibility will be undertaken for any denial of services by carriers, hotels, restaurants, or other independent suppliers. Tour buses are not equipped with wheelchair ramps and cabin doors are not wide enough to allow access by standard wheelchairs.
Wheelchairs and walkers cannot be carried on tour buses, due to space limitations. Wheelchair passengers should be aware of these limitations. For safety reasons, passengers in wheelchairs cannot be carried on ramps in ports where the ship is at anchor. We regret that we cannot provide individual assistance to a tour member for walking, getting on/off tour busses and other transportation vehicles, or other personal needs. A qualified travel companion must accompany travellers who need assistance.
Dress Code
Comfortable, layered clothing adaptable to changing weather conditions is always advisable for daytime excursions. For the evening, "Casually elegant" attire is recommend and you may want to pack something a little dressier for the Captain's night/Farewell Dinner – similar to how one would dress to dine at a 5-star restaurant. Comfortable shoes are recommended for excursions and workout clothing if you plan to take part in any wellness activities, active tours or use the onboard gym. Depending on the time of year, clothing that can be layered is highly recommended.
Dietary Requirements
Please advise your Travel Agent or call us directly to advise if you have any dietary restrictions or allergies prior to embarkation. In most cases, we will do our best to accommodate special dietary requests and food allergies, but with one exception: Kosher. This diet has specific rules regarding food and its preparation and the shipboard environment does have limitations that prevent us from being able to adequately cater to this dietary need. Please note, though we can provide options to accommodate food allergies and sensitivities, we cannot guarantee there will not be any cross-contamination.
Smoking Policy
Smoking is not permitted anywhere inside any of the ships. Smoking is only permitted on the Sun Deck. For the safety and comfort of all passengers on board, your cooperation in observing the no-smoking policy is greatly appreciated.
Medical Facilities
Europe: There are no medical facilities on board. However medical services can easily be called from shore if required.
Vietnam & Cambodia: We do not employ doctors or nurses on board the ships. In the event medical assistance is needed, appropriate medical facilities will be contacted. Note that response time can vary.
Africa: We do not employ doctors or nurses on board the Zambezi Queen. In the event medical assistance is needed, appropriate medical facilities will be contacted. Note that response time can vary.
Internet and Wifi Access
Europe: High-speed Internet service is available free of charge as part of the in-stateroom "Entertainment-On-Demand." Additionally, AmaWaterways offers complimentary Wi-Fi throughout the ship.
Vietnam and Cambodia: Free Internet and Wi-Fi in the lounge with computer stations.
Africa: Free Wi Fi is available but may be limited and sporadic during certain times of the day due to the ships isolated location.
Other Details
Adults Only: Adults only
Childrens Facilities: None
Nursery: None
Smoking: Some
Gratuities: Gratuities to your Cruise Manager and ship crew are not included in the vacation price. While the amount of these gratuities will depend upon your degree of satisfaction for services received. Gratuities on most vessels, but not all, may be charged on credit card as well as cash.