AmaLucia
Sister ship to the award-winning AmaLea and AmaKristina, the elegant 156-passenger AmaLucia will be a warm, inviting ship offering plenty of space for guests to unwind when she debuts in 2021.
With the exception of Portugal and Russia, all Luxury River Cruises and Essential River Cruises river ships in Europe are equipped with bicycles that are free to borrow on request. Several also store electronic bikes on board.
Guided bicycle tours operate on Luxury River Cruises between mid-April and October. We provide helmets for your safety. Bicycles are free to borrow on Essential River Cruises for European Gems departures only. 
accommodation
deck plans
dining
entertainment
health & fitness
useful
misc.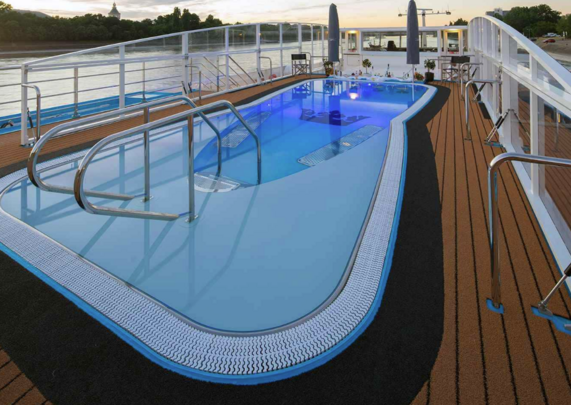 Sun-Deck Pool
Soak up some rays or take a dip in our refreshing pool with a swim-up bar as we pass by centuries-old castles, charming villages and other breath taking scenery.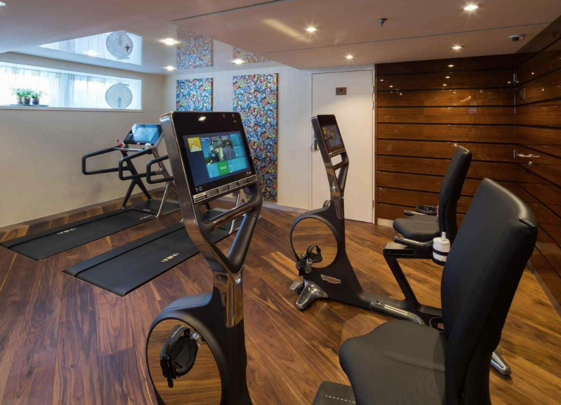 Fitness Room
Are you looking for a way to stay fit on vacation? Hit the treadmill or lift some weights while cruising from one destination to the next
Disabled Facilities
Reasonable efforts are made to accommodate the special needs of disabled cruise participants, but no responsibility will be undertaken for any denial of services by carriers, hotels, restaurants, or other independent suppliers. Tour buses are not equipped with wheelchair ramps and cabin doors are not wide enough to allow access by standard wheelchairs∘
Wheelchairs and walkers cannot be carried on tour buses, due to space limitations. Wheelchair passengers should be aware of these limitations. For safety reasons, passengers in wheelchairs cannot be carried on ramps in ports where the ship is at anchor. We regret that we cannot provide individual assistance to a tour member for walking, getting on/off tour busses and other transportation vehicles, or other personal needs. A qualified travel companion must accompany travellers who need assistance.
Smoking Policy
Smoking is not permitted anywhere inside any of the ships. Smoking is only permitted on the Sun Deck. For the safety and comfort of all passengers on board, your cooperation in observing the no-smoking policy is greatly appreciated.
Dietary Requirements
Please advise your Travel Agent or call us directly to advise if you have any dietary restrictions or allergies prior to embarkation. In most cases, we will do our best to accommodate special dietary requests and food allergies, but with one exception: Kosher. This diet has specific rules regarding food and its preparation and the shipboard environment does have limitations that prevent us from being able to adequately cater to this dietary need. Please note, though we can provide options to accommodate food allergies and sensitivities, we cannot guarantee there will not be any cross-contamination.
Dress Code
The dress code is relaxed. Light, comfortable clothing is ideal for during the day, but smart casual clothing for evenings on board the ship is recommended. You may wish to bring something a little dressier for the
Welcome and Farewell dinners and any special events, however there will be no black tie or formal evenings.
We recommend that you pack a variety of light to medium weight clothing, plus rain-wear in case of cooler or wet weather. Layers are a good option to cover a range of temperatures and to suit changing conditions.
Comfortable footwear is imperative, as some excursions involve walking steps or ramps to embark/disembark.
If your sightseeing includes churches, monasteries, synagogues or mosques, dress casually and ensure sufficient body cover (for example cover your shoulders and wear trousers or a knee-length dress). 
Giving Back
AmaWaterways is the proud sponsor of the ODA Free Village English School in Siem Reap, Cambodia, established in 2011 in association with Opportunities of Development thru Art (ODA). Our financial support to the school brings critical English-language skills to local children of grammar-school age to help improve their lives and assist with subsequent employment opportunities.
We are extremely honoured to participate in such a constructive and lasting project as this life-changing school. We encourage all AmaWaterways guests to visit this remarkable part of the world, known for its stunning temple complexes and the friendly people who live there.
Helping from Home
Our generous guests often ask if there is anything they can bring from home to donate to the ODA Free Village English School. There are more than 600 children enrolled in the school, so there are never enough books or educational materials to go around. If you are interested in making a contribution, we suggest:
Basic school supplies – pencils with erasers, erasers, pens, chalk, small notebooks, jumbo felt tip pens, post-it notes, dry erase markers (and blue and red ink refills), exercise books, highlighters, building blocks, large threading beads, paints, simple wooden jigsaw puzzles, laminated write-and-wipe books, UNO cards, and very simple storybooks with lots of pictures.
Personal hygiene supplies: soap, shampoo, toothbrushes and mini tubes of toothpaste.
If you prefer to make an online donation, please visit:
https://www.odaopportunitiescambodia.org/copy-of-donate
All donations made through this website are processed and collected by Project Kids Art, a 501(c)(3) registered in the United States. Donations made by U.S. citizens are tax-deductible. Funds are distributed to four village schools in the Siem Reap area, including the ODA Free Village English School. When making your donation, please make a note on PayPal's Additional Comments field which reads "AmaWaterways Free English School."
Thank you!
Internet and Wifi Access
Europe: High-speed Internet service is available free of charge as part of the in-stateroom "Entertainment-On-Demand." Additionally, AmaWaterways offers complimentary Wi-Fi throughout the ship.
Vietnam and Cambodia: Free Internet and Wi-Fi in the lounge with computer stations.
Africa: Free Wi Fi is available but may be limited and sporadic during certain times of the day due to the ships isolated location.
Medical Facilities
Europe: There are no medical facilities on board. However medical services can easily be called from shore if required.
Vietnam & Cambodia: We do not employ doctors or nurses on board the ships. In the event medical assistance is needed, appropriate medical facilities will be contacted. Note that response time can vary.
Africa: We do not employ doctors or nurses on board the Zambezi Queen. In the event medical assistance is needed, appropriate medical facilities will be contacted. Note that response time can vary.
Age Restrictions
On our programmes in Europe & Southeast Asia, children under the age of 4 years old are not permitted onboard and children 4-7 years old are not recommended. On our Africa programme, due to safety precautions, there is a minimum age limit of 12 years old, unless otherwise agreed upon by AmaWaterways. All guests under the age of 18 are to be in a stateroom with an adult, and must remain supervised at all times, as their safety is the responsibility of the accompanying adult(s). Children between the ages of 4 – 10 at the time of embarkation may share a stateroom with 2 adults provided the child is able to share the bed with the adults – no additional bed will be provided. Select ships offer a limited number of staterooms with a fold out sofa for a triple occupant, we would be happy to guide you through these options when available. A triple occupancy rate will apply for the child sharing the stateroom, pricing can be provided upon request. Please be aware that balcony staterooms of any kind may be unsafe for small children if left unsupervised. AmaWaterways does not provide child-specific programmes or child-minding facilities. Please reach out to us if you have any further questions regarding our child policy.
Other Details
Adults Only: No kids
Childrens Facilities: None
Nursery: None
Smoking: Some
Gratuities: Gratuities to your Cruise Manager and ship crew are not included in the cruise price∘ While the amount of these gratuities will depend upon your degree of satisfaction for services received. Gratuities on most vessels, but not all, may be charged on credit card as well as cash.