APT AmaStella
Leading the way in luxury and comfort, our Concerto River Ships represent a revolution in ship design. They are the grandest ships on Europe's rivers and present a wealth of exclusive facilities and suites.
accommodation
deck plans
dining
entertainment
health & fitness
enrichment
useful
misc.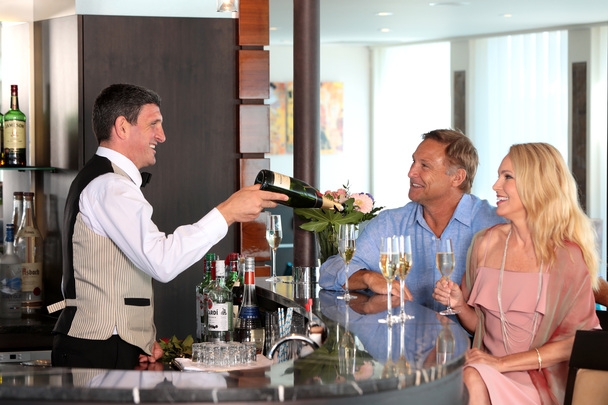 Main Lounge & Bar
This versatile space hosts a bar, dance floor, plenty of comfortable couches and big windows on three sides and is used for everything from the morning port talks, daytime reading and chatting to scenic cruising, afternoon tea and evening entertainment.
Entertainment-On-Demand
Entertainment-On-Demand in all staterooms, featuring free high-speed internet access, movies, a music library and English language TV stations.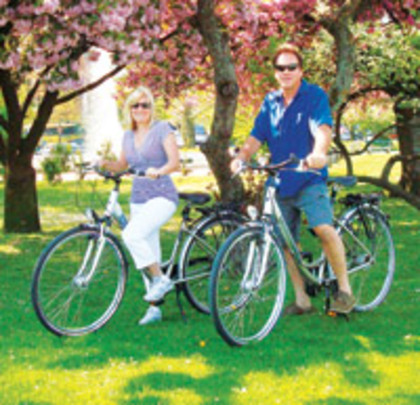 Complimentary Bikes & Bike Tours
APT originated the concept of putting bicycles aboard river cruise ships in Europe. The idea sprung from the fact that so many of Europe's rivers are lined with paths that are perfect for pedaling. We're the only river cruise line that carries more than two dozen bicycles and plenty of safety helmets that are free for you to use. The bicycles give you the freedom to venture out and explore the riverside bikeways. Or, meander through quaint cobblestone streets. The bikes are set up and ready for use as soon as the ship docks. 
On Shore Excursions
Set your own pace on shore excursions. Enjoy the full attention of your guide. APT ensures that you're treated with personalised attention, on land as well as on the river. Their complimentary Small Group Shore Excursions provide a world-class land tour in every destination. They hire the top local guides in every location. They're confident that you'll find no more intensive and immersive introduction to the culture and heritage of the region you're visiting. They offer a "Gentle Walkers" group, for those who'd like to explore at a more leisurely pace. Wherever possible, they offer an "Active Walkers" group, for those interested in covering more ground, and a "Late Starter" group for those who prefer to sleep in. 
Disabled Facilities
Reasonable efforts are made to accommodate the special needs of disabled cruise participants, but no responsibility will be undertaken for any denial of services by carriers, hotels, restaurants, or other independent suppliers. Tour buses are not equipped with wheelchair ramps and cabin doors are not wide enough to allow access by standard wheelchairs.
Wheelchairs and walkers cannot be carried on tour buses, due to space limitations. Wheelchair passengers should be aware of these limitations. For safety reasons, passengers in wheelchairs cannot be carried on ramps in ports where the ship is at anchor. We regret that we cannot provide individual assistance to a tour member for walking, getting on/off tour busses and other transportation vehicles, or other personal needs. A qualified travel companion must accompany travellers who need assistance.
Smoking Policy
Smoking is not permitted anywhere inside any of the river ships, including on balconies in your stateroom or suite. Smoking is only permitted in designated outside areas. The same policy applies for electronic cigarettes.
Dietary Requirements
Please advise the reservation agent at time of booking of any special dietary requirements you may have and they will make every effort to accommodate your request. Please note that not all diets are possible.
Dress Code
Generally, smart casual is acceptable on most tours, however some tours may require/recommend per below:
Jacket and tie for Formal nights on board ocean cruising
Comfortable and light casual clothing for adventure/safari touring
Wet shoes for Kimberley Wilderness Adventure, Outback Wilderness Adventures
Comfortable footwear is recommended across all tours.
Some cultures observe specific dress requirements, such as head dress for women. Tour Directors will supply more information on tour on any of these requirements.
Age Restrictions
Children under twelve years of age are not recommended on tours and cruises. Children under 18 years of age must be accompanied by an adult and share their accommodation with an adult.
Packing Hints and Reminders
Have you arranged/packed the following:
Travel insurance
Travel adaptor or power board
Comfortable footwear (some extra packing hints will be included in your documentation)
Exchanged local currency
Mosquito repellent
Sunscreen
Swimming towel
Motion sickness tablets
Phone charges
Hat
Sunglasses
Camera (with a spare battery)
You will also receive a Tour Hints booklet in your documentation pack with a comprehensive guideline of what to pack for your specific destination.
Internet Access
Internet access may be available whilst travelling on your journey, however please ask your Sales consultant if this is applicable on your trip. Many hotels and cruise ships have this facility available, at times complimentary and other times at a cost. For passengers travelling to remote locations, there may be no internet facilities for a period of time.
Other Details
Adults Only: No kids
Childrens Facilities: None
Nursery: None
Smoking: Some
Gratuities: Tipping is included for all APT operated tours. There are a few activities whereby tipping is not included such as Tailor Made Holidays, Africa & South America's City Stays & Extensions, and the Northern Lights Adventure in North America. Your Sales consultant can provide you with detailed advice during your booking enquiry specific to the destination you are visiting.