Santa Cruz II
When you are exploring the Galápagos islands with us onboard the MS Santa Cruz II, you will enjoy a relaxed atmosphere in high quality surroundings. The small size – with a guest capacity of maximum of 90 allows for a cozy yet classy environment. You´ll easily feel at home on board.
With carbon-neutral operations, MS Santa Cruz II is environmentally-sustainable and socially conscious with the local community.
accommodation
deck plans
dining
entertainment
health & fitness
enrichment
useful
misc.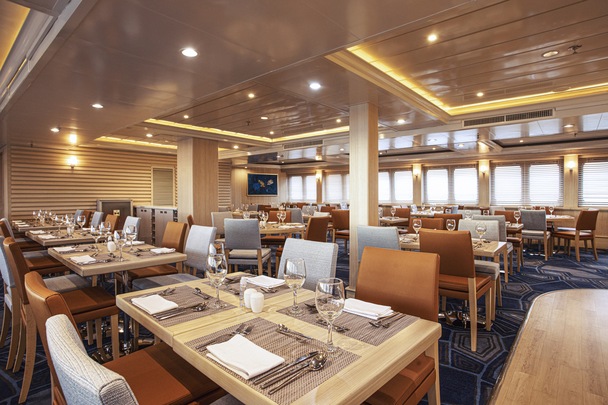 Beagle Restaurant
The MS Santa Cruz II has a team of trained staff members that utilize locally-sourced organic food to prepare every dish. This ship provides a Le Cordon Bleu (a trained Gastronomy Director) and a wide variety of culinary experiences that encompass all diets and preferences. Each and every meal served onboard is exquisite.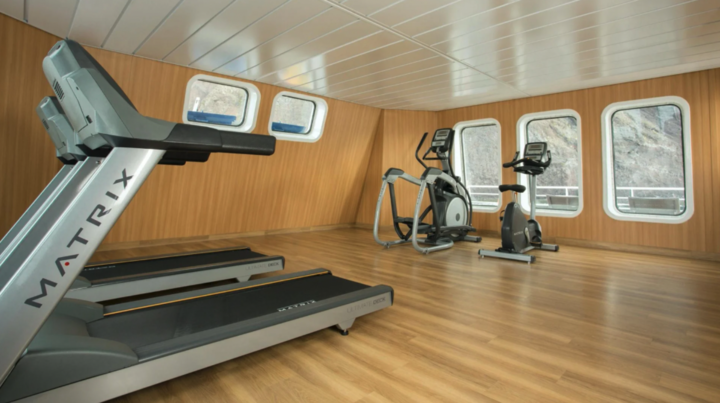 Fitness Room
Our fitness center is equipped with yoga mats, set of weights, 2 treadmills, 2 stationary bikes, and an elliptical trainer for those guests who do not want to let their routine slide.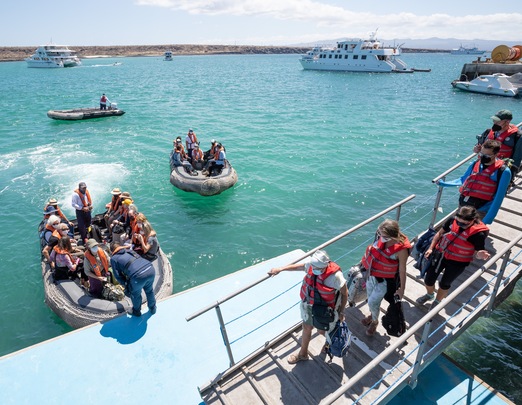 Shore Excursions
We offer every day, in addition to the core activity (generally, a hike), a variety of activity options approved by the national park:
Snorkeling
Kayaking
Paddleboarding
Coastal explorations (aboard our inflatable dinghies, otherwise known as pangas)
Glass-bottom boat rides
Biking (on Santa Cruz island only)
These activities will be explained in advance by the Expedition Leader and guides. A sign-up sheet is placed in the expedition room, Expedition deck. These activities cannot be booked in advance and are all free of charge. Please note the number of the participants per activity is limited.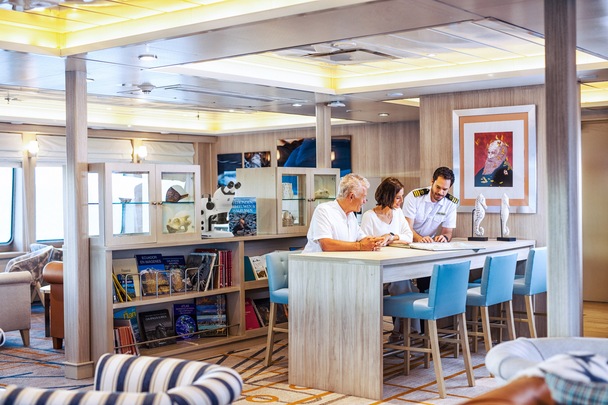 Science Corner
Facing the front of the ship, the Expedition Lounge – complete with a refreshment station and library – is a fantastic place to admire the beauty of the Galápagos' Islands from inside. The Science Corner includes a glass cabinet, a microscope and a whale vertebrae clone, a perfect learning zone about our science activities.
Children
Children below the age of 6 need to present at embarkation a release form signed by their parents or guardians to board a Galapagos cruise. Children under the age of 18 that are travelling that come accompanied by just one parent/legal guardian must have a minor consent form signed by the other parent or, in the case of a legal guardian, both parents. 
Disabled Cabins / Mobility
Travel to Machu Picchu and Galapagos Islands is not suitable for wheelchair users. Santa Cruz II has no wheelchair friendly ramps, cabins or elevators.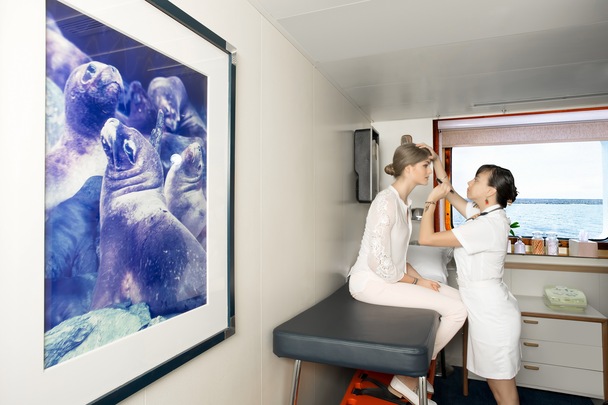 Medical Facilities
An English-speaking physician and nurse are on board always. The ship has a small medical facility with essential equipment and medication to handle small emergencies. In the event of a serious emergency, the nearest hospital will be contacted. Medical consultations are free of charge while some medicines will be charged to the passenger. All guests must have personal travel/health insurance.
If you depend on medication, remember to bring sufficient supplies to last through any unforeseen delays. We also recommend that you keep your medication in your hand luggage, properly labelled, and with clear instructions for its use. If you depend on vital medication, please inform the ship's doctor upon arrival. 
What to Wear
Weather in Galapagos is good year-round. January to April, showers can be expected, so make sure you have a light rain jacket or poncho with you. These rains are usually not long and may be followed by strong sun and high humidity. It is best to wear light, cotton clothing in layers. June to October is dryer but cooler. A light windbreaker comes handy as well as the rule of cotton clothing in layers. Months not mentioned here are transitional, showing a blend of the two conditions described above and vary from year to year.
The climate in Quito is characterized by a constant temperature year-round. Most rainfall (rainy season) is in April, warmest month is September with a maximum average temperature of 22°C (72°F), the coldest month is September with a maximum average temperature of 21°C (69°F), July is the driest month, August is the most sunny month.
The climate in Cusco (starting point for Machu Picchu) is marked by two seasons: Rainy (from November to April) and dry (from May to October). During the rainy season the temperature is higher (between 7° and 21° C) and during the dry season, lower (between 0° and 20° C).
Year round- good walking shoes are recommended (tennis or trainers) for the hikes. Trails vary in difficulty, but most are of volcanic nature. In some trails, and for wet landings, some guests appreciate aqua-shoes.
Lightweight, breathable cotton trousers, convertible to shorts have proven to be useful for all seasons. Make sure you bring one or two bathing suits. When travelling in high altitudes (Quito and Cusco) bring a warm sweater, gloves, scarf and rain jacket.
Hat with a broad rim and a strap are advisable year-round.
For the cooler months, wetsuits (2mm shorties) are available for rent at a cost of $17 USD + tax per guest for the entire cruise. 
Alcohol Policy
Guests who wish to bring bottles of wine and/or spirits aboard Santa Cruz II, will be charged a corkage fee of US $27+taxes. 
Cabins
All cabins have the same size window and private facilities.
The tap water in your cabin is desalinized, but not potable. For your convenience, chilled drinking water dispensers are available in the Horizon, Expedition, and Sun decks.
You may experience some noise and vibration in some of the cabins. This varies depending on the location of your cabin. Also, noise affects people differently and what may be a problem for one guest may not be a problem for others.
Drones
Drones are not allowed in Galapagos. Flash photography is not allowed on wildlife. Professional photography of filming requires a special permit of the National Park Directorate.
Equipment Loans
Santa Cruz II equipment includes sit-on-top kayaks, paddle board, a glass bottom boat, and snorkelling gear (mesh-bags, masks, fins, tubes and buoyancy vests). The use of all these are free of charge. These activities are regulated by the National Park and must always be under the supervision of a licensed naturalist guide.
Guests must attend a short safety briefing before these activities are held. Safety briefings and release documents are mandatory for participation in these activities.
Wetsuits are available for rent in all sizes, from XXS to XXL for around $17 USD + tax per guest for the entire cruise. These are 2mm shorties.
All gear provided by the ship is cleaned and disinfected under the medical officer´s supervision. A brand-new mouthpiece is given to each snorkeler when using the ship´s gear.
Internet Usage and Mobile Phones
Wi-Fi Internet connection is available onboard for an added cost of $40 USD + tax for the duration of the cruise, but due to the Galapagos' remote location, please be aware that internet connection is intermittent and low-bandwidth. Limited complimentary wi-fi access is available for suite guests.
Internet is only available in public areas.
All cell phones must be on AIRPLANE MODE for all trails within the National Park.
Cellular coverage is patchy, very low and restricted to the vicinity of populated Islands (Santa Cruz and San Cristobal islands).
Language
Santa Cruz II sails under Ecuadorian flag; the working language on board is Spanish. Announcements for guests are given in English, and may also be given in German, French, Spanish or Italian depending on guests traveling. Lectures are held in different languages in different rooms.  
Laundry
Laundry service is not available on board Santa Cruz II. Two domestic-type washer/dryers are available 24hours on the entrance to the Expedition Deck for free, together with instructions, baskets and biodegradable detergent. 
Lifesaving Equipment, Life vests and Safety on Board
Santa Cruz II complies with GALAPAGOS BIOCONTROL AGENCY (ABG) AND ISPS (International Ship and Port Security System) regulations, where all luggage is subject to X-ray/metal and organic/biosecurity inspection prior to boarding the aircraft in mainland Ecuador. These inspections include carry-on screening before and after the Ecuador-Galapagos flight.
Santa Cruz complies with international safety requirements and is a modern vessel suitable for sailing in Galapagos.
The first day´s programme includes a short but complete mandatory safety briefing about safety on board and during landing operations. This briefing is followed by the compulsory boat drill exercise.
A separate safety briefing is held prior to the first snorkelling, kayaking or paddle boarding opportunity.
During the sailing, special safety regulations will apply on landings with the Expedition boats. Please follow the instructions given by the Expedition Leader and crew/staff. Special lifejackets for use during landings will be provided to all passengers
Smoking Policy
On board, smoking is only permitted in designated areas on outside decks, where ashtrays are available. Smoking is not permitted in cabins. Throwing cigarette butts overboard is strictly prohibited.
Special Requests
If you have special requests (e.g. dietary or medical), please inform us as soon as possible, and no later than 8 weeks prior to your cruise departure. We will do our best to meet such requests but cannot guarantee to do so, and under no circumstance will any such request be accepted by us so as to form part of a contractual agreement. 
Sustainability
Hurtigruten is the world leader in exploration travel, and the world's largest expedition cruise company. This comes with a responsibility to ensure that sustainability is integrated across all of our operations. With the UN Sustainable Development Goals as a framework, we focus on innovation, technology and concrete measures to explore as responsibly as possible.
Hurtigruten has been operating in and exploring some of the most challenging waters in the world since 1893; our roots go back to the Norwegian polar heroes. Today we are facing the greatest and most difficult challenges in our more than 125-year history. Climate change, plastic waste and unsustainable mass tourism, which are all altering vulnerable ecosystems and threatening wildlife.
As we enter a new era of expedition cruising and adventure tourism, Hurtigruten aims to raise and set new standards for the entire travel industry.
That is why we
are building the first ever hybrid-electric powered expedition cruise ships
are the first major travel company to have removed single-use plastic from all our entire fleet and our hotels
invest in educating our guests and creating ambassadors for every destination on every voyage through actively engaging guests in the cultures we visit, the ecosystems we explore, and the consequences of climate change we observe
Other Details
Adults Only: Adults only
Childrens Facilities: None
Smoking: Some
Gratuities: It is not common practice to tip on Hurtigruten ships on the coastal voyage, but if you feel that crew members should be rewarded for providing exceptional service, tip boxes are placed in the restaurant together with envelopes.