Scenic Diamond
Sailing the beautiful waterways of France with features such as Scenic Culinaire and two new one-bedroom Royal Owner's Suites.

Exclusively reconfigured for cruising the rivers of France, Scenic Diamond & Sapphire afford guests the utmost in luxury, comfort and refinement on these charming and serene passageways.
accommodation
deck plans
dining
entertainment
health & fitness
enrichment
useful
misc.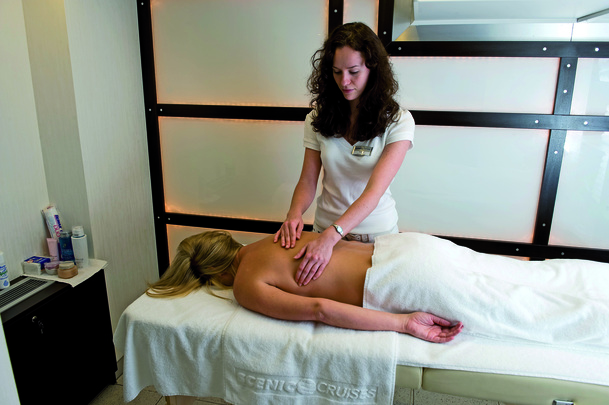 Wellness Area
From massages to facials, you can feel pampered in our on board Wellness Area. Our skilled beauty therapist can provide a range of treatments to help you to switch off and unwind on the river.
Fitness Centre
Stay active on your travels with a visit to our designated Fitness Centre. Featuring the latest workout equipment, including both cardio and weight-training machines, this is a space where you can work up a sweat and get ready for another unforgettable day on the river.
Salt Therapy Lounge
New to a select handful of luxury Space-Ships, our Salt Therapy Lounge takes your comfort and wellbeing to a whole new level on the rivers of Europe. A natural therapy that promotes clear skin, improved wellness and better sleep, our salt therapy sessions offer the ultimate escape during your river cruise.
Dress Code
Casual and comfortable during the day. In the evening dress is semi formal or business casual and casual elegance for ladies. For gentlemen a jacket and tie are requested for the Captain's Dinner.
Age Restriction
Travellers who are less than 21 years old on the departure date must be accompanied by and share a cabin/ room with an adult aged 21 or over. Children under 12 years of age are not accepted. This is a condition of carriers and cruise operators.
Dietary Requirements
Scenic accommodate special dietary requirements to the best of our ability across our river and ocean cruises, and escorted tours. If you have special dietary requests, please notify us at the time of booking and inform your Cruise Director when you arrive.
Please note: while we endeavour to accommodate all dietary requirements, special requests are not guaranteed and failure to meet any request is not breach of contract on our behalf.
Wi-Fi
Complimentary Wi-Fi access is available on board some of our vessels. Please be aware that internet access may be limited or none existent at certain times due to high demand from other users, or proximity to telecommunication services. We cannot guarantee that you will have full Wi-Fi coverage in your suite.
If you are travelling on an escorted tour, please note that Wi-Fi is available at selected hotels only.
Medical Facilities
Scenic Space-Ships do not carry medical personnel on board and immediate medical attention cannot always be guaranteed. However, our staff are trained in first aid, and can provide basic medical assistance. Should you need to call medical services, this will be at your own expense. Please be aware that we cannot provide personal escorts for medical visits.
Smoking Policy
Smoking is not permitted in suites or any other indoor area across the Scenic fleet.
Smoking is permitted in specific areas of external decks. However, we cannot guarantee that these facilities will always be available.
Packing Tips
There are no specific pieces of clothing we insist you pack, however we can offer pieces of advice, based upon your itinerary. We recommend comfortable walking shoes for sightseeing, as well as any garments, such as hats, gloves and water-resistant jackets, which will help you to stay comfortable whatever the weather. The dress code across all Scenic cruise and tour itineraries is casual and comfortable. Dinner attire is smart casual — open-neck shirts, trousers and dresses; you may wear a jacket or blazer with a tie but it is not required.
Other Details
Adults Only: No kids
Childrens Facilities: None
Nursery: None
Smoking: Some
Gratuities: Tipping and gratuities for drivers, local guides, porters, and waiting staff are included in the total price of your holiday. Please note: tipping is not included for meals, drinks, taxis and transfers outside your itinerary and only applies to on board services. We'd recommend tipping 10-15% in restaurants (unless a service charge has already been applied) and 10-15% on taxi meters. As a rule, always pre-negotiate taxi fares before agreeing to travel.