Viking Neptune
Expand your horizons on this comfortable, award-winning ship design, intimate and thoughtfully created by experienced nautical architects and designers to enrich your interaction with your destination in every way.
accommodation
deck plans
dining
entertainment
health & fitness
enrichment
useful
misc.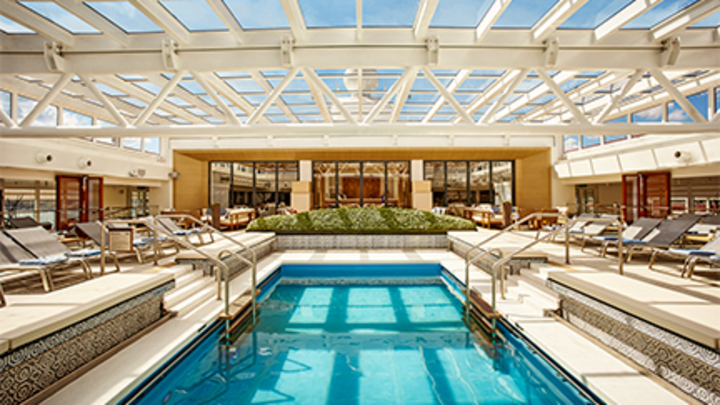 Main Pool with Retractable Dome
The heated Main Pool provides a calming oasis in any weather with its retractable roof allowing for year-round swims and soaks. In the evening, enjoy movies under the night sky on our giant poolside screen.
Dress Code
During the day, dress is casual including shorts (if the season is warm), slacks or jeans and comfortable shoes for walking tours. Swimsuits, brief shorts, cover-ups and exercise attire should be reserved for the Fitness Center, pool areas and Sports Deck. There are no "formal nights" in the evening; evening dress is "elegant casual" for all dining venues, performances and special events. On these occasions, required attire for ladies includes a dress, skirt or slacks with a sweater or blouse; for gentlemen, trousers and a collared shirt. A tie and jacket are optional; jeans are not permitted. The evening dress excludes World Café where the dress remains casual after 6:00 PM.
Packing Tips
We suggest you pack comfortable walking shoes, dressier shoes, a collapsible umbrella/lightweight rain gear; items you can layer like lightweight jackets/sweaters; sunglasses, a sun hat/visor, sunscreen; and toiletries including a travel-size hand sanitizer. Depending on the season and destination, you may also want to add a warm coat, gloves and water-resistant footwear. To visit religious sites, ensure you have modest clothing that covers your knees and shoulders, or you may be denied entry.
Dietary Requirements
In most cases, we can. Every meal has vegetarian options and our chefs will make reasonable efforts to accommodate special requests. Guests requiring special meals (low salt, diabetic, gluten-free or low cholesterol) should alert us 90 days prior to departure and inform the Maître d' when on board.
Smoking Policy
Viking vessels are generally nonsmoking. In order to accommodate guests who choose to smoke, there is a designated outdoor smoking area on the starboard side of Deck 8. All other areas of the ship, including your stateroom and veranda, are designated nonsmoking areas. Smoking restrictions also apply to e-cigarettes.
Accessibility
Viking welcomes disabled guests; however, guests must realize there are inherent risks associated with traveling on board ships that are unique to cruise travel. For people who are ill, or have a mental or physical disability or impairment, the risks can be more significant. Guests must be able to independently move around the ship in case of an emergency or rough seas, deal with the lack of immediate access to medical services in certain parts of the world, and acknowledge that access to some areas of the ship and ports of call may be limited or impossible. Shore excursions may require the ability to traverse cobblestones or go up and down stairs. We reserve the right to determine whether a guest is fit to travel and to deny boarding in the event that a guest represents a risk to themselves or to the safety and well-being of those on board the ship.
When you make your reservation, please advise us of any disability that will require special attention while sailing on a Viking cruise and provide a completed Fit to Travel Form along with a physician's letter. Should you have any medical, physical or other special needs, check the fleet information on our website to gain an understanding of the layout of any particular ship and contact a Viking Expert at 1-855-884-5464 (1-855-8-VIKING) directly with additional questions and to obtain a copy of our policy statement.
Wheelchair accommodations and elevators
Guests who have a disability, physical or otherwise, must travel with an able-bodied companion who can assist them as the staff is not permitted to lift guests or push wheelchairs. Guests need to provide their own wheelchairs, except in an emergency. Wheelchairs must not exceed 22″ in width. For details regarding bringing a wheelchair on board, guest must complete the Accessibility Form and return to Viking no later than 30 days prior to departure. Motorized scooters are not typically suitable for international cruises and cannot be accommodated. While our ocean vessels have elevators, there may still be thresholds that could make movement difficult.

Wi-Fi
All our ships offer free Wi-Fi. You may use your personal device or one of the ship's computers in our Business Center on Deck 1. Our connection relies on a VSAT satellite terminal—the best possible solution for ocean cruising. Due to the nature of data bandwidth and latency, as well as potential interruptions in satellite signals based on terrain and weather, you may experience slower online connections than you are accustomed to at home. In order to ensure fair usage for all, we reserve the right to limit heavy-bandwidth applications, downloads or software upgrades so that all our guests have access to Wi-Fi. We suggest that guests limit large uploads/downloads and live streaming. Please download your content prior to your cruise, as bandwidth will affect your service and cannot be guaranteed. We would be pleased to help you with your device settings once you are on board. We hope you will understand that we will do our very best to provide you with an enjoyable online experience, and remember you will likely be able to access standard Wi-Fi and data roaming services on shore in most towns and cities you visit.
Other Details
Adults Only: Adults only
Childrens Facilities: None
Nursery: None
Smoking: Some
Gratuities: Our onboard staff is dedicated to providing you with the best cruise experience possible, and it is customary to give gratuities in recognition of their service. How much you choose to tip is a personal matter and completely at your discretion. To save you worry over whom to tip and how much, we automatically add a discretionary hotel and dining charge of $15.00 per guest per day to your shipboard account, which appears on your final invoice at the end of your cruise. This charge will be shared among the onboard staff who helped support and provide your cruise experience, including the waitstaff, stateroom stewards, buffet stewards, galley staff, laundry staff and others. Please note this charge excludes bar gratuity; a 15% gratuity is automatically added to bar, beverage, wine and deck service tabs. Should you wish to make changes to the gratuities such as to reduce the amount or remove gratuities completely, please visit Guest Services at any time. You may also wish to tip your local excursion guides and/or drivers; we suggest doing so in cash at the end of each tour. This charge will be shared among the onboard staff who helped support and provide for your cruise experience, including your Program Director, waitstaff, stateroom stewards, galley staff, nautical staff and others.